By Jon Weisman
What an unreal journey this was, and I honestly feel I'm the better for having witnessed it.
* * *
Since a second-inning double June 20 at Oakland, Uribe is in the midst of an 0-for-27 slump, with three walks and nine strikeouts. That happens. The problem is that when he hasn't been slumping … well, Uribe can hardly say he's ever not been slumping as a Dodger.
— "The end of the line for Juan Uribe … or not?" July 8, 2012
* * *
"Be grateful for luck. Pay the thunder no mind – listen to the birds. And don't hate nobody."
— Eubie Blake
"Walk, two-run double, walk, groundout, two-run home run."
— Juan Uribe
— "Uribe makes sweet music in Dodgers' 8-5 victory," July 21, 2012
* * *
If they sold Teddy Uribears at Dodger Stadium next week I'd buy one. He's so cuddly with his belly and that .408 OBP.

— Jon Weisman (@jonweisman) May 5, 2013
Someone expert in photoshop needs to make Uribear ™ a reality. RT @SpaceDodgers: @jonweisman he has a nickname now?! A CUTE ONE?!

— Jon Weisman (@jonweisman) May 5, 2013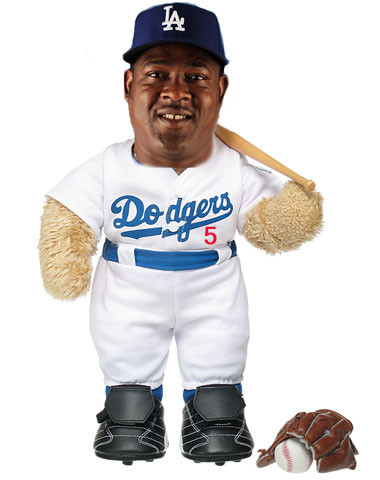 — "Uribear!," May 5, 2013
* * *
There have been Dodgers who have had their downs and ups, but I can't remember such a purely bottom-to-top tale of redemption as the one of Juan Uribe. …
… What Dodger endured two miserable years, while collecting a big paycheck, before putting it together in his third season? Looking at this list of Dodgers in the post-1975 free-agent era, no one with the profile of Uribe leaps to mind. It's not like Dave Goltz, Don Stanhouse, Mike Davis or Eric Davis turned it on in Los Angeles after stinking for two years. But Uribe has.
It's remarkable.
— "The redemption of Juan Uribe reaches new levels," July 5, 2013
* * *
[mlbvideo id="31108835″ width="550″ height="308″ /]
For those of us who come to baseball for an escape, for answers or even suggestions, to feel something that we can't often or otherwise find in everyday life, consciously or unconsciously, and see such a tale of redemption played out right at center stage, see one who was so mercilessly derided become the hero, and to know it's real, brings an emotion to cherish above and beyond the revelry of victory.
Yes, I know Juan Uribe was well compensated as he stunk up the joint in 2011 and 2012 and he didn't need my sympathy. And I never offered it. But strip everything else away, and you have the story of someone who found his way back from tar and feathering into sweet serenity. If you've ever felt like you've been failing, it is an inspiration. I'll never be Clayton Kershaw, the best in the world. But I might be Juan Uribe. I might have my moment.
— "U-RI-BEAR! Dodgers swing into NLCS on redemption song," October 8, 2013
* * *
Uribe choked up when asked what he would miss about the Dodgers and walked away.

— Ken Gurnick (@kengurnick) May 27, 2015
No one could bring a clubhouse together with only a laugh or smile like Juan. It was a joy to be his teammate. pic.twitter.com/QH4UriQgrj

— AJ Ellis (@AJEllis17) May 27, 2015