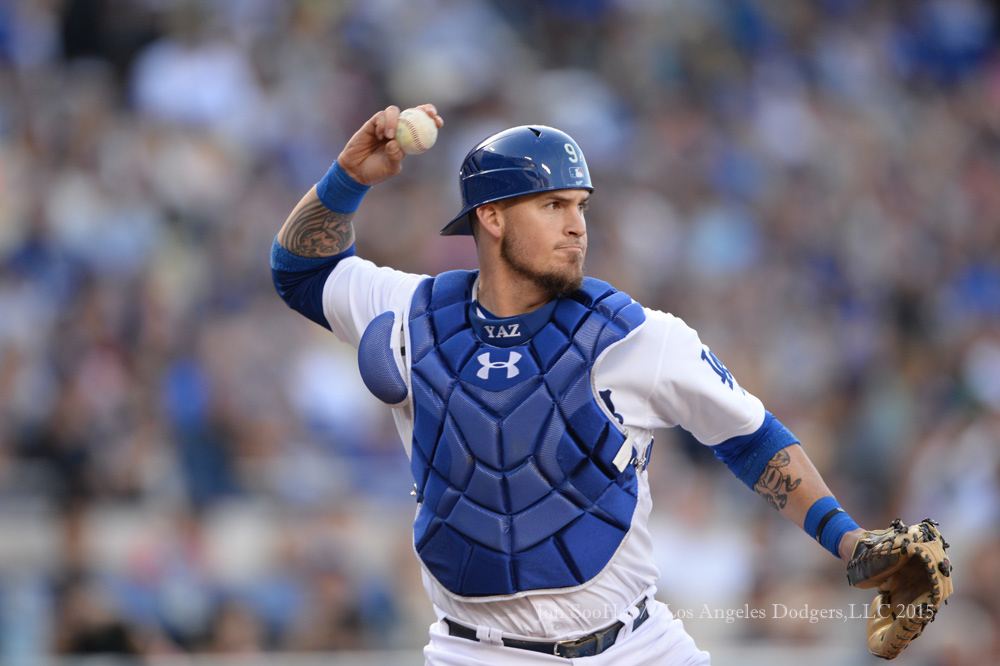 Dodgers at Cardinals, 4:15 p.m.
Joc Pederson, CF
Justin Turner, 3B
Adrian Gonzalez, 1B
Howie Kendrick, 2B
Andre Ethier, RF
Yasmani Grandal, C
Scott Van Slyke, LF
Jimmy Rollins, SS
Carlos Frias, P
By Jon Weisman
Yasmani Grandal returns to active duty today after spending seven days on the concussion-themed disabled list.
Grandal will start tonight and bat sixth (where he has hit in his past eight starts), but Jimmy Rollins has been dropped from second to eighth. Scott Van Slyke is also back on starting duty.
Austin Barnes, who started Sunday and played in two other games — including Friday, after A.J. Ellis was ejected in a balls-and-strikes/pitch-framing controversy — is remaining with the team. Outfielder Chris Heisey, who started on Thursday, has been optioned to Triple-A Oklahoma City.
Grandal, who brings a .403 on-base percentage and .466 slugging percentage back to the Dodger lineup tonight, went 3 for 10 with five walks and three strikeouts in three games designated hitting for Oklahoma City. That includes his own ejection in the second of those games.
Neither Ellis nor Grandal had ever been ejected from a professional game before, according to the two catchers. Ellis discussed his ejection after Friday's game with reporters, as chronicled by Bill Plunkett of the Register.
… "Their job is to call balls and strikes," Ellis said. "It's not their job to be a catching coach behind the plate. It's not their job to be critical of what I'm doing. It shouldn't even matter if there's a catcher there or not. The ball comes through a zone and they need to take a look at that.

"People on blogs and websites can critique my framing but I'm not going to take it from an umpire because it's not their job to do that. It's their job to call balls and strikes based on what comes through a strike zone."

Winters was asked to respond but declined to speak to a pool reporter. He said only through a Cardinals official that the issue was balls and strikes and "the rest of it stays private."

Not entirely. Winters was apparently wearing a microphone for MLB Network during the game. …