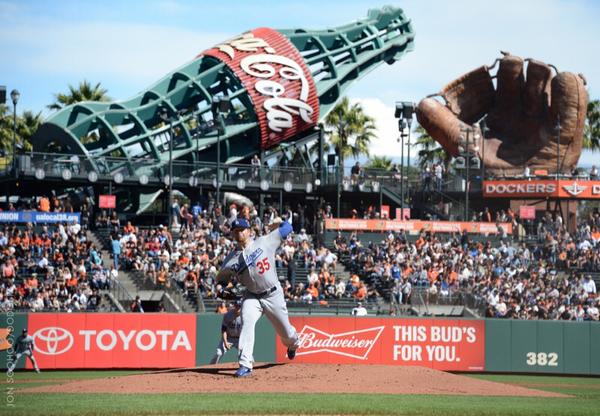 By Jon Weisman
For seven innings, the Dodgers were a great sight for fans who might be concerned about how healthy and sharp the team is heading into the playoffs.
For the final two innings, it was a test of how well the Dodgers could hold up at crunch time.
On his game and backed by superb defense, Brett Anderson pitched seven innings of shutout ball, before being charged with two runs in the eighth despite not allowing a ball out of the infield.
Nevertheless, Kenley Jansen came on in the ninth to preserve a 3-2 Dodger win in their 2015 finale against the rival San Francisco Giants.
The victory gave the Dodgers an 89-70 record, the same as the New York Mets, with three games remaining. If the Dodgers finish a game ahead of the Mets, Los Angeles will have home-field advantage in their National League Division Series. (If not, life will go on.)
This weekend, the Dodgers host the Padres, while the Washington Nationals travel to a rainy New York, which is readying for Hurricane Joaquin. A rainout is a definite possibility for the Mets this weekend, which conceivably could force them to play a doubleheader or on Monday if home field at stake.
[mlbvideo id="512414983″ width="550″ height="308″ /]
Back in San Francisco, today's game was a full-on Dodger highlight reel, with Corey Seager, Howie Kendrick and Chase Utley all made difficult, ranging plays for outs.
Most stunning, perhaps, was Utley. In only his third career start at third base, the 36-year-old twice charged in to barehand balls and throw to Adrian Gonzalez, who was reaching and lunging like a human backscratcher.
[mlbvideo id="512430983″ width="550″ height="308″ /]
[mlbvideo id="512458983″ width="550″ height="308″ /]
Though he made an eighth-inning throwing error, Kendrick also singled and doubled in his best all-around game since returning from the disabled list. His third-inning single was the last of the 2,957 career hits off retiring Giants pitcher Tim Hudson, who then left the field to a heartwarming ovation. Kendrick drove in Anderson, who scored the first run of his career.
More importantly for Anderson, he reached a career high in starts (31) and innings (180 1/3) for a season.
[mlbvideo id="512473683″ width="550″ height="308″ /]
Andre Ethier tripled for the second time in this series and the seventh time in 2015, tying a career high set back in 2006 when he was a rookie.