By Jon Weisman
Daniel Murphy.
It's not just us. He killed our team, and now he's killing my Dad's team. He's reminding me why it's never safe to expect our lovable, horrible, irrational sport to make sense.
Daniel Murphy has had a good career. Solid. Even an All-Star in 2014. But home runs in four consecutive playoff games — off Clayton Kershaw, Zack Greinke, Jon Lester and Jake Arrieta?
Do you know what Daniel Murphy's longest streak of consecutive games with a home run was, before October? Two. Once in his career, Daniel Murphy hit a home run in one game, and then hit a home run in the very next game. That was 6 1/2 years ago.
Daniel Murphy. For some reason I can't just call him Murphy, even on second reference. It's just too familiar, too pal-sy. I need to maintain a formal distance from this person, this person who pulled the bat from the stone. Daniel Murphy has no right to do what he has done over the past four games. Except he has every right, because it's baseball.
It makes me tired. It makes me wonder why one reads or writes or plans before a baseball game. Because no matter what you do, no matter how smart you think you are or that you might actually be, that baseball game's going to do whatever it wants.
* * *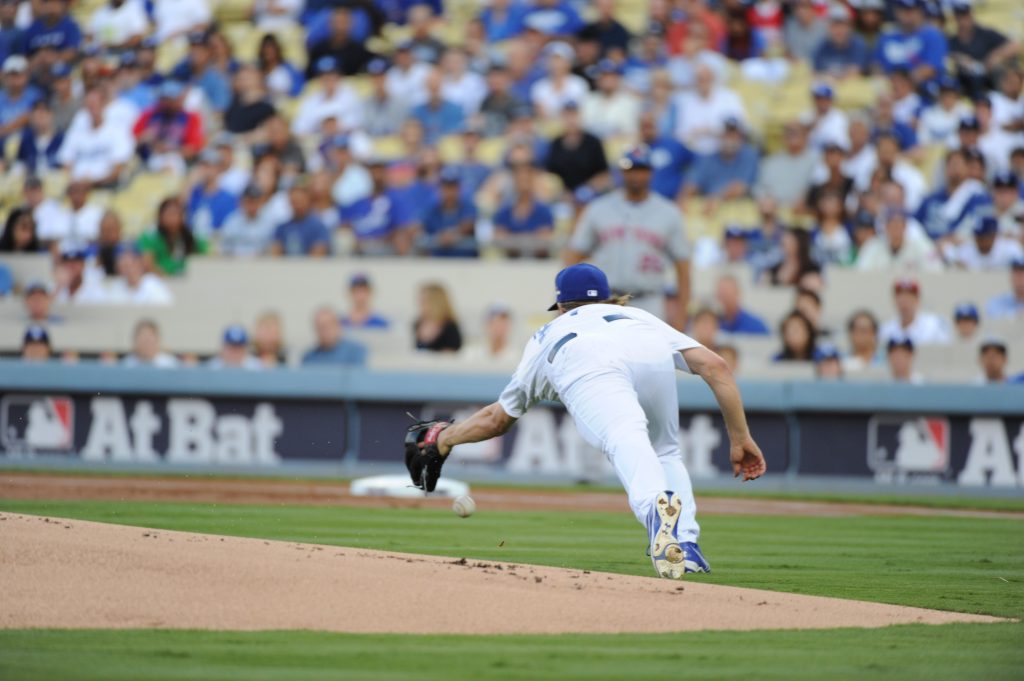 It was one run.
Make all the grand proclamations of what should have been and what shouldn't have been. Make your case how it should never have come down to one run to begin with. I won't try to argue.
But there was a playoff series, and it came down to one game, and that game began with a tapper that went inches past the best fielding pitcher in baseball. The batter who hit the ball was safe at first base by a step. And then he scored.
I get it. I get the big picture. You don't need to explain it to me. The Mets won and the Dodgers lost. There were 72 batters and 276 pitches in the game after the first batter reached base, and the Dodgers had every chance to render that play irrelevant. There were other plays.
But one game, one run, one play, one foot different … and our baseball lives are completely changed.  One game, one run, one play, one foot is all the Mets won the National League Division Series by, and the Mets might win the World Series.
This is not a rational pastime.
* * *
I won't lie to you. I welcome that first Sunday without baseball, the first Sunday when the game lets loose its grip on you. It'll have me back soon enough, so I don't turn away that furlough.
Sunday afternoon, I took a nap. And when I started to wake from that nap, I doubled down. I was like Wilbur Wood pitching both ends of a doubleheader. It was an Iron Man Napathlon. You were not getting me up from that nap until you had wrung every last pitch of sleep from me.
Take me away from that world where two other teams are getting ready to play in the National League Championship Series. Let me rest.
It's a little after 5 p.m., and I'm still in bed. Kids are starting to wail, "What's for dinner?" My wife is home from her thing. She asks, "What's the score?" I turn on the TV. It's the bottom of the first inning. Curtis Granderson is on, David Wright is up, Daniel Murphy is on deck.
Daniel Murphy.