By Jon Weisman
This would have been a good day to own stock in the word "mutual."
Dodger president of baseball operations Andrew Friedman and general manager Farhan Zaidi — along with outgoing manager Don Mattingly — fought an uphill battle before a skeptical press corps this afternoon to emphasize that the decision for Mattingly to leave the Dodgers was a shared one.
"If there was a reason that this happened, we would share it," Friedman said during a 45-minute session for him and Zaidi at Dodger Stadium. "There's not. It was a collection of a lot of different conversations over many days that got us to this point. So it's not so black and white here. There is a huge middle, and it's gray, and that's how everything played out."
Friedman said that when the front office began its discussions with Mattingly following the Dodgers' exit from the 2015 playoffs, "we expected him to be our manager in 2016," and that the discussion even extended to years beyond that. But before it got to the point of a formal contract offer, there was a realization from both sides might welcome a new beginning and a parting of the ways.
"It was amicable. It was mutual," Friedman said. "It was kind of organic. … I appreciate the unusualness of this and how it sounds, but as much as you guys ask questions from different angles to us, to Donnie, it really is how it played out."
Said Zaidi: "Frankly, I've had my own level of cynicism when you hear about people mutually parting ways, but we can sit up here with all sincerity and say that's how it came about."
The intricacies of how they came to that point weren't explicated, but speaking on a conference call with reporters later in the day, Mattingly joined in the chorus.
"It was definitely a mutual decision," Mattingly said. "As we kind of talked through the season and all different things, it just came clear that this was the right time for this. I think it was best for me and best for the club.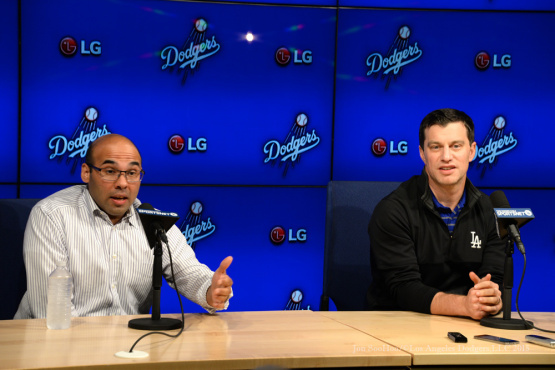 One of the areas that reporters pressed Friedman and Zaidi about was how much influence the front office had on day-to-day decisions. They emphasized, as they have before, it was a collaborative process.
"From our standpoint, that working relationship was really strong," Friedman said.
But that didn't mean Mattingly didn't have the ability to make his own lineup decisions.
"Sometimes he would text us, 'Hey — thinking this (about the lineup) — any thoughts?' " Friedman added, "because we had a fresher perspective. Just like in the winter, we would talk to him and say 'Hey, we're considering this trade — what do you think?' He was part of the management team of this organization, and we had that back and forth.
"We want healthy disagreement. And there were plenty of times where we disagreed with Donnie and Donnie disagreed with us, but to me, that's a good thing."
As he has since last winter, Mattingly said he welcomed the input of Friedman, Zaidi and senior vice president of baseball operations Josh Byrnes, as well as the organization's new levels of analytics, rather than finding them a burden.
"I just look at it as collaboration and us working together," Mattingly said. "It's similar to every year that I've managed, just better information this year. … Information is good, discussion is good, debating things back and forth is good. At the end of your day, you put your lineup out there.
"I felt very comfortable with Andrew and Josh and Farhan – I loved the information they were able to get. It was really a learning situation for me, (and) I really enjoyed that part of it. I just felt like as we kept talking … it just became something that was best for me and best for the club.
Mattingly made a point of saying he felt he would be friends with Friedman, Zaidi and Byrnes "forever."
"Andrew, Farhan and Josh are great guys," Mattingly said, "and they're going to do great things – I really believe that."
Friedman said the Dodgers began the process for hiring a new manager Wednesday, adding that they definitely intend to have one in place by the Winter Meetings in early December — "and sooner would be great." He added that he expected the pool of candidates would include people with and without previous managerial experience.
The makeup of the coaching staff will depend on the new manager. Right now, no changes have been made with any coaches, but they have been told they can pursue other jobs.
In the end, there was never a feeling among Dodger leadership that all the responsibility for the Dodgers' falling short of the World Series title fell on Mattingly.
"We had a regular-season goal which we succeeded in and a postseason goal which we did not succeed in," Friedman said. "We all share in that blame."
And they have a full understanding about how important the coming offseason is.
"The pressure comes from having expectations,"Friedman said, "and we wouldn't want to work in a situation where there weren't those expectations. The passion our fans have is tremendous. As semi-stewards of that, we put a lot of pressure on ourselves to make as good of a hire as we possibly can. We want to for obvious reasons, to give our team the best chance to win a championship, not just next year but to be able to sustain it for many years to come."