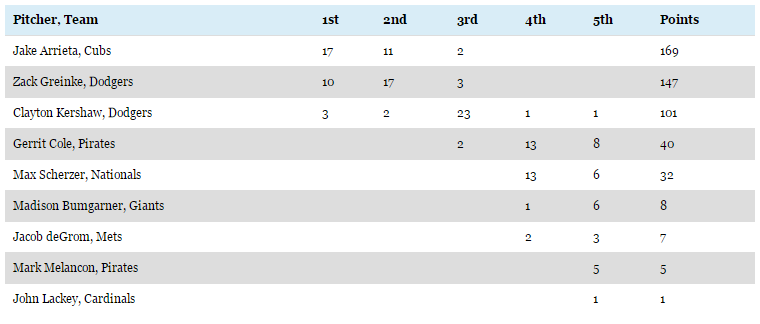 Zack Greinke in Cy Young balloting
2009: first (AL)
2013: eighth (NL)
2014: seventh (NL)
2015: second (NL)
Clayton Kershaw in NL Cy Young balloting
2011: first
2012: second
2013: first
2014: first
2015: third
Dodger MLB Cy Young Award winners
*unanimous
1956: Don Newcombe
1962: Don Drysdale
1963: Sandy Koufax*
1965: Sandy Koufax*
1966: Sandy Koufax*
Dodger NL Cy Young Award winners
*unanimous
1974: Mike Marshall
1981: Fernando Valenzuela
1988: Orel Hershiser*
2003: Eric Gagne
2011: Clayton Kershaw
2013: Clayton Kershaw
2014: Clayton Kershaw*
By Jon Weisman
Despite the lowest ERA in the Major Leagues in 20 years, Zack Greinke will go into the offseason without the National League Cy Young Award.
Greinke missed becoming the ninth Dodger pitcher to win the trophy, falling to Jake Arrieta in this year's vote by the Baseball Writers Association of America.
If four of Greinke's 17 second-place votes had put him first, Greinke would have won the award.
Finishing third was three-time winner Clayton Kershaw, who did receive three first-place votes.
No ballot put Arrieta or Greinke outside of the top three, while two voters had Gerrit Cole of the Pirates in third place.
Greinke had a 1.66 ERA — the lowest in the big leagues since Greg Maddux in 1995 — and an adjusted ERA of 225 (best since Roger Clemens in 2005). He also led the Majors in WHIP (0.84) and win probability added (6.72).
This year's balloting marked the first time that a pair of teammates ranked among the top three Cy Young vote-getters since 2011 (Philadelphia's Halladay and Cliff Lee) and the first time for two Dodger pitchers since 1974, when Mike Marshall won the award and Andy Messersmith was the runner-up.
Two different Dodgers haven't won the award in consecutive years since Don Drysdale (1962) and Sandy Koufax (1963).

Win or lose, the Kershaw Boys are back! pic.twitter.com/9HnNPKBDsF

— Dodger Insider (@DodgerInsider) November 18, 2015