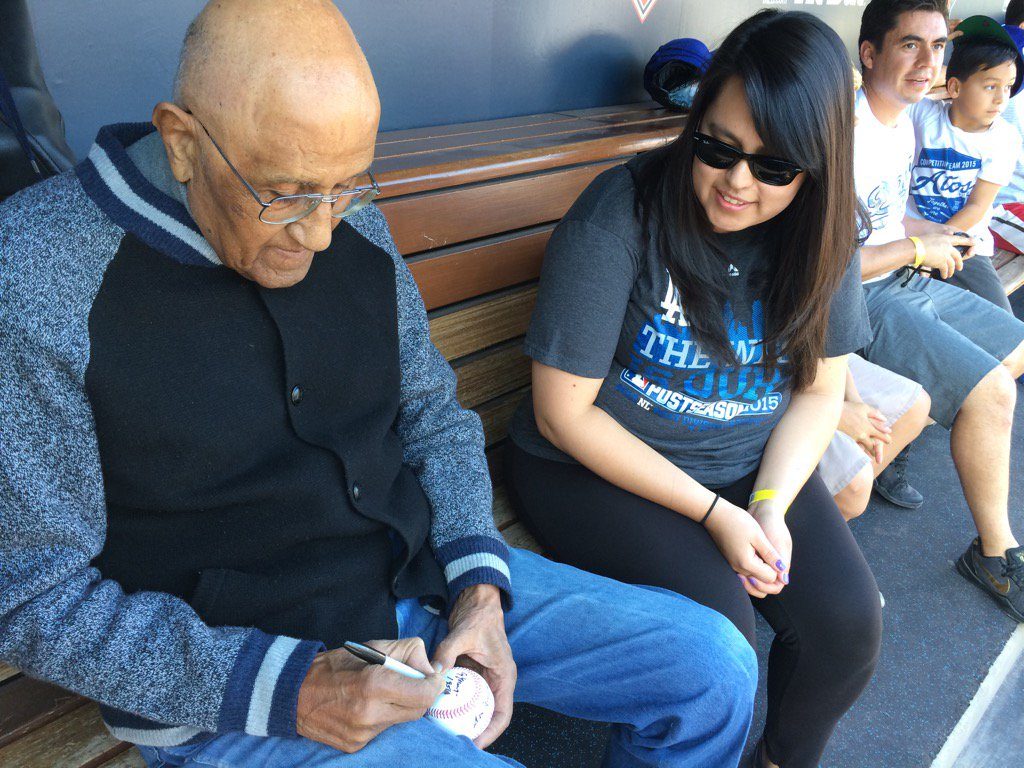 By Jon Weisman
A cheerful Don Newcombe was among the featured guests at today's Dodger Stadium gathering for approximately 300 pre-selected Armed Forces veterans and active duty service members and their families.
To my regret, I didn't have the recorder running as Newcombe shared stories with me about training soldiers during the Korean War, including doctors for the medical units depicted in "M*A*S*H."
Newcombe said he wasn't sent to Korea, because his superiors decided he would have more value preparing soliders to go. His efforts focused on both physical preparation and discipline.
With Kenley Jansen and other Dodger alumni including Billy Ashley, Al Downing and Roy Gleason in the background, Newcombe then spoke inspiringly to the assembled, thanking them for their service while also emphasizing that they would forever be part of the Dodger family.
Don Newcombe addresses the vets at today's #VeteransDay Batting Practice at Dodger Stadium. pic.twitter.com/YvCIkvqNRx

— Los Angeles Dodgers (@Dodgers) November 18, 2015
Always nice to see @kenleyjansen74 pic.twitter.com/wlvoKpnas3

— Dodger Insider (@DodgerInsider) November 18, 2015
Jansen even offered a bit of current news, saying he has lost 10 pounds already in offseason workouts, which he was unable to do fully last season because of the foot problem he had that led to surgery in the spring.
The guests were treated to lunch in the Dugout Club and activities including batting practice, throwing in the Dodger bullpen and a stadium and clubhouse tour. Ken Gurnick of MLB.com has more on the event.