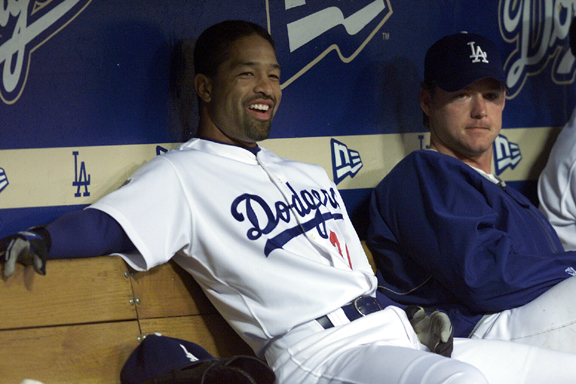 By Jon Weisman
Dave Roberts made his Los Angeles debut with the 2002 Dodgers, a mostly forgotten squad whom a couple of weeks ago I called the best third-place team in Dodger history.
Those Dodgers won 92 games but finished behind Arizona and San Francisco in the National League West. Under the current playoff format, they would have made the NL wild-card game against the Giants, who ended up in the World Series against the Angels.
Instead, the '02 Dodgers missed the postseason entirely, so their record as a team has largely been ignored. But in addition to the arrival of Roberts, there were these individual memories:
Shawn Green's 42 home runs, including 10 in one week and four in one game.
Eric Gagne's 1.97 ERA, 12.5 strikeouts per nine innings and 55 saves in his first season as closer.
The return of Hideo Nomo (220 1/3 innings, 3.39 ERA) after 3 1/2 seasons elsewhere.
The debut of Nomo's countrymate Kazuhisa Ishii (team-high 8.4 K/9).
Not one, but two one-hitters by Odalis Perez, including one in which he faced the minimum 27 batters at Wrigley Field.
And of course, David Ross hitting his first big-league homer — off Mark Grace.
Congrats to Dave Roberts on being #Dodgers new Mng. He taught me to be a professional on & off the field! True leader and a great man!

— David Ross (@D_Ross3) November 23, 2015
On September 16, the Dodgers beat the Giants, 7-6, to create a tie for the wild-card lead at 85-65 with 12 games remaining. But San Francisco won the next two games between the rivals and finished the season on a 10-1 run to the postseason.