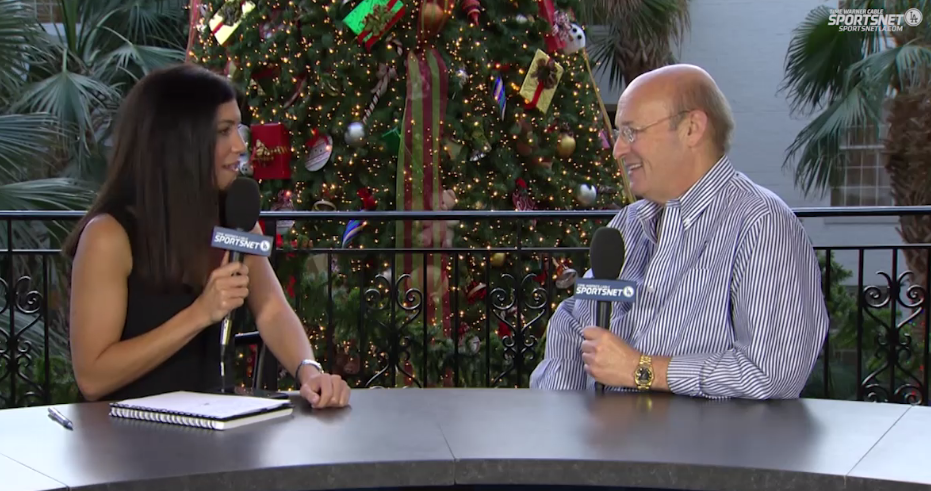 By Jon Weisman
It's hard to have settled feelings about a team that's in flux. And perhaps it's an indulgence to ask for patience.
While unable to discuss any pending transactions until they are official — sorry about that, but that's how MLB rolls — Dodger president and CEO Stan Kasten and president of baseball operations Andrew Friedman did advocate for the long view in speaking Tuesday with SportsNet LA's Alanna Rizzo from this week's Winter Meetings in Nashville.
Suffice it to say, today's Chase Utley announcement won't be the last the Dodgers make this offseason.
"We've had tremendous amount of conversations with other teams … and various agents," Friedman told Rizzo. "We obviously had a lot of dialogue coming into this week. And so we had a good feel for areas we wanted to spend a lot of time on. Some have led to dead ends, and some are still kind of going. We had a target list of guys that we want to try to acquire, and we're doing everything we can to try to bring some of these guys to Los Angeles."
"I think the trickiest part of the offseason by a lot is the timing element. Oftentimes, you're not able to work down your list methodically — it's the guy who's third or fourth on your list you can work something out with now, but that means obviously foregoing guys one, two, three, and that's a risk that you take. … Do you take the chance and wait?"
The Dodgers knew they had to improve the team for 2016, even before free agent Zack Greinke left them for the Arizona Diamondbacks.
"It's clearly a great acquisition for the Diamondbacks and clearly a loss for us, but one that we were not unprepared for," Kasten told Rizzo. "I think we had various scenarios, and we are aggressive in building the best thing we can for 2016 and more importantly beyond 2016. Everything we do has to have a component that makes us better now as well as the future."
Said Friedman: "We view it more from a team concept. There are certain times when your rotation is a strength, or your bullpen is a strength, or your position-player depth is a strength, and there's just different ways to put yourself in position to win. … We're not beholden to any one way. It's about building a deep enough and strong enough roster to be able to do that."
Friedman reiterated the overriding approach from the Dodgers, which to borrow a football analogy, is to look to make both the first down and the touchdown.
"We're tasked with doing everything we can to put ourselves in position to win a World Championship this year, while maintaining the position to sustain success over the long haul," Friedman said.
"You've seen it with other teams, where they're so focused on the next year, which doesn't come with any guarantees anyway, and you wake up one day and you fall off the cliff, and it takes years and years to rebuild. So we have to be mindful of that. That being said, we're also very mindful of 2016 and doing everything we can. We feel we have a very good, talented core in place, and so it's about supplementing that core and doing everything we can to also win in 2016."
As anyone following the Winter Meetings knows, there's a ton of stuff percolating. No news now doesn't mean there will be no news later.
"As you know with free agents, we're not allowed to talk about them until there's a deal that's official — same thing with trades," Kasten said. "Suffice it to say, we're very active on all those fronts this week and will continue the rest of the winter."
"We're very, very concerned about our long-term health, and the building up of our farm system, which has taken so much time, energy, effort and money, is very important to us," Kasten said when Rizzo asked about Miami's Jose Fernandez. "You mentioned one player in a trade. We're not allowed to talk about other teams' players in a trade. I've seen the tweets, and I know the activity that's out there (and) questions about that player. There's nothing we can say about that right now. I think it's fair to say we inquire on everything … and if we find a price that's good for us short-term and long-term, that's what we do."
"I know it's a generic answer, but it's the truth," Kasten added. "So far the last three years, we've had a very good team. Not a great team yet, because we haven't won it all, but we're hoping to be at least that good or better in  '16."