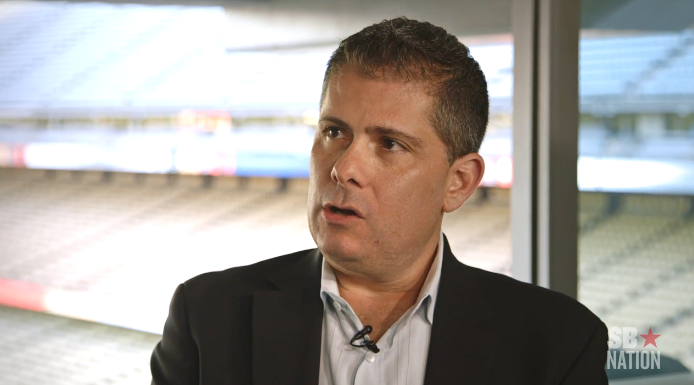 Erik Braverman has been out in his private life for years, but has kept his sexual orientation from many in baseball. With MLB's very public embrace of the LGBT community, Braverman wants youth to know they can be out in pro sports.
So reads the subhead from Cyd Ziegler's story at Outsports about Dodger vice president of marketing and broadcasting Erik Braverman. Here's an excerpt:
… Inside baseball — even within Dodger Stadium — Braverman held back his private life, his truth, his identity.

"I didn't want anyone to, in any way, not view me for the quality of my work," Braverman told Outsports. "I don't want to be know as the gay executive who happens to run marketing and broadcasting for the Dodgers. I want my accomplishments and my job to be first and foremost and speak for themselves."

Since starting Outsports in 1999, I had from time to time asked Braverman if it was time yet to share his story. I had met him playing in the L.A. gay basketball league before Jim Buzinski and I had started Outsports, and long before Braverman was working in Major League Baseball. As he ascended the ranks at ESPN Radio and then the Dodgers, I kept on him, a gnat that buzzed in his ear once every couple of years.

It was only minutes before he replied: "I think the time is right."

There are lots of reasons people in sports come out publicly. Braverman isn't remotely doing this for himself, content with living his lifelong dream in baseball even if it's meant some people may ask the occasional question about a missing girlfriend.

For him this is the last step to burying his fears as a kid and helping other LGBT people interested in a career in baseball take the leap. …
It's a terrific story and one I'm really pleased to share. Read the whole story here.