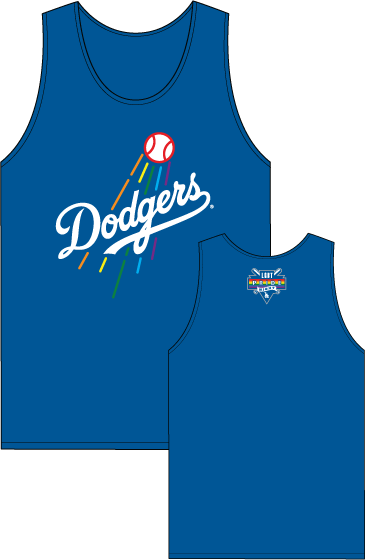 By Jon Weisman
Dodger Stadium's fourth annual LGBT Night will take place June 3 when the Dodgers play Atlanta.
A special event ticket package that includes a game ticket and exclusive Dodger LGBT Night tank top can be purchased only at dodgers.com/LGBT.
Los Angeles Galaxy star Robbie Rogers will throw out the ceremonial first pitch and former NFL defensive taclke Esera Tuaolo will sing the National Anthem, on a night that will also welcome former NFL player Michael Sam, former NBA player Jason Collins, University of Laverne women's basketball coach Julie Shaw, former Chapman University defensive end Mitch Eby, TV personality E.J. Johnson, "The Real O'Neals" star Noah Galvin and international recording artist Lance Bass.
Tuaolo is the founder of the anti-bullying organization Hate in Any Form is Wrong, whose mission statement is to help address the issues and minimize the negative impact that hate has on our society, especially with bullying as it relates to today's youth.
"We are proud to work with so many incredible partners for our fourth annual LGBT Night at Dodger Stadium," Dodger executive vice president and chief marketing officer Lon Rosen said. "We are committed to providing a friendly environment to all who reflect the great community of which we are a part. The Dodgers, with a proud history of diversity, recognize the value of an inclusive environment."
The Dodgers are also welcoming a new partner in the Sports Equality Foundation, focused on empowering LGBT athletes, coaches and sports leaders as they come out and work for inclusion and acceptance across sports at all levels.
The Dodgers are proud to welcome back members of Varsity Gay League, California's largest LGBTQ recreational sports league. A kickball game with select VGL members will take place prior to the baseball game.
In addition, the Dodgers will welcome athletes from the Greater Los Angeles Softball Association, a gay and lesbian slow-pitch softball league committed to providing an opportunity for both gay and non-gay participants to compete in an environment conducive to the gay community. The Dodgers are also proud to partner with GYM Sportsbar, the first and only gay sports bar in Los Angeles, in promoting LGBT Night at Dodger Stadium and the Sin City Shootout Sports Festival, the largest annual LGBT sporting event in the world, with more than 8,500 participants and 23 different sports together for competitive fun on and off the field.
June 3 also includes Friday Night Fireworks with music by George Figares and DJ Blacklow. Fans are invited on the field immediately following the game for the fireworks show.