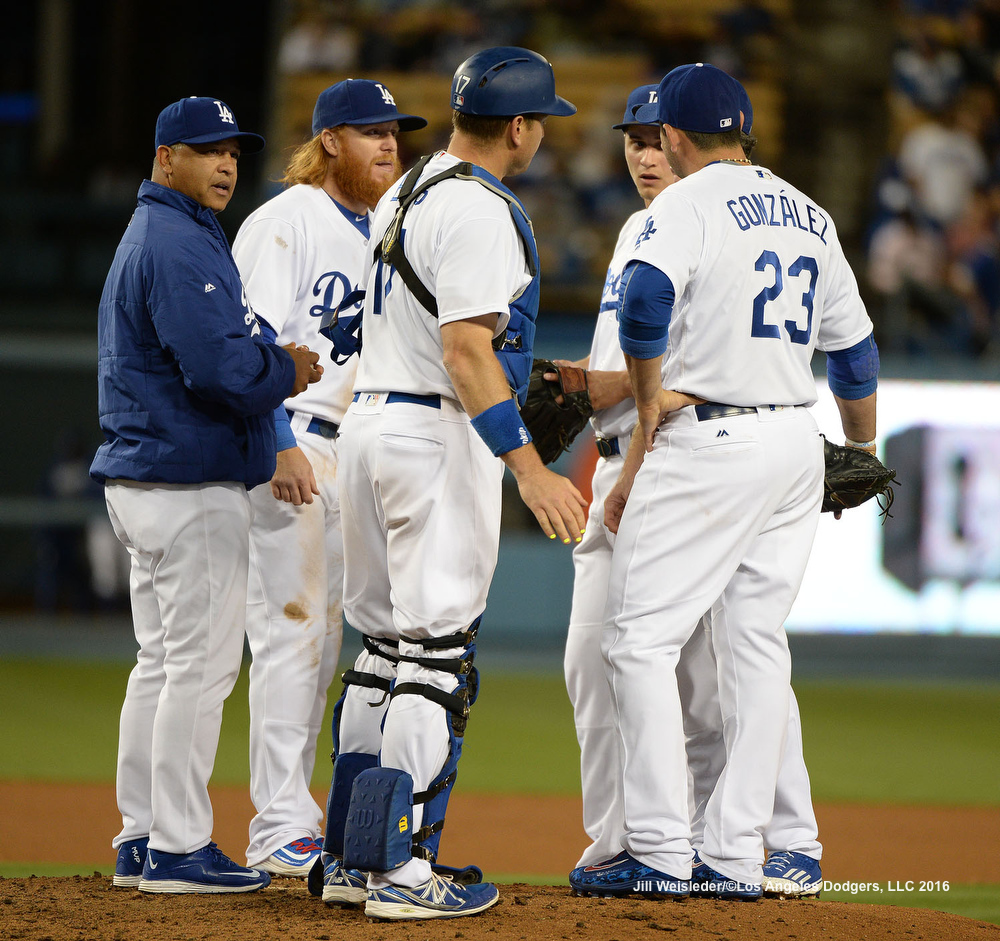 Mets at Dodgers, 7:10 p.m.
Chase Utley, 2B
Corey Seager, SS
Justin Turner, 3B
Adrian Gonzalez, 1B
Yasmani Grandal, C
Joc Pederson, CF
Yasiel Puig, RF
Carl Crawford, LF
Alex Wood, P
Note:
Alex Guerrero is beginning a rehab assignment tonight with Single-A Rancho Cucamonga.
By Jon Weisman
If you're wondering whether the Dodgers are content to be in first place in their division with a .500 record, the answer is no.
"We're not playing great baseball," Dave Roberts said this afternoon. "I think for the most part we're catching the baseball, but for the pitching and hitting to sync up, we're still waiting for that to happen."
The debate about the Dodgers that's happening right now around town and on social media is which of their two seemingly irreconcilable identities is true. Are they a first-place team, or are they a squad that loses at least as much as it wins?
"Where we're at in the standings is great, but obviously we don't see ourselves as a .500 club," Roberts said. "I think if you ask all these clubs in our division if they're a .500 club, I think they'll have the same answer, but just knowing the talent that we have and the depth that we have, I think everyone here in the clubhouse believes that we're far better than a .500 club."
[mlbvideo id="678196683″ width="550″ height="308″ /]
The answer is less about effort than ability to execute.
"The effort has been there since day one," Roberts said. "Guys are on board and being unselfish, but sometimes when you want something so bad, you try to do a little bit too much, and I think that can be said for the pitching as well as the offensive side."
Roberts flatly dismissed the idea that platooning and lineup shuffling is undermining the team or the progress of young players like Joc Pederson and Corey Seager. For what it's worth, the 16-16 Dodgers have used 26 different batting orders this year — same as the 24-6 Chicago Cubs.
Meanwhile, the 22-year-old Seager is OPSing .781 in May, while the 24-year-old Pederson has been the team's top hitter at 1.271.
"As far as affecting them in games, that game, it shouldn't matter," Roberts said. "And as a manager, you're not worried about two or three young players, you're worried about the entire team. So that's No. 1. And you're putting every player in the best position to have success.
"So when you look at your roster, and you look at the game that night, what lineup gives you the best chance to have success against that particular pitcher? This is not a development league — we're trying to win baseball games at the Major League level."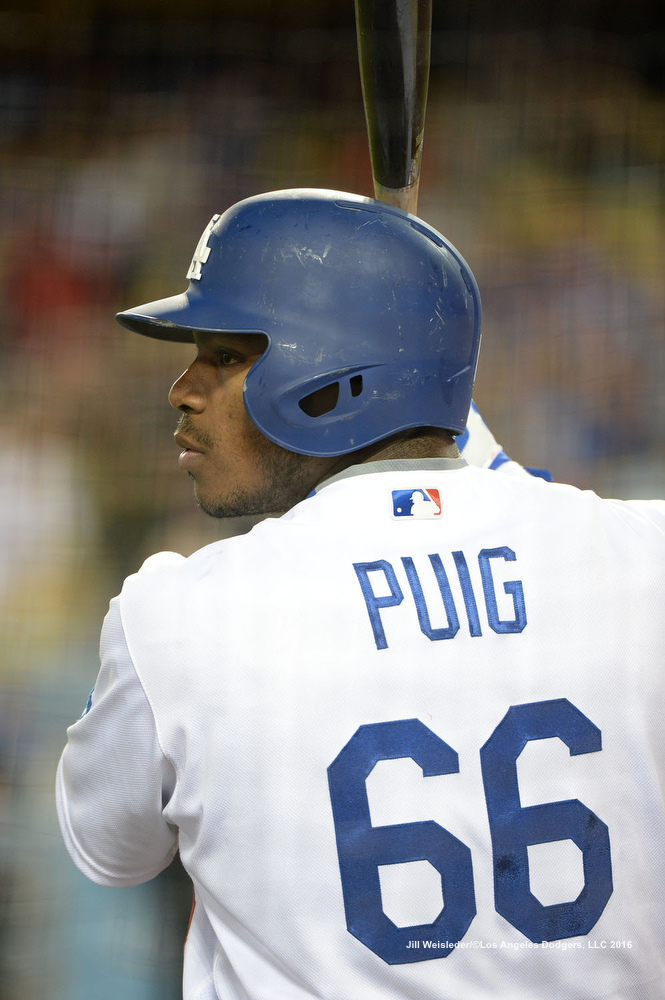 Two of the hitters struggling the most in May are everyday players Adrian Gonzalez (.522 OPS) and Yasiel Puig (.519 OPS). Puig's frustration was pretty clear when he struck out in the eighth inning Monday with the tying runs on base and one out.
"I feel he's putting a lot of the pressure on himself to perform," Roberts said. "When you've got his skill and you're not performing, then you feel you're letting the guys down. I think that since day one of Spring Training, he's been all in. And so to not perform as far as the numbers and statistics, I think he's disappointed because he wants to contribute and feels he can help this club offensively. But today he came in and did his early work, so he hasn't wavered from his preparation."
Roberts said he continues to be encouraging to Puig, while looking for appropriate moments to rest him mentally and physically. The coaching staff continues to work with Puig on his mechanics and approach.
[mlbvideo id="679054283″ width="550″ height="308″ /]
Through it all, Puig hasn't let his batting inconsistency affect him on defense, where his play has been electric.
"With Yasiel, people look for something where he's going to go the other way, but that's a huge credit to the person and the player," Roberts said. "He's playing Gold Glove defense. From the eye test to the metrics, he's playing Gold Glove defense, and that's the respect he has for his teammates. What he's not doing with the bat right now, he's doing with the glove."
Gonzalez's track record excuses him from the second-guessing that Puig gets from fans, except when it comes to whether he might be playing hurt.
"If he were, he wouldn't say it," Roberts commented. "I've talked to him about giving him another day, but the guy wants to play and I respect that. As far as the neck thing, I haven't heard anything.
"For me, there's been some balls in the hitting zone, some fastballs in the strike zone, that I think should be in play — at-bat should be over — and in the past it has been, but right now, this stretch of two weeks, he's not finishing at-bats the way he usually does."
The Dodgers won't have an easy night trying to solve their hitting woes at Dodger Stadium, where they have gone 5-9 while averaging 2.6 runs per game. In 14 home games, they have scored more than three runs only twice.
To flip that narrative, they'll have to break through against budding Mets superstar Jacob deGrom, the winning pitcher in Game 1 and Game 5 of the National League Division Series at Dodger Stadium last year. DeGrom's ERA this season is 1.99.
"Big-league pitching is so tough, and so when you get pitching you should handle and you're not, then it's tough to survive," Roberts said. "But they'll figure it out."