By Jon Weisman
Steve Cilladi's lifetime professional statistics read like the baseball version of Oliver Twist.
Forty games. Seventeen hits. Two homers, one triple, no doubles. Six walks, three times hit by pitch. Thirty-five strikeouts.
That's what the ledger shows for five seasons. Please, sir. I want some more.
But Cilladi is no unfortunate, and he would rebel at the very thought of it. He is a man of means, ambition and perspective — Dodger bullpen catcher today, who knows what tomorrow?
"To me, negativity is an absolute distraction," Cilladi said. "The time that's used to complain or mope or whatever else, can be time better utilized for the person next to you or for you, and I really take that to heart. Why am I going to complain? If I have a negative thought in my head, I'm going to turn that into something that can either be productive for myself or that's going to help the person next to me, and I think that's something we need more of."
A 29-year-old native of Arizona, Cilladi inherited the game from his father Dave, the Colorado Rockies' first head athletic trainer. The younger Cilladi played ball at Kansas Wesleyan University, an NAIA school that has produced no Major Leaguers, and by his own admission wasn't even the star of that team.
"I actually got hurt my last two years," Cilladi recalled. "One year, I fractured my face (an understatement, from a horrific collision with a teammate in practice), and my senior year, I shattered my thumb. So really, I was limited in the amount of at bats I was able to get those two years — so I thought any possibly of getting drafted whatsoever was just gone. There was no chance."
But Cilladi did have the opportunity to work out for then-Dodger assistant general manager Logan White, who told him to "be prepared for anything." Sneaking 58 at-bats into his final college season, Cilladi batted .328 with a .412 on-base percentage, and shortly thereafter, the Dodgers spent their 33rd-round draft pick on him.
He was the 997th player selected by Major League teams that year. And he was more than pleased. He was optimistic.
"Absolutely," Cilladi said. "I always view things with glass half-full. I don't want to ever think glass half-empty. I was very appreciative of the opportunity I was going to get to play professional baseball, no matter where it was going to be at. Even if I went in the very last round, I would have gone to have the experience and to see where it proved to be."
It proved to be … challenging. And humbling.
Oh, and invaluable.
In rookie ball that summer, Cilladi had 46 plate appearances. That would end up being his career-high. His on-base percentage was .217. The next year, repeating the level, he raised his OBP to .417, but he played in only 11 games all year. In 2011, he moved to Single-A Great Lakes, and went 5 for 27.
By now, you should realize that statistics aren't really the Cilladi story. By this time, he had.
"Luckily, my first season, I understood my capability compared to everybody else's," Cilladi said. "I knew what I was going to be able to do. Did I always want to play in the Major Leagues? Absolutely. Did I think it was impossible? Absolutely not. However, me being able to see that, I guess, and know where I kind of stood …"
He trails off just for a moment, then resumes.
"I think it's important to realize that when you go to the minor leagues, sometimes you're a guy and sometimes you're not a guy. And if you're not a guy, the point of you being there is to help the guys get to the big leagues. I understood that going in. I understood my role right away, and instead of rejecting it and being pissy and moany and whatever else, I embraced it. I embraced the fact that I was there to help the Zach Lees and everybody else get their reps and get to the big leagues, whatever fashion that might be."
In 2012, Cilladi moved up to Triple-A Albuquerque. He had one single, solitary at-bat. He didn't see the field defensively at all. He took batting practice, he caught bullpens. He did everything with the team, except play.
Before the 2013 season began, Cilladi and DeJon Watson, the Dodgers' director of player of development at the time, sat down together.
"He brought me in during Spring Training, and we kind of picked each other's brain a little bit," Cilladi said. "I kind of wanted to get an idea of where he thought I stood, not necessarily as a player — I wanted to know where he thought I was going to be going. And he asked me where it was I wanted to go, which was — I don't know — I guess you could say a great sign of respect. And I took it for what it was worth, and I said I'd like to go back to Triple-A, it's closest to the major leagues, it's the arena I want to be around, it's the atmosphere I want to be about. They approach the game a little bit differently at that level, so that's where I want to go."
When Cilladi returned to Albuquerque, he was reunited with manager Lorenzo Bundy, who had been his skipper in two previous seasons. Cilladi was immediately proactive, not asking for a leg up, but offering.
"I said I can throw BP, I can hit fungoes, I can do anything that you need me to do, as kind of an extra coach or whatnot," he explained. "Help out with extra work for players, whatever work you need to have done — I'm here to help you out. And he said, 'OK, I think I'll take you up on that.'
"So I ended up throwing to the early group at Triple-A every single day that season, and doing all the extra work out in the field with players. … I did the bullpen catching, and tried to be ready to play at the same time. So there was a lot going on, but in my mind I kind of saw it as an opportunity to start transitioning, at least show some people that I was interested in doing more than just being a player."
April became May, May became June, June became July, and Cilladi still hadn't appeared in a game. It appeared that the transition had been complete without him even knowing it.
Then, on July 14, for circumstances he doesn't even remember other than that it was right before the Triple-A All-Star Game, the Isotopes hit a sudden catcher shortage. Cilladi was told to get ready. He was the only one who could play.
Alex Castellanos homered in the top of the sixth. Iowa tied the game with a run in the bottom of the same frame. Neither team would score again until Albuquerque erupted for four runs … in the 18th inning.
Nearly two years removed from his last action behind the plate in a professional game, Cilladi caught the whole thing. He didn't know it, but that marathon would be the last game of his career as a player.
"I will say though, after that, I had a feeling," Cilladi said. "That was the game of my life, really, at that point. Eighteen innings long. I caught well. I don't think I allowed a wild pitch of 30-plus balls that were in the dirt. They were keeping track, and that was something they told me after the game they were impressed with. I called a good game. We had a no-hitter going (through five innings). It was just a very solid game. I didn't get a base hit — that would have topped it off for me — but I hit a couple of balls hard, just didn't find a hole. To me, I just had a feeling this could be it, so basically I just relished that a little bit."
In the 2013-14 offseason, Cilladi reached out to Dodger catching coordinator Travis Barbary, and had the conversation that every man and woman at a career crossroads has had. He had a college education. He had skills, including being a certified athletic trainer — shades of his old man. Did he need a new dream?
"I don't want to come across as being complaining or anything like that," Cilladi told Barbary. "I'm very happy in what I'm doing. I'll keep doing it. However, I would just like to know if the Dodgers see me of having any value now (or) down the road — as something other than a player. Do you see something there? Because if you don't, I need to move on, we need to kind of cut ties and I just need to go on with my life."
Barbary worked on exploring whether a position might be created to suit Cilladi's unique qualifications. Perhaps more importantly than that, Barbary kept in weekly contact, never letting Cilladi feel forgotten or abandoned.
Eventually, Barbary called Cilladi to tell him that there was going to be no new position. But … there was an existing position, for big-league bullpen catcher, alongside Rob Flippo, that they were interested in him for.
That'd work. At the end of Spring Training 2014, Cilladi was officially placed on the Major League staff.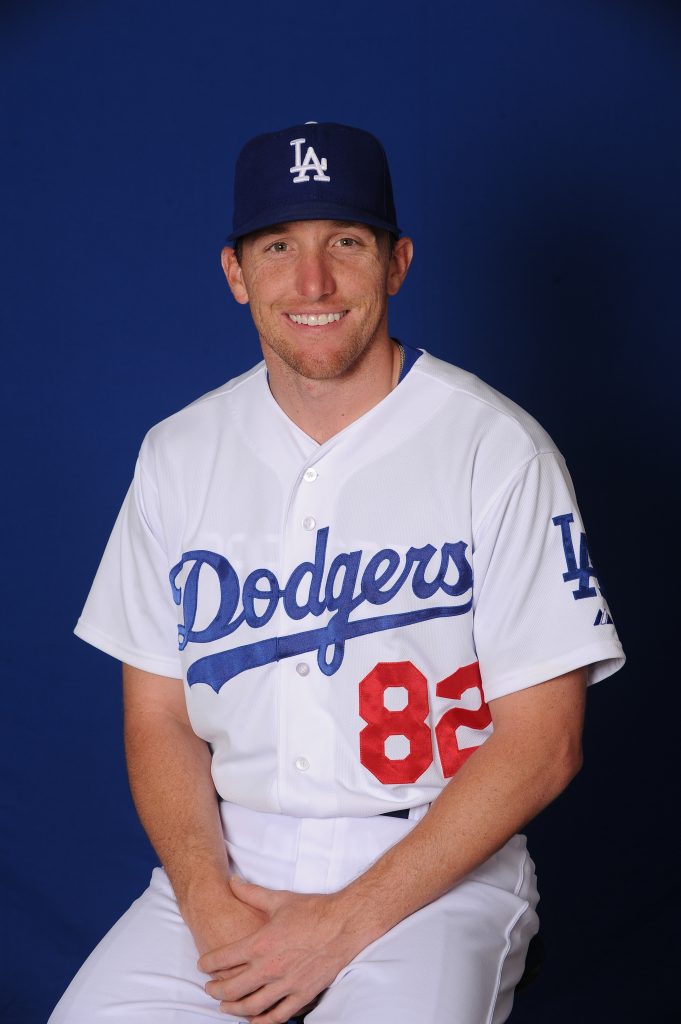 Two years later, Cilladi has a routine. He arrives around 10:15, 10:30 a.m., to get a workout in and get acclimated for the day, a day of making things happen for others. Recently, Cilladi said he was talking with bullpen coach Josh Bard, telling him that even if had something personal to do, he wouldn't do it at home. He would do it at Dodger Stadium — because he could.
"He kind of looked at me," Cilladi said. "And I said, well, when I'm sick of coming to the stadium, then I need to probably reevaluate where I'm at in my life. When I'm not happy coming here, I need to take a second look. The last thing I want to do is have my own unhappiness cause uneasiness to the people around me. I understand that in my position, sometimes I just need to find a way to make the people around me at their best, and sometimes to me that's a huge success."
When you can make helping others your vocation, you've kind of got your life made, whatever you're ultimately striving for.
"I guess, thinking about things broadly, I would like to manage someday," Cilladi said. "I would like to be in a significant position where I can make a difference. I try to do that now in the position that I'm in, so I would be interested in to see how and what I would do if I (managed). That interests me a little bit. But if that could never happen, it never happens. That would never stop me from being a little bit better each and every day and making sure the people around me are at their best, in one way or another."