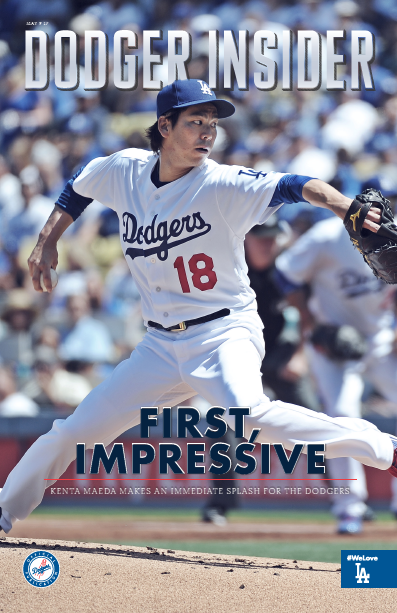 Mets at Dodgers, 7:10 p.m.
Chase Utley, 2B
Corey Seager, SS
Howie Kendrick, 3B
Adrian Gonzalez, 1B
Yasmani Grandal, C
Joc Pederson, CF
Yasiel Puig, RF
Carl Crawford, LF
Kenta Maeda, P
By Jon Weisman
In the cover story for the latest issue of Dodger Insider magazine, Kenta Maeda — tonight's starting pitcher for the Dodgers — speaks to Cary Osborne about the differences between Japan and the United States, and the adjustments he has been making.
"I was the ace of the staff in Japan," said Maeda, who enters tonight's game with a 1.66 ERA, 0.95 WHIP and 35 strikeouts in 38 innings. "Coming over here, I need to prove myself again to hopefully eventually be in that position."
Rick Honeycutt and Dave Roberts chime in to discuss why Maeda is capable of transcending in this journey across the Pacific.
Read the entire story by clicking here.
Beginning this year, the Dodgers merged their previously separate Playbill and Dodger Insider magazines into one publication (at least 80 pages per issue) with a new edition available each homestand plus one in October, 13 issues total. It is distributed at auto gates (one per vehicle) and via Fan Services for those who use alternate transportation. Dodger Insider magazine includes news, features, analysis, photos, games, stadium information and more. Fans who still wish to subscribe can do so at dodgers.com/magazine.