By Jon Weisman
Trayce Thompson has almost nothing in common with Alex Guerrero, except for this: People wondering, like they did last May with Guerrero, if he's for real.
Right now, Guerrero's future with the Dodgers is unclear, but only a year ago, countless Dodger fans were clamoring for him to start, while others were still saying to hold the phone (or whatever it is kids hold these days). Entering play on May 11, 2015, Guerrero had a .380 on-base percentage and .800 slugging percentage with six home runs in only 45 at-bats, and four more homers were still to come over the next four weeks, including a game-winning grand slam in Colorado.
But after leaving that series in Coors Field behind, Guerrero came to the plate 122 more times for the Dodgers, OBPing .197 and slugging .220, essentially playing himself into the limbo in which he will again find himself, once he completes his current minor-league rehab assignment.
Again, Thompson is not Guerrero. Not only has he had a more conventional path to the Major Leagues (aside from the basketball family he came from), but Thompson has the range to cover three outfield positions, the occasional misplay aside.
But Thompson is the home-run hero of the moment. He has hit four in the past 16 days, in only 28 at-bats, on Tuesday giving the Dodgers their first walkoff win since August 31 and their first walkoff homer since August 2.
[mlbvideo id="682399483″ width="550″ height="308″ /]
Suddenly, he is second on the entire Dodgers in home runs this season, behind only frequent platoon partner Joc Pederson, and he is literally the only player on the team to homer in more than one game this year at Dodger Stadium.
Offensively, he has become the No. 3 contributor to the Dodgers this season, according to Fangraphs (which simultaneously downgrades his defense). Thompson has raised his 2016 OPS to .847. Moreover, his career OPS, now in 203 plate appearances since his August 4 debut with the White Sox, is .880. That includes a healthy .779 mark against right-handed pitching, which Thompson supposedly should struggle with.
"He and the hitting coaches have really figured something out with him," Dave Roberts said after Tuesday's game, according to Jack Baer of MLB.com. "Not that he was broke before, but his stroke is really fine-tuned. I think they're doing some things mechanically that he feels comfortable with and doing consistently. Trayce is a winner, I can't say enough about him. The game honors you. When you work hard and do things the right way, things like this happen."
According to Baer, Thompson agreed that he has seen benefits from the work with Dodger coaches Turner Ward, Tim Hyers and Manny Mota, as well as Roberts.
"I was really late on a lot of fastballs earlier in the season and Spring Training," Thompson said. "I made some adjustments, and it's been paying off. I narrowed my stance a little bit so I can get to my backside."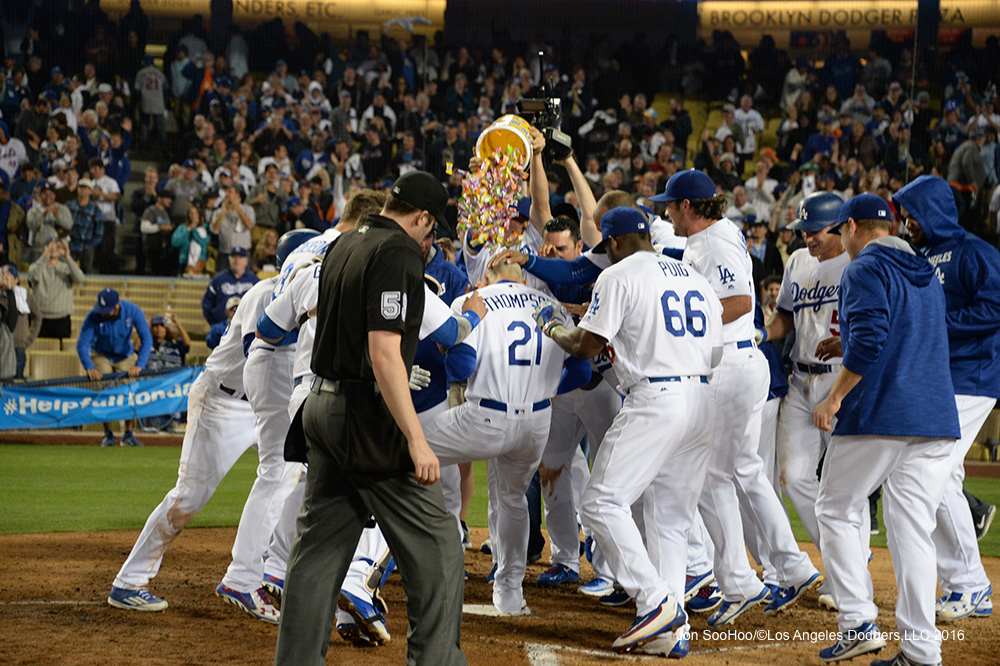 Corey Seager praised Thompson's poise to Doug Padilla of ESPN.com.
"I don't know how he did it," Seager said. "He took two heaters and still battled back and ended up swinging at the first thing that doesn't bounce. That's awesome. It's an awesome moment.
"He's calm as hell. It's unbelievable. He didn't even have any jitters after the game. It was like as if nothing happened right there. It was special. A lot of people, their motors are going fast. His just wasn't. No heartbeat at all."
At least one warning sign remains: Thompson has walked only three times this season — none in 37 plate appearances since April 21 — compared with 19 strikeouts. As recently as April 24, Thompson's OPS was only .624.
So what do the Dodgers have here? A potential everyday player, or an enigma like Guerrero? Or is he what he's been so far this season: a worthy part-timer? It's hard to know yet, but certainly, you have to enjoy the way Thompson has made it interesting.