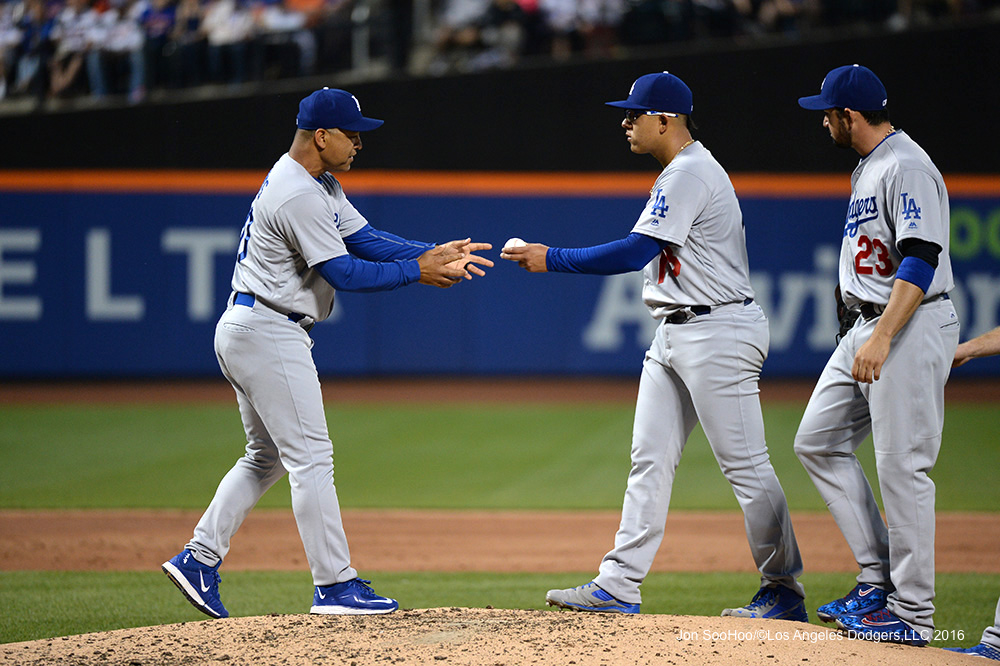 Dodgers at Mets, 4:15 p.m.
Chase Utley, 2B
Corey Seager, SS
Justin Turner, 3B
Adrian Gonzalez, 1B
Trayce Thompson, RF
Joc Pederson, CF
Howie Kendrick, LF
Yasmani Grandal, C
Kenta Maeda, P
By Jon Weisman
Julio Urias said he had the best day of his life when he made his Major League debut Friday. His next big-league appearance won't come right away, however, because the Dodgers have decided to option him back to Triple-A Oklahoma City.
Right-handed reliever Casey Fien will take Urias' spot on the 25-man roster, as well as the 40-man roster spot of minor-league outfielder James Ramsey, who has been designated for assignment.
Urias was forthcoming in his postgame comments following his 81-pitch, 2 2/3-inning start in New York, according to Ken Gurnick of MLB.com, including the admission that he was nervous.
"I was," Urias said. "I'm not going to lie, when I went out there, I started thinking of everything I've had to go through to get here. But when I was on the mound, I was able to settle down, be a little more comfortable. Unfortunately, we weren't able to get the results we wanted."
[mlbvideo id="745981783″ width="550″ height="308″ /]
Urias noticed right away the difference between the minors and Majors, and wished he had done better, but kept the moment in perspective.
"There was a big difference," Urias said of the quality of hitters. "They were looking for specific pitches, and sometimes I tried to fool them and I wasn't able to. Today, it didn't work out, but I'm going to continue to work hard and try to get results."

Urias said he will remember the good more than the bad.

"I'm very happy," he said. "This is the best day of my life, as it is for any big league player or any player that makes a debut. Although we didn't get the results that we wanted, I'm going to continue to work, and I thank God for the opportunity that he gave me."
Dave Roberts told reporters today that the Dodgers would bring back Urias when it made sense, and that he isn't worried about Urias' confidence.
Rather than send him back out on Wednesday at Wrigley Field, the Dodgers will revert to their pre-Urias rotation, which would be Kenta Maeda tonight and Clayton Kershaw on Sunday in New York, followed by Alex Wood on Monday, Scott Kazmir on Tuesday, Mike Bolsinger on Wednesday and Maeda on Thursday in Chicago. Kazmir and Bolsinger would be flipping their order.
It's a sign that the Dodgers remain confident that Wood, who was originally scheduled to pitch last night in New York, will make his rescheduled start two days from now. Wood threw a bullpen session today and told reporters he was good to go Monday.
After needing 77 pitches from their bullpen Friday, the Dodgers will replenish with Fien, who was claimed on waivers May 7 from Minnesota before being outrighted to the minors five days later. For Oklahoma City, he has allowed 13 baserunners in 7 2/3 innings with nine strikeouts.
Ramsey was acquired April 10 from the Indians. He had a .285 on-base percentage and .429 slugging percentage in 137 plate appearances with Oklahoma City.