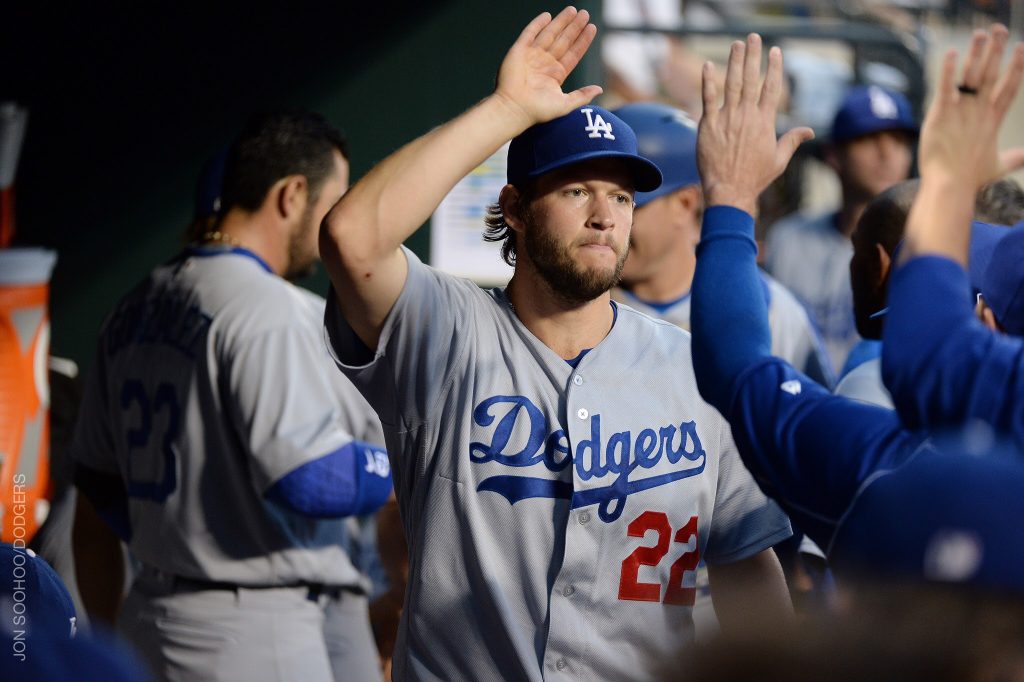 By Jon Weisman
Clayton Kershaw completed his extraordinary May with a triumphant finish, if you don't mind a mildly disappointing footnote.
Kershaw raised his strikeout total since May 1 to 65 — a total not exceeded by a Dodger pitcher in a single calendar month since Sandy Koufax in 1965. For the fourth time in six May starts, Kershaw struck out at least 10 and walked none. He averaged 8.3 innings per game. He allowed 24 baserunners in 49 2/3 innings. His ERA for the month: 0.91.
The 28-year-old phenomenon also set an MLB record by striking out his 100th batter before walking his sixth — Cliff Lee had the record with seven walks for his first 100 strikeouts in 2010 — and currently has a 21.0 strikeout-walk ratio.
Kershaw just can't boast about his second career 6-0 month. Leaving a game mid-inning for the first time this season, Kershaw settled — happily, one can bet– for a 4-2 Dodger victory, but only after Mets tied the game off reliever Adam Liberatore with two out in the bottom of the eighth.
Adrian Gonzalez's two-run single in the top of the ninth, and Kenley Jansen's three-up, three-down save in the bottom of the inning, gave the Dodgers and Kershaw the ending they were counting on.
From the very first batter on a warm Memorial Eve in New York, Kershaw was tested but taut.
His first two pitches were called balls, and his third was hit 401 feet by Curtis Granderson for a double. A soft Asdrubal Cabrera grounder moved Granderson to third, bringing up the Mets' top hitter, Yoenis Cespedes.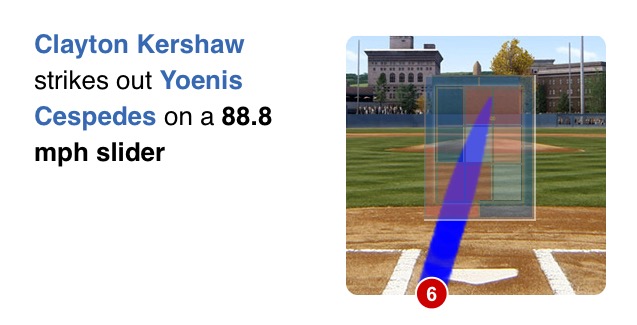 Cespedes saw seven pitches, and six of them were at his ankles or below. He showed restraint, working the count full. But he then struck out on an 89 mph low-down, dirty slider. Neil Walker then struck out swinging to end the inning … and send Kershaw onto a streak of 10 men in a row retired.
That skein included Kershaw's 100th strikeout of the season, and the aforementioned record. Last year, when Kershaw struck out a career-high 301, he reached 100 strikeouts in his 12th start of the season, June 6.
Kershaw had two 1-0 victories in May, and the Dodgers created the possibility of a third with a run that was mildly controversial. With one out and runners at the corners in the third inning, Justin Turner hit a slow grounder that went for a force at second and an RBI. New York (and really, I think it's accurate to say the whole city was invested) challenged Corey Seager's slide into second as illegal under this year's rule change, but the play was upheld under review.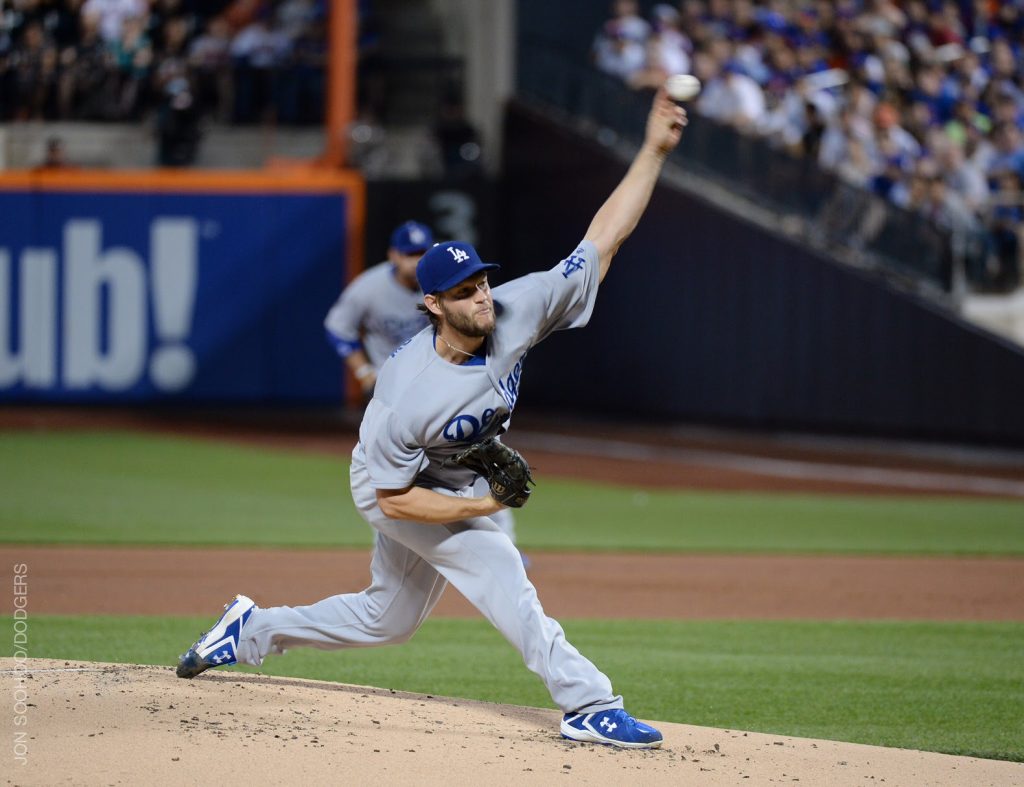 Walker got the second hit off Kershaw when he doubled with two out in the fourth. Once again, Kershaw followed with a strikeout, and on we moved to the fifth. With two out and none on, the Dodgers suddenly struck again, doubling their lead to 2-0 on consecutive singles by Seager, Turner and Adrian Gonzalez.
Kershaw was working on a streak of 20 consecutive scoreless innings when Cabrera hit a one-out, 1-2 pitch just over a leaping Howie Kendrick at the left-field fence. The ball caromed off the hands of a Mets fan, but withstood review. Kershaw hadn't given up a home run since Giancarlo Stanton's go-ahead, three-run shot for the Marlins in the sixth inning April 26.
In the seventh, Kershaw looked like he might be tiring. He went 3-1 to Neil Walker, before Walker fouled out. He went 3-0 to Juan Lagares, crossing the 100-pitch mark in the process, but came back to get the strikeout on his next three pitches. When Wilmer Flores popped out on the next pitch, Kershaw had completed the seventh inning for the 11th time in 11 starts this season. In those seventh innings, opponents are 4 for 36 with no walks and 10 strikeouts.
The unhappy twist took place in the eighth inning.
Kevin Plawecki singled on Kershaw's first pitch. Clearly working to the limit, Kershaw pressed on, retiring Eric Campbell and pinch-hitter Michael Conforto on fly balls. But at the 114-pitch mark, Dave Roberts came out with a mid-inning hook for the first time all year.
Liberatore entered the game to face Granderson. Liberatore threw two balls, then a strike. On the next pitch, Granderson drilled one deep to right. Yasiel Puig leaped, and came up inches short. Running with two out, Plawecki scored, as Granderson rolled into third base. Though Liberatore then struck out Cabrera, the game was tied.
But Mets closer Jeurys Familia had his second bad ninth inning in 48 hours. He gave up a pinch-hit single to Kiké Hernandez, then one out later, walked Seager and Turner. Gonzalez got the count to 2-1, then hit one simply and solidly up the middle to give the lead — and ultimately the season series — to Los Angeles, four games to three.