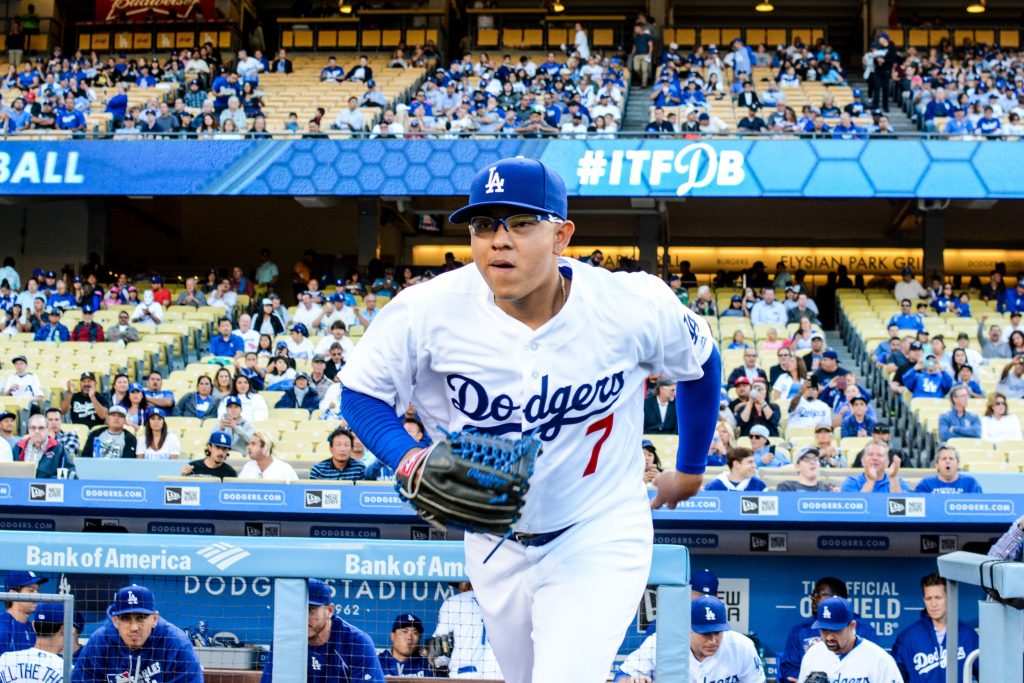 By Jon Weisman
Julio Urías remains in need of an efficiency expert, but that didn't stop him from enjoying his most satisfying appearance as a Dodger to date — and setting a record to boot.
In his first appearance before his Los Angeles fans, Urías struck out seven — the most by a teenager in Los Angeles Dodger history — but used up 86 pitches by the fourth inning, leaving with a 3-1 lead over Colorado.
The Rockies bedeviled Urías by fouling off 19 pitches — 14 in his final two innings — and never surrendering a quick out. Urías faced 16 batters, and none saw fewer than four pitches in an at-bat.
But from the start, Urías countered his pitch-count difficulties with flashes of the brilliance that makes him so enticing.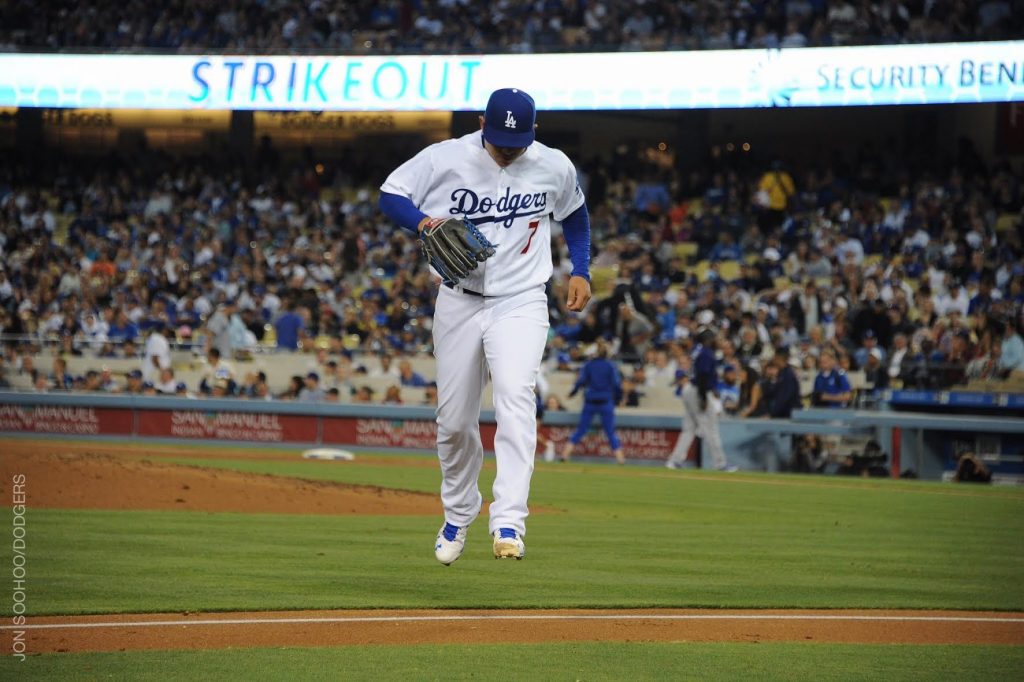 On the 300th day after his 19th birthday, Urías came near the edge of a first-inning precipice, allowing Ryan Raburn's one-out double before walking Nolan Arenado. But Urías dug in and struck out Carlos Gonzalez and Trevor Story to end the inning — then was the happy beneficiary of Justin Turner's three-run homer in the bottom of the first off Eddie Butler, for the first lead of the teenager's big-league career.
Urías celebrated with a perfect second inning, but even that required 17 pitches.
In the third, Urías gave up his run. With one out, DJ LeMahieu singled, and with two out, Arenado drilled a ball deep to left that Howie Kendrick couldn't flag down.
Urías ended the third by striking out Gonzalez for the second time, the first of three consecutive strikeouts that boosted his total to the highest by a Dodger teenager since Don Drysdale fanned nine for Brooklyn on April 23, 1956. Sandy Koufax set the Dodger teenage record with 14 strikeouts in a 135-pitch shutout the previous August.
Gerardo Parra extinguished any hope that Urías might make it into the fifth by fouling four pitches in an at-bat that ended with a 77 mph line drive to short.
Urías allowed a total of three hits and the single walk in his four innings. with his ERA dropping from 9.39 to 6.94. It again wasn't a performance that will satisfy the "Why isn't he everything he's built up to be right now?" crowd, and it showcased how much development remains, but it marked a second consecutive step forward and should do nothing to discourage anyone's hopes for him.
Update: Dave Roberts said after tonight's 4-3 Dodger victory that Urias would make his next start, tentatively set for Monday in Arizona.
"There's still some growth, but we're still going to keep going and give him another opportunity," Roberts said. "The ability to get that empty swing — there's foul balls, there's some borderline pitches that don't go his way — and Major League hitters, they can wait you out, and he's got to get to the point where he can get ahead of hitters and be able to wipe them out."