[mlbvideo id="788811483″ width="550″ height="308″ /]
By Jon Weisman
One locker separates the workstations of Trayce Thompson and Julio Urias in the Dodger clubhouse, which made for a funny scene when the hero of tonight's game came by.
With a crowd already three-deep in front of Urias' locker to learn more about his four-inning, seven-strikeout Dodger Stadium debut, Thompson minded his own business, as if he were a standby passenger rather than the man of the moment.
Hero Trayce Thompson goes about his business while waiting for the reporters to finish interviewing Julio Urias. pic.twitter.com/1MSg7c77fS

— Dodger Insider (@DodgerInsider) June 8, 2016
But eventually, we got around to talking to the man who hit his second walkoff homer of the season, rescuing the Dodgers from the 3-0 lead they surrendered and giving them a 4-3 victory over Colorado.
"I didn't know I hit it enough to go out," Thompson said. "I was running hard out of the box … trying to get into scoring position. I saw the outfielder kind of look up, kind of give up on it, it went out, I never really slowed down, and all of a sudden I was talking to you."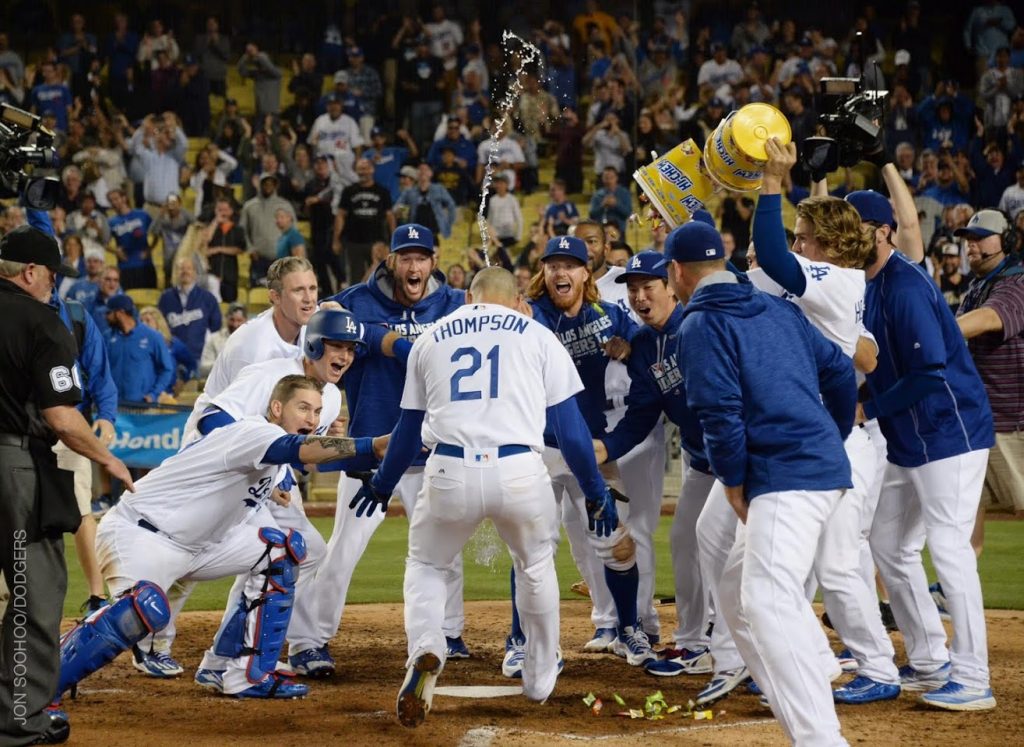 Dave Roberts praised Thompson's poise after a draining game. Not only did the Dodgers need to use six pitchers, they had no hits between Corey Seager's infield single to start the third inning and Thompson's homer.
"It was an emotional game," Roberts said. "It's good to see that Trayce is more calm than I was."
Said Thompson: "I try not to force the issue in those moments. I want to be the guy up in that situation. I feel like the reward for having success far outweighs (the risk of) failure. I'm not scared to fail."
* * *
Personal highlight:
Trayce Thompson could really insert himself into the lore of folk with a homer here.

— Dodger Insider (@DodgerInsider) June 8, 2016
OK then! https://t.co/CRGNeY81lG

— Dodger Insider (@DodgerInsider) June 8, 2016