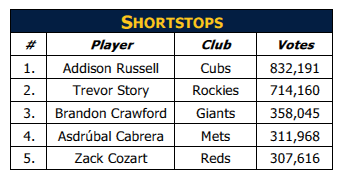 By Jon Weisman
Corey Seager's memorable week hasn't boosted him into contention for a starting spot on the National League team at this summer's All-Star Game, but there's still time. Fan voting continues through the end of June at dodgers.com/vote.
Thanks to his latest hot streak, the 22-year-old is hitting .284/.346/.526 with 12 doubles and 14 home runs, and has extended his lead over NL shortstops in wins above replacement. He is at 2.8, which is 0.5 higher than the next-closest shortstop, San Francisco's Brandon Crawford, and more than double that of vote leaders Addison Russell of Chicago and Trevor Story of Colorado.
Seager also ranks No. 1 among NL shortstops in weighted on-base average and weighted runs created. He is third defensively, behind Crawford and Philadelphia's Freddy Galvis.
Official voting notes:
You may vote in the 2016 Esurance MLB All-Star Game Balloting Program a maximum of thirty-five (35) times between April 24, 2016, and June 30, 2016 (limit of five (5) times during any twenty-four (24) hour period, with that twenty-four (24) hour period to begin as of the time of the first vote; following the expiration of the initial twenty-four (24) hour period, the next twenty-four (24) hour period begins at the time of your next vote).

You can also receive the 2016 Esurance MLB All-Star Game ballot by texting VOTE or VOTA to 89269. In Canada, fans can receive the ballot by texting VOTE to 101010.
As was the case a week ago, Adrian González is the lone Dodger to appear in the top five in the balloting for any position player. (Pitchers aren't part of the fan vote). The current NL voting for the remaining positions: