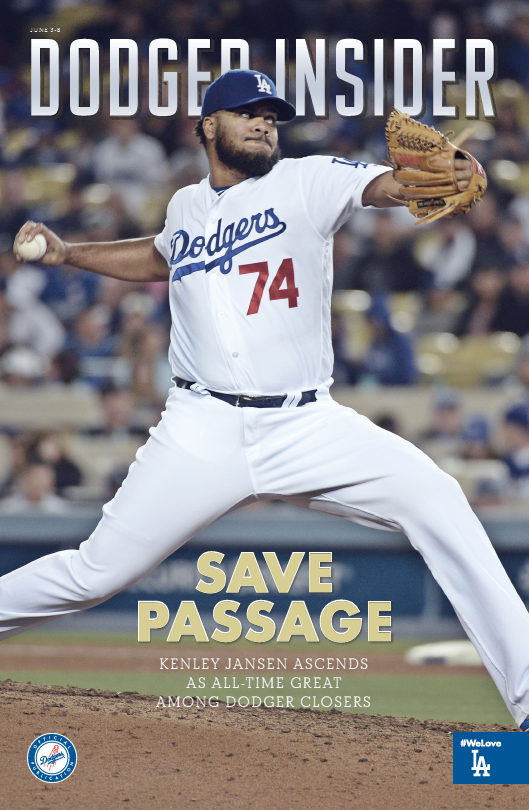 By Jon Weisman
When I set out to do our latest cover story for Dodger Insider magazine on Kenley Jansen, the initial idea was to talk to the big reliever about his potential first All-Star appearance, or his approach toward the Dodger career save record.
But quickly the story switched to an angle I was only too happy to explore — Jansen's close relationship with Dodger legend Don Newcombe.
"He's my father in the United States," Jansen said. "That's what it feels like."

"I think he's a fine human being, a fine human being," Newcombe emphasized. "He's like a son to me, and he wants me to just be a part of his life. That's all. No big deal, no instructions or anything, just a part of him."
Jansen is 28 years old. Newcombe turns 90 in one week (his birthday will be celebrated at Dodger Stadium with his bobblehead night this evening). Generations separate them, but their connection runs deep — and it was a joy just to see how much.
Read the entire story by clicking here.
Beginning this year, the Dodgers merged their previously separate Playbill and Dodger Insider magazines into one publication (at least 80 pages per issue) with a new edition available each homestand plus one in October, 13 issues total. It is distributed at auto gates (one per vehicle) and via Fan Services for those who use alternate transportation. Dodger Insider magazine includes news, features, analysis, photos, games, stadium information and more. Fans who still wish to subscribe can do so at dodgers.com/magazine.