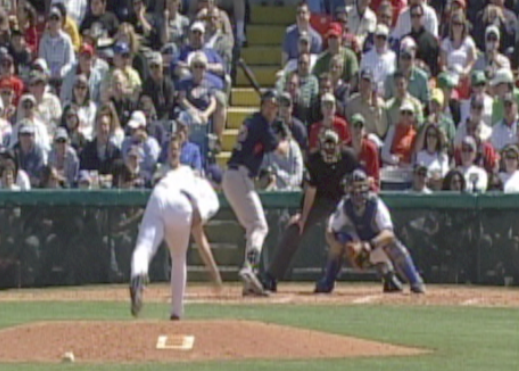 Believe it or not, Friday marked 10 years since Vin Scully announced Clayton Kershaw's arrival with the debut of "Public Enemy No. 1." (Sad to say I'm two days late with this anniversary post.)
It was obviously a special moment for Kershaw. On a smaller, personal level, it was a special moment for me as well. A few years back, Jonah Keri did a wonderful job recapturing my connection to the moment as part of a longer piece on Kershaw for Grantland:
… Kershaw got ahead of Sean Casey 1-2. Down went the sign for the curve. Kershaw reared back, fired … and we'll let Vin Scully take it from there:

"Ohhh, what a curveball! Holy mackerel! He just broke off Public Enemy No. 1."

In his 64 years calling Dodgers games, Scully has never been prone to hyperbole. When a truly special moment happens, sure, he'll deliver as stirring a description as you'll ever hear. But he understands context. A random pitch in a random spring training game isn't usually going to make him jump out of his chair. But this was no ordinary pitch. Kershaw's curveball was a masterpiece, falling out of the sky and turning Casey's knees into spaghetti.

Jon Weisman was watching the game at home. The proprietor of the excellent blog Dodger Thoughts, Weisman was excited to see Kershaw's first TV appearance in a Dodgers uniform. The moment that pitch landed for strike three, Weisman knew he had to watch it again. And again. Over and over, he kept rewinding, then rewatching, rewinding, rewatching. Finally, he decided to post the clip on YouTube. Dodger Thoughts had a healthy audience at the time. But Weisman wasn't on Facebook or Twitter. All he had were his blog readers, this one pitch, and Vin Scully's call.

As the day wore on, people started to notice. Yahoo picked up the clip and gave it some play. The views started piling up. A medium-quality recording off a blogger's TV of a random pitch in a random spring training game, and 659,000 people had watched it. In two days. By the time Major League Baseball pulled the clip for copyright violation (as has been their wont), it had racked up more than 750,000 views.

"It was this great showstopper, this coming-out party," Weisman recalled. "This was still early enough in his career that 'There Is No Such Thing As A Pitching Prospect' and all of that was in play. It was almost like, if he does nothing else, at least we'd have this."

At least we'd have Public Enemy No. 1. At least we'd have that one glimpse of a pitch that reminded the baseball world, if only for a moment, of you-know-who. …
I still remember the afternoon. It doesn't feel like yesterday, to be honest. It feels like 10 years – 10 rich, ridiculous years.
We'll keep the clip up here for a few hours at least, before I offend the powers that be.