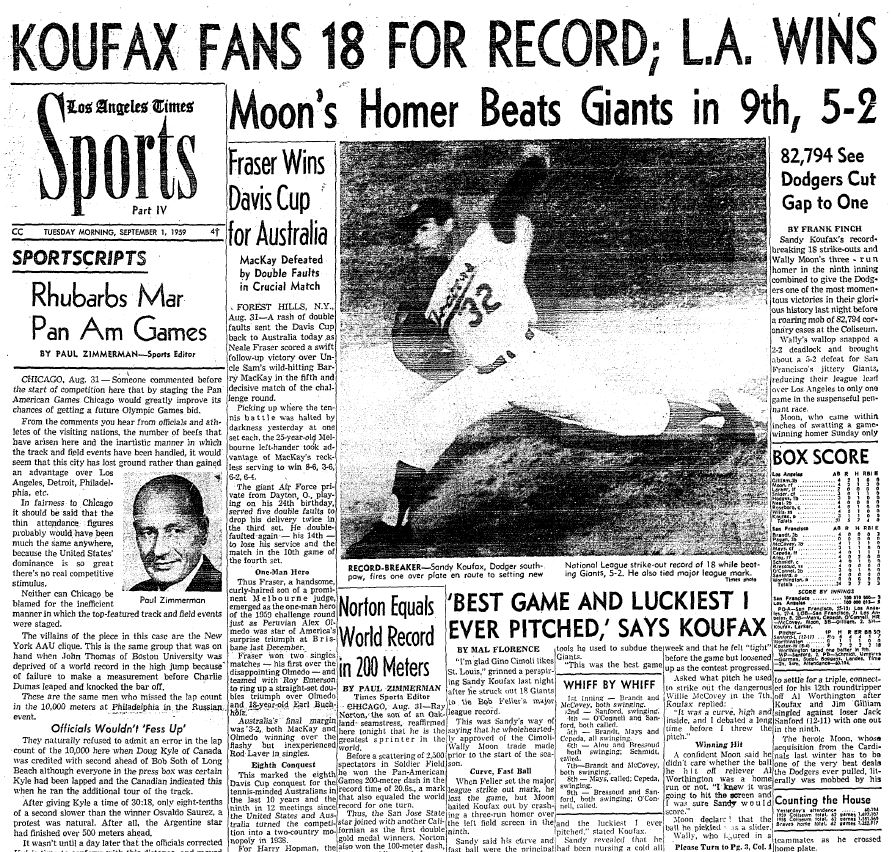 Sandy Koufax wasn't unknown when he arrived in Los Angeles from Brooklyn, but it was on this date in 1959 that the fans out West caught their best glimpse of the future Hall of Famer.
Before a crowd of 82,794 at the Los Angeles Memorial Coliseum, the 23-year-old Koufax broke Dizzy Dean's 26-year-old National League record and tied Bob Feller's 31-year-old major-league mark by striking out 18 in a 5-2 victory over the Giants.
"This was the best game and the luckiest I've ever pitched," Koufax said afterward.
Koufax struck out 10 batters after the sixth inning, and set his own MLB record with 31 strikeouts across two consecutive games. Not for nothing, the victory moved the surprising Dodgers to within a game of San Francisco in a crazy NL race. Los Angeles, which had been in first place for exactly one day since the middle of May, would slip back in the standings, before tying the Milwaukee Braves at the end of the regular season, winning a playoff series and then the World Series over the White Sox.
What's remarkable about August 31, 1959, especially when viewed through the lens of today, is that having already thrown 147 pitches in the game, the .116-hitting Koufax still batted for himself with one out in the bottom of the ninth and the score tied, 2-2.
Koufax singled and went to second on a Jim Gilliam single. Al Worthington relieved Giants starter Jack Sanford, and then Wally Moon, as Times beat scribe Frank Finch wrote, "pickled a 1-1 serve by Worthington" for a walkoff Wally wallop. That meant Koufax not only set the strikeout record, he scored the winning run.