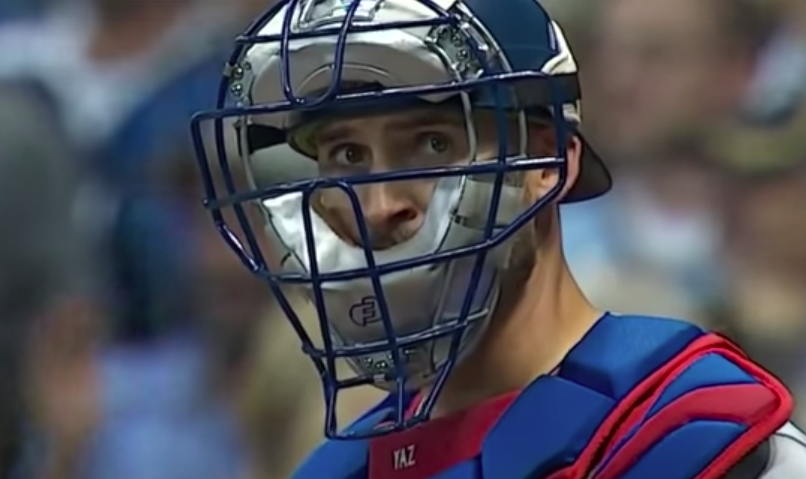 On a quiet Wednesday between the National League Division Series and Championship Series, I looked up Yasmani Grandal's career playoff stats.
I knew he wasn't doing well this October, and that he had been benched last October, and that there had been issues in previous Octobers, but I hadn't really put it all together until they spilled out before me on Baseball Reference.
Heading into the NLCS, in his postseason career, Grandal was 5 for 59 with 25 strikeouts. He did have 14 walks and two home runs, including one in NLDS Game 2 against Atlanta, but he was 2 for his last 45, lowering his playoff OPS to .447.
I shared these stats with Eric Stephen of SB Nation, who took things a step farther. Grandal's .085 batting average, Stephen found, was the fifth lowest in MLB history among players with at least 50 plate appearances, and two of those lower than him were pitchers.
Bill North .051 (3 for 59)
Marv Owen .061 (3 for 49)
Greg Maddux .073 (4 for 55)
Whitey Ford .082 (4 for 49)
Yasmani Grandal .085 (5 for 59)
That's all to point out where Grandal stood before what has been an absolutely miserable start to the NLCS.
On the bright side, Grandal has gone 1 for 5, thereby actually raising his batting average to .094 and passing Dan Wilson to only be the sixth worst of all time. But that's been overwhelmed by an historically awful defensive night in NLCS Game 1, when he committed two errors and two passed balls within the first three innings.
It was after his second error, a dropped throw home from center fielder Cody Bellinger, that the screenshot atop this post comes from. I'm not sure I've ever seen such desperate eyes in the middle of a baseball game.
Grandal reduced his passed ball count from 2017 to 2018, but he has had a number of dropped catches on throws home this year. In any case, this isn't really about his work in the regular season, which has been productive if inconsistent throughout his four seasons with the Dodgers. This is about trying to rescue him from one of the worst postseason careers baseball has ever seen.
A huge opportunity came in Game 2, when he pinch-hit with the bases loaded and one out, with the Dodgers down by a 3-2 score. But on a 2-1 pitch, Grandal hit a slow roller for an inning-ending 4-6-3 double play, punctuating the unfeat by sliding misguidedly into first base.
With the latest out, Grandal is now 6 for 64 with 27 strikeouts in the playoffs, along with his 14 walks.
I don't have the answers here. Grandal is about as hot and cold as they come in general, playing a position that beats you up on your best days. I'm not a big believer in the idea that players suffer terminally from pressure. I'm a believer in redemption, from Juan Uribe to Pedro Baez. I believe it can happen for Yasmani Grandal. I just wonder if he'll run out of time as a Dodger before it does.