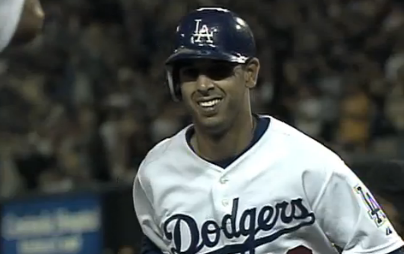 The Red Sox and Dodger franchises last played in the World Series 102 years ago, in 1916. We'll obviously get a lot of history from that series. Here's a bit of it …
Since the moment figures to come up, oh, 18 times during the World Series — or nearly as much as Dave Roberts' stolen base for Boston in 2004 — click here for my definitive interview with Red Sox manager Alex Cora about his legendary at-bat with the Dodgers.
That Brooklyn-Boston World Series was so long ago that the Robins' Game 1 catcher, Chief Meyers, was born in 1880. Interestingly, he was born in Riverside and went to high school there — same as the Dodgers' likely 2018 Game 1 catcher, Austin Barnes.
Here's an excerpt from Brothers in Arms: Koufax, Kershaw, and the Dodgers' Extraordinary Pitching Tradition, on the 1916 World Series that featured three great pitchers, Jeff Pfeffer, Sherry Smith and Rube Marquard, in a losing effort — not to mention an unreal winning effort from a guy named Babe Ruth.
… when it came time for the World Series against the Red Sox, Brooklyn manager Wilbert Robinson steered away from Pfeffer, partly to avoid using the right-hander against a lefty-heavy lineup, though the Brooklyn Daily Eagle also wrote that his "inexperience in the biggest of the big shows is held up against him." Pfeffer began Game 1 in the bullpen behind Marquard. Once again, Pfeffer pitched in relief after the Robins fell behind, once again the Robins rallied, but this time they fell short in a 6-5 nailbiter. Pfeffer was then on the sidelines as Smith and Boston's star pitcher, 21-year-old Babe Ruth (who led the AL in ERA and didn't allow a home run in 323⅔ innings), each went to the 14th inning before the Sox won Game 2, 2-1.

When Game 3 arrived for Ebbets Field's World Series debut, it had been 10 days since Pfeffer had started a game for Brooklyn, but Robinson turned to 33-year-old veteran Jack Coombs, who had thrown half as many innings as Pfeffer in 1916. Pfeffer came out of the bullpen for the save (as Eric Enders notes, the first and only in Brooklyn postseason history until 1947). Only after Marquard then took his second loss in Game 4 did Pfeffer receive his first World Series start in Game 5, when he suffered a series-ending, 4-1 defeat.
Ruth (14 innings) and Smith (13 1/3 innings) hold the top two spots on the list of longest outings in postseason history by a pitcher.