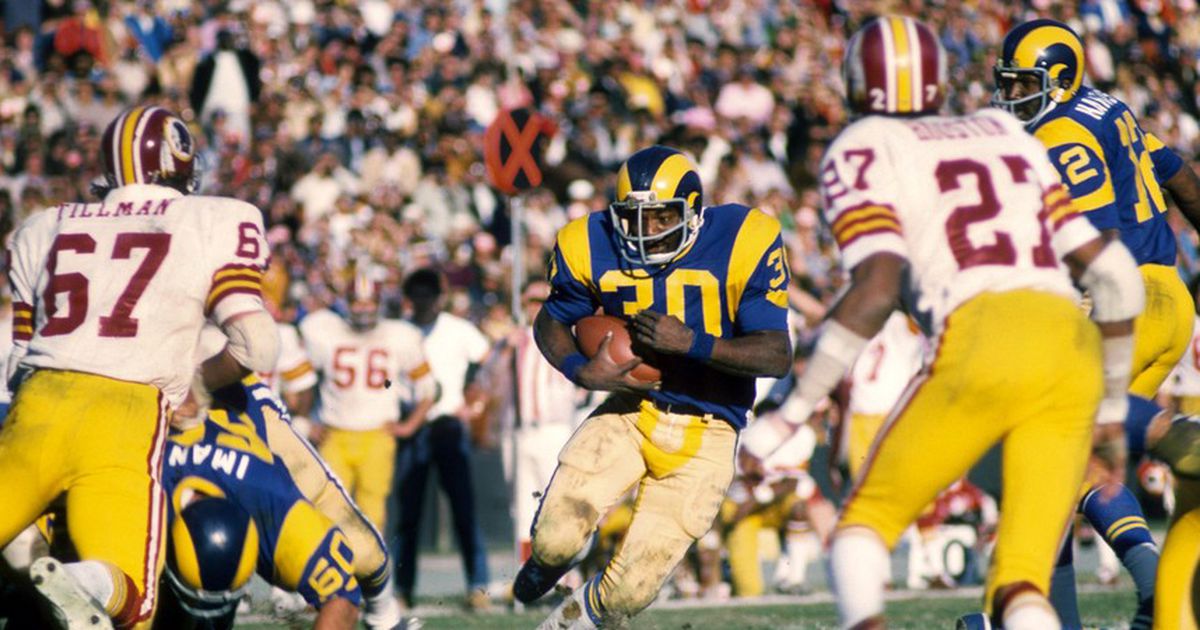 For all my devotion to the Dodgers, my sports fandom was ignited by the Rams.
In fact, I can actually pinpoint the night it really, truly began, when I went from being curious but confused to crazy in love.
My dad's family moved from Chicago to Los Angeles in 1951, and got season tickets for the Rams almost immediately. Two decades later, I was being taken to games before I even understood the rules. At age 5 or 6, I would borrow my dad's binoculars and stare at the scoreboard more than I would the field, struggling to understand the concept of "downs" despite however many times it might have been explained to me.
My love affair with sports began at a nighttime Rams game at the Coliseum in 1975. It was an exhibition game, of all things, but that was the night it clicked. I have never been the same since. pic.twitter.com/hdo4aQGpN6

— Jon Weisman (@jonweisman) November 20, 2018
As the 1975 season began, an extra ticket was available for me to take my friend Richy Kolostian to a game in August. It was an exhibition game, but I was not at an age where that distinction mattered. I wouldn't say I remember any specifics about the game except for the fact that the Rams dominated, and it thrilled me in a way I had never experienced before. And with that, folks, I was hooked.
Over the next few years, the Dodgers and Lakers were certainly part of my sporting life, but my devotion was led by the Rams and UCLA basketball (my mom was a UCLA graduate, and my parents had season tickets from the moment Pauley Pavilion opened in 1965).
Without rehashing the sad details, I lived and died with the Rams' quest for the Super Bowl — it occurs to me now that the gap between their last NFL championship in 1950 and my childhood years in the mid-to-late '70s parallels kids today waiting for the Dodgers to follow up on 1988.
But suddenly, in 1980, the Rams were bound for Anaheim. We gave it a try for a year, but for a family that lived in Woodland Hills, there were more Disneylandless trips to Orange County than we were willing to bear. Plus, the Dodgers were right within reach, and I had fallen in love with them. In 1981, they won the World Series. My dad let our Rams tickets go, and we got Dodger tickets to replace them.
(There's a lot more to that story, that I'll go into some other time.)
I did continue to root for the Rams from afar, but it was never quite the same. There's a story about the Dodgers' move from Brooklyn to Los Angeles, which is that when Walter O'Malley desperately wanted to keep the Dodgers in Brooklyn, Robert Moses offered him an alternative in Queens. As far as O'Malley was concerned, if the Dodgers weren't in Brooklyn, it didn't matter how close or far or away they were. Flushing or Chavez Ravine, it was not going to be the same. My experience with the Rams makes me feel he was right.
By the time the Rams moved to St. Louis, I was already a lost fan. The Rams won their long-awaited Super Bowl, in dramatic fashion no less, and it didn't touch me emotionally at all.
That's a long preamble to this post, which finds the Rams, now back in the very place I fell in love with them, as a serious Super Bowl contender. They have already played the game of the year, a 54-51 Monday Night Football win — how I adored seeing the helmets of the 1970s Rams in the gleam of Monday nights — and I watched the final 55 minutes of that game, as much of the team as I've seen this century. I am paying attention with a bit more than detached interest. (For that matter, I'm keeping an eye on the Los Angeles-San Diego-Los Angeles Chargers, and the little bit of a potential for a city championship Super Bowl.)
The news last weekend that the Rams would open the playoffs against the Cowboys, the opponent that helped christen my life as a sports fan, and a major rival during my young years, added some spice. To this day, vestiges of Cowboy antipathy remain, and I'd love to see the Rams take them down. No on 37-7 and 28-0 NFC Championship defeats, yes on Vince Ferragamo through six defenders to Billy Waddy.
(Called by a promising young broadcaster, no less …)
But I just don't see a scenario where the Rams winning a Super Bowl will really reach me where it counts. I don't think the Rams can ever win me back the way they had me. The players today might be better than ever, but the names I want to see are Lawrence McCutcheon and Harold Jackson, Cullen Bryant and LeRoy Irvin, Merlin Olsen and Jackie Slater, James Harris and Ron Jessie, Nolan Cromwell and Jack Youngblood.
I'm not trying to take anything away from the present-day Los Angeles Rams or their fans, whom I wish every thrilling and victorious moment they can get. But my Ramdom fandom is frozen in time. The Rams could end up with a season for the ages, and I will forever feel like an outsider. They left, and I let them go.