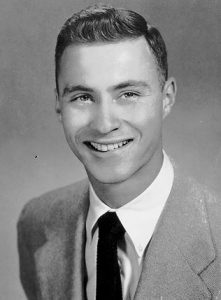 So, maybe Episode 4 is a little early for a very special episode of the Word to the Weisman podcast, but we've got one.
For the newest installment, I interviewed my father, Wally Weisman, specifically about his experiences growing up as a sports fan in the 1940s, '50s and '60s. My dad was born in Chicago in 1935 and became a huge sports fan almost immediately — then moved to Los Angeles in 1951 and had to adapt to a West Coast sports scene that was still in the early stages of development — no Dodgers, no Lakers, and a Rams team that itself was relatively new.
He shared some great stories from as early as 1940 all the way to when I was born in 1967, including a couple of interesting ones outside the world of sports. It's obviously personal, but I think many of you will find it interesting. It's not every day that you hear someone talk first-hand about Sid Luckman and Bronko Nagurski, or seeing the Bears play at Wrigley Field, or seeing the Globetrotters play the Minneapolis Lakers when the games really meant something. And a number of his recollections impressed me — for example, knowing that his hero, Stan Musial, absolutely destroyed Dodger pitching at Ebbets Field.
As a bonus, and in keeping with the family theme, Episode 4 debuts the new Word to the Weisman podcast theme song, "Citrus Skies," from lamekids, with the music composed and performed by my 14-year-old son — known in these parts as Young Master Weisman. You can find lamekids' music at several spots including YouTube, Spotify and more.
Listen below, or click here to listen on iTunes, Google Play or Spotify. I also recommend you subscribe to the podcast, so you know the moment a new episode is available — especially helpful now, since I don't have a set schedule.
Buzzsprout

If you enjoyed this or would like to hear other interviews from me, please let me know in the comments below, or reach out to me @jonweisman on Twitter. Thanks!