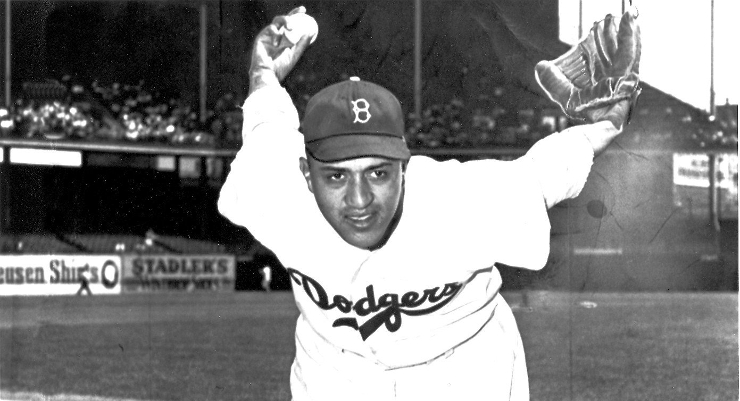 Don Newcombe has passed away today at the age of 92. In honor of the inspiration for my book, Brothers in Arms: Koufax, Kershaw and the Dodgers' Extraordinary Pitching Tradition, here is the entire chapter devoted to Newcombe. 
Don Newcombe
The agony. The terror. The hopelessness. The tears. The pain.
At the climax of his incredible career, these were the feelings that consumed Don Newcombe.
It's all hard to imagine, hard to reconcile with the image that remains of the burly 6-foot-4 right-hander pitching like the side of a mountain coming at you from 60 feet, 6 inches away, or with his regal presence at Dodger Stadium in the 21st century, floating into the stands during batting practice in a suit and hat past his 90th birthday, with present-day members of the team lining up to spend time.
But Newcombe's sublime legacy has masked the heartache that came along the way.
Surely it should have been enough, more than enough, just to endure, just to survive, as an African-American pitcher in the opening decade of Major League Baseball's integration. The attacks and the indignities, big and small, on and off the field, could have broken Newcombe, who wasn't the first player to sever the color line like Jackie Robinson, nor the first pitcher like Don Bankhead, but who was years younger than either — a mere 23 — when he took the stage for Brooklyn in 1949.
But on top of it all, like a fusillade of fastballs to the gut, Newcombe was repeatedly drilled during his big-league career, by fans, by the media, even by managers and teammates. Some of the damage was self-inflicted, brought on by his own behavior. Much, however, was superfluous, misguided and even cruel, judging Newcombe by his shortcomings – real or imagined – no matter how numerous his successes.
The pressure and expectations crescendoed into a collapse, a breakdown of a vulnerable soul that few understood. That he eventually recovered to give the rest of his life back to the game and its players is as important as the story that preceded.
His journey, as much as that of any pitcher in Dodger history, is profound.
Like Ralph Branca and Carl Erskine, Newcombe was born three years before the Great Depression. His father was a chauffeur who had a steady job working for the same family, and the skinny youngster, who dropped out of high school, adjusted his ambitions accordingly. "He had grown up in New Jersey a gifted athlete who wanted above all to be a truck driver," Michael Shapiro wrote. "He played baseball well, but not seriously, assuming that if he did not make a living driving trucks he might become a drummer instead."
"I was going from pillar to post," Newcombe said, "and I was sitting in the pool room one day, and I was playing checkers with this guy, and he says, 'How would you like to play professional baseball, or at least try out?' I said, 'Man, that would be fine.' "
It was the height of World War II, with the military depleting the ranks of ballplayers, so just like in the major leagues, the Negro Leagues were taking practically all comers. Newcombe's first encounter with future teammate Roy Campanella (five years his senior) came on opposing sides in 1944, when Newcombe's manager, Mule Suttles, told him to knock Campanella down with a pitch. Newcombe fired the ball up but not in, and Campy slammed it out of the park.
On the cusp of adulthood, Newcombe was questioned, maybe for the first time but far from the last, if he was man enough for this life.
"Suttles came out to the mound to take me out of the ballgame," Newcombe recalled. "He said, 'You'll never make a big-league pitcher because you're too goddamn dumb.' I always remembered that. I had to learn to become a big-league pitcher – big-league, that is, as far as Negro Baseball was concerned."
The next year, a new manager, Willie Wells, gave Newcombe a less eviscerating but wholly useful instruction.
"He said, 'I don't want you to throw a baseball for the first two weeks you're in Spring Training. All I want you to do is run, just run," said Newcombe. "Your legs are your most important part of your body, and the more you run, the stronger your arm will be. You never have to fear injury."
"Newcombe running is an awesome sight," a beguiled Robert Creamer wrote years later. "He looks taller than his 6 feet 4 inches, heavier than his 240 pounds. He starts slowly, lumbering at first, but then gradually picking up speed like a Mack truck or an elephant, until with heavy, ground-shaking steps he pounds over the grass. A teammate has observed, 'When Newk runs it's like the wall of a building falling down. He's not very fast, but once he gets going he can't stop, and ain't nobody going to get in his way.'"  
Clyde Sukeforth, the scout who had brought in Robinson to be signed by Branch Rickey, did likewise for Newcombe. For the 1946 season, Newk and Campy went to Nashua, two levels below the majors, where they were managed by Walter Alston. The following year, while Campanella moved up to Montreal, Newcombe returned to Nashua and pitched 223 innings with a 2.91 ERA, then 189 innings with a 3.14 ERA in '48 for Montreal after Campanella matriculated to Brooklyn. On May 20, 1949, Newcombe's turn arrived.
Less than a month shy of his 23rd birthday, Newcombe made his major-league debut at St Louis in the seventh inning, the Dodgers trailing, 3-2. With three fastballs, he struck out the first batter he faced, Chuck Diering, but then gave up three straight singles to Red Schoendienst, Stan Musial and Eddie Kazak and a bases-clearing double to Enos Slaughter. Dodger manager Burt Shotton pulled Newcombe and his 81.00 ERA from the game.
"Well, I got my dauber down, and I thought I was on my way back to Montreal," Newcombe said. "And I recall sitting down at the end of the dugout by myself and feeling damn dejected, I'll tell ya. Burt Shotton came over – he was an old man who always wore civilian clothes and a damn nice man – but I didn't know him. I didn't know anything about him. He came over, and I thought, 'Uh oh. Here it comes. I'm going back to Montreal.'"
Remarkably, Shotton told Newcombe he'd be starting the second game of a doubleheader in Cincinnati – in 48 hours. More remarkably, Newcombe pitched a five-hit shutout, walking none.   
"Newcombe was just a hard thrower," Erskine says. "What you want to be is a pitcher. He didn't have a very big curveball. He had a small, sharp – actually, it was a slider. But he had excellent control. Campanella took him as a young pitcher, and he actually made Newk. And if you talk to Newcombe, I think he'll tell you that without Campanella's early coaching and encouragement, he might never have been the outstanding pitcher he was."
Despite making his first start with 121 games left in the regular season, Newcombe led the NL with five shutouts and 5.5 strikeouts per nine innings and the Dodgers with 244⅓ innings and 19 complete games, finishing with a 3.17 ERA (130 ERA+) while averaging 7⅔ innings per start. He won the NL Rookie of the Year Award, finishing eighth in the MVP voting that was topped by Robinson – a just result not only for Robinson's performance on the field, but Robinson's role in Newcombe's success.
"Robinson, who saw true ability in the youngster, was determined to teach him how to win," wrote Arnold Rampersad. "Off the field, he could be cuddly with Newcombe. 'This kid's going to be a great pitcher,' he assured a reporter as Newcombe stood bashfully by. 'All he needs to be sensational is a little more experience. He can win the pennant for us.' On the field, however, Jack was often brutal. 'I cuss him out from the beginning to the end,' Robinson wrote. 'I call him all the bad things I can think of. I got to, to keep him interested in the game.'"
Not only had the questions about Newcombe's character that had sprouted when he was still a Negro League teenager never gone away, they seemed to multiply. Newcombe's temperament was an issue from the start.
"If they took a popularity poll, I sure as hell wouldn't win," Newcombe told Roger Kahn. "Lots of guys don't like my attitude. Can't blame 'em. I don't like it myself."
"How so?" asked Kahn.
"I say things I shouldn't."
But he also faced torment that few understood. Forever Blue author Michael D'Antonio describes an incident from Spring Training 1949, when Newcombe and A's catcher Fermin Guerra renewed a winter-league beef that had begun months before.
"This time," wrote D'Antonio, "Guerra crossed some verbal line, and Newcombe responded by ripping a slat off a fence and using it to hit him. As a black sportswriter named Sam Lacy intervened, a white spectator began screaming about how (as Newcombe recalled), 'a n––r can't go after a white man that way.'
"The next morning, the camp was alarmed by a rumor that a mob was coming to lynch Newcombe. While an airplane was readied to take him away, the local sheriff arrived with the word that no one had to worry because tempers had cooled when locals realized Guerra was Cuban."
Newcombe could never pretend that any of his actions wouldn't be judged through a prism of racism.
"He couldn't stay in the hotel with us either, in those early years," Erskine says. "He was a little defensive with the press, and I think it was just because it was such a new experience for Newk."
At the same time, some Dodgers didn't think Newcombe got angry enough, or at least at the right things – that he needed to channel his anger into the game. "Trouble with Newk is he didn't push himself," Campanella told Roscoe McGowen of the New York Times.
"The story was told again and again," McGowen added. "And though the sight of Newcombe lumbering across the outfield between starts was a familiar one, Campanella's words stuck. They offered what seemed the only plausible explanation for why a man of such promise and accomplishment could fail to be wonderful at the very moments when everyone needed him to be nothing less."
While Campanella would be the nurturer, Robinson challenged him to the point of fury.
"In later years he told me, 'I knew that you could be a better pitcher when I made you mad, and I made you mad on purpose,'" Newcombe said.
If that weren't enough to bear, Newcombe's love for playoff baseball was utterly unrequited.
As a rookie, Newcombe started Game 1 of the 1949 World Series, the first African-American to make a start in baseball's biggest showcase. Other than Ralph Branca, Newcombe was the youngest pitcher to start a World Series opener since Babe Ruth – and it was Newcombe's third start in a week's time.
For eight innings, the 23-year-old matched zeroes with 32-year-old Yankee veteran Allie Reynolds. Newcombe walked none, struck out 11 and allowed only two runners past first base, stranding them both at second. He called it the best game he pitched in his life.
But in the bottom of the ninth, Tommy Henrich came to the plate. Newcombe fell behind 2-0, then threw a curveball.
"I'd throw the same pitch to him today and dare him to hit it again," Newcombe said. "I'd like to see him hit it again. And he hit it over the right-field fence."
Said Henrich: "Heck, I don't even know what I hit."
"'It was a low curve,' said Newcombe, making no effort to hide his disgust and despair. "It was also one of the biggest disappointments of my life.
"I knew when he hit it that it was gone. I never saw where it landed. I just put my glove in my pocket and walked off the goddamn field."
It was Newcombe's first big game – if you subtract all the other big games he pitched in a season that the Dodgers won the pennant by a single victory. And the aftermath set a harsh tone that accounted not at all for his youth or the obstacles he faced, much less the eccentricities of the sport.
"Dodger fans never warmed up to Newcombe," said Larry King, the broadcaster whose roots in rooting for Brooklyn are well documented. "We liked him, and we didn't like him. We didn't think he was a clutch pitcher. For some strange reason … even though he pitched better than Reynolds, we said he choked."
Well then.
Newcombe, who gave up three runs in a Game 4 defeat (the Dodgers lost the Series in five), continued to pitch exceptionally in high-stakes regular-season games, but he never found postseason redemption. His career had barely begun by the time he was cursed with sky-high expectations that never yielded the crowning victory.
In 1950, Newcombe's first full calendar year in the majors, he wasn't quite as consistent (3.70 ERA, 111 ERA+), though he finished 19-11. But with the season coming down to a fierce race with the Phillies, Newcombe shouldered the team.
On August 21, he went the distance in a 3-2 win over the Pirates. On three days' rest, he shut out the Reds, and after three more days' rest, he pitched another complete game, allowing only two unearned runs at Wrigley Field. In his next start, he blanked the Giants, and in the first game of a doubleheader at Philadelphia, whom the Dodgers trailed by 7½ games, he whitewashed the Phillies, extending his streak of innings without allowing an earned run to 41.
"I won the first game, 2-0, and I remember Mr. Shotton standing on the top step of the dugout and he puts his arms around me," Newcombe said. "He said, 'You're a big young guy, why don't you take the second game, too?' Allan Roth, our statistician, said I only made 83 pitches."
"I said to him, 'Are you serious?' He said, 'I'm serious, if you are.' I went into the clubhouse and changed my shirt, and (Dodger trainer) Doc Wendler gave me a rubdown. When I went out to the warmup area to get ready for the second game, I'll never forget the Phillie fans as a murmur went through the stands, and when they announced my name as starter for the second game there was loud applause."
Newcombe's scoreless streak ended with a first-inning run, but he still nabbed 21 outs in a game the Dodgers won with three runs in the ninth, 3-2. In 17 days, Newcombe threw a monstrous 52 innings – capped by the unreal 16 innings on September 6 – averaging essentially a complete game every 72 hours with an 0.69 ERA.
Thanks largely to Newk, the Dodgers nearly made a comeback that itself would have been among an all-timer. Trailing by nine games with 17 remaining, they had pulled within one of Philadelphia on the final day of the season, when they hosted the Phillies at Ebbets Field. After nine innings, Newcombe and Robin Roberts were tied, 1-1. (Cal Abrams, trying to score the winning run for Newcombe and Brooklyn from second on a Duke Snider single in the bottom of the ninth, was thrown out at the plate, an event so thoroughly dissected after the game that third-base coach Milt Stock was fired days later.)
With Newcombe returning to the mound in the top of the 10th, Eddie Waitkus followed a Roberts single with a bloop hit of his own to shallow center. One out later, Dick Sisler, son of Hall of Fame first baseman and Dodger head scout George Sisler, hit an opposite-field, three-run home run.
"Abrams stood for a split second, then ran madly toward the wall," Roscoe McGowan wrote in the New York Times. "But it was no use. The biggest home run – and possibly one of the shortest – the stands are only 348 feet from home plate – that young Sisler ever hit, was on the records."
The blow, hit by the 1,099th batter Newcombe faced that season, denied him a reprieve from the Henrich homer. Come the late summer and great fall of 1951, when the Dodgers suffered their most infamous collapse in their history, knives were out for Newcombe everywhere.
Understand that Newcombe was a superstar. In his third big-league season, he went 20-9 with a 3.28 ERA (120 ERA+) in 272 innings, leading the majors with 164 strikeouts and completing 19 of 36 starts. Brooklyn – the team and the city – leaned relentlessly on him, then with almost willful ignorance wondered why he seemed tired.
On September 14, six days after Newcombe pitched a two-hit shutout against the Giants, Tommy Holmes of the Brooklyn Eagle wound up and delivered a haymaker of a column, topped by this headline:
"Is Newcombe Ailment Case of Imaginitis?"
In the second paragraph, Holmes began dressing down Newcombe by pointing out that the 25-year-old, third-year major-league pitcher had yet to win 20 games, though he was 18-8 with 16 days left in the season. In fact, Holmes noted with a straight face (or a straight razor), "experts had predicted he would win 30 games in 1950," and when Newcombe failed to do so, Holmes laid the blame on Newcombe, rather than the pundits who expected him to reach a win total unachieved in baseball since Dizzy Dean in 1934.
Holmes pointed out that after Newcombe complained of a sore arm following several Spring Training outings in 1950, manager Shotton had flat out told reporters that Newcombe was "jaking it" and he said he had no sympathy with pitchers who didn't want to pitch.
"Newcombe claims he is also prone to sore arms, but nobody has ever found anything wrong with his arm," Holmes wrote unironically. "They say that if you want to find out where the trouble is, you should look in his head and they are probably right."
When the Dodgers found Newcombe five years earlier, "he was just a big Negro kid of tremendous natural talent and modest future." Now, Holmes complained, here was the gratitude he was showing them.
Undaunted by the previous failed predictions, Holmes reminded his readers that the "experts" once more insisted Newcombe would win 30. "But again, with the beginning of the 1951 season, Newcombe complained of a sore arm, and then in July he asked to be taken out of a game in which he held an 8-2 lead." Newcombe, by the way, was 12-4 with a 3.16 ERA at the time.
The Dodgers lost their next four games – all Newcombe's fault, no doubt, even if he didn't play in any of them – before new manager Dressen "blew up and repeated all the unkind things Shotton has said about Newcombe," according to Holmes.
"Actually, of course, it is a case of a young man who knows he has a chance to make a small fortune out of baseball and who has read how sore arms ruined the careers of other great stars," Holmes enlightened the public. "He is desperately attempting to avoid doing anything that would ruin that career, and in his desperation he does not realize that he is doing the one thing that could ruin it.
"Don's chronic case of imaginitis is getting under the skin of the top brass, and his fellow players don't like it a bit, either."
That last line, taken at face value, makes the case that Holmes wasn't coming up with this preemptive autopsy of Newcombe's failings alone. The blows were also being struck from inside the clubhouse. But regardless of the pummeling he took – royal cynicism on the left, impossible expectations on the right – Newcombe had to soldier on, in a fashion that could have inspired the baseball version of Joseph Heller's Catch-22.
On September 26, with the lead over the Giants down to one game and five left on the schedule, Brooklyn scored four runs in the first and four more in the fifth to take an 8-0 lead against the non-contending Boston Braves. Newcombe allowed three runs in the bottom of the fifth, but stayed in the game. He stayed in the game in the sixth and seventh. Even after the Dodgers added seven runs in the top of the eighth for a 15-3 lead, Newcombe trudged out to pitch the bottom of the eighth. He allowed two solo home runs, yet batted for himself in the top of the ninth, reached on a fielder's choice, stayed on base through three more batters, and in the bottom of the ninth, with a 10-run lead, came back to the mound to face his 34th, 35th and 36th batters of a game in which he threw in the neighborhood of 150 pitches. He struck out the final two.
At this point, one might have suggested that the shortsighted Dodgers weren't building a pitching tradition as much as they were force-feeding it.
Unable to shake the Giants, the Dodgers then sent Newcombe out for his next start on two days' rest. He pitched superbly, shutting out the Phillies on seven hits to help Brooklyn maintain a first-place tie with New York with one game remaining.
The next day, the scheduled season finale, the Giants edged the Braves, 3-2, and Brooklyn needed a win to stay alive. Trailing 8-5 in the top of the eighth, the Dodgers scored three to tie the game, but pinch-hit for Erskine in the process. From their entire pitching staff, they chose as their next pitcher the guy who had thrown nine innings the day before, the guy with the chronic case of "imaginitis."
"All through my career, my arm was such that it didn't get stiff until the second day after I pitched, not the first day," Newcombe said. "The first day was fine. This was the first day after pitching."
Out of the bullpen, Newcombe pitched 5⅔ innings as the game staggered to the 14th inning. He wobbled, walking six, and benefited from Robinson making one of the most stunning catches in Dodger history, snagging a bases-loaded, two-out liner up the middle by Waitkus to end the 12th, but Newcombe kept runs off the board.
"I left the mound, and the Dodger fans and the Phillie fans gave me a great ovation," Newcombe said. "I won't soon forget that, and it's been a lot of years now. Even though the Philadelphia fans didn't like the Dodgers, they appreciated the effort."
In the top of the 14th, the desperately exhausted Robinson homered to win it, and the Dodgers and Giants were set for their three-game playoff. After the split of the first two games, it was up to Newcombe again to save the season, pitching once more on two days' rest. When he reached the ninth inning with a 4-1 lead over Sal Maglie, Mr. Imaginitis had thrown 31⅔ innings in eight days.
Even Holmes was impressed. "Surprisingly," he wrote, "at least to this observer, was that Newcombe's pitching poise seemed to hold up better than the more mature, more phlegmatic and methodical Maglie."
But that ninth inning was going to be a mountain.
"When Newk returned to the bench in the eighth with the score 1-1, I asked him how he felt," Campanella said.
"Tired," Newcombe grunted.
On an 0-2 pitch, Al Dark hit a little bouncer to the right side for a single. Don Mueller followed by grounding one to the right of Hodges, who inexplicably had been instructed by the Dodgers to hold Dark at first despite the three-run lead. Monte Irvin fouled out, but then Whitey Lockman doubled, driving in one with the tying runs now on base.
Dressen came to get Newcombe, bringing in Branca. Without a doubt, Branca is the one associated with the final defeat. But the moment also cemented Newcombe's unfortunate reputation as a small-timer in big games.
"Everybody talked about my getting taken out of the final game in 1951 in the ninth inning, but nobody said one thing about what I did for the two weeks leading up to that playoff game," Newcombe said. "I gave the Dodgers everything I had. I was leading 4-1 in the ninth. And they say I choked up because I left in the ninth inning? Other pitchers get in trouble. … Why is it they concentrated on me and said I choked up in 1951? Why? I don't know, but they did.
"If I was gonna choke up, I would have choked up in the second or third inning. If I was afraid of the Giants, I wouldn't have pitched the game that I pitched. Nobody gave me credit for it at all, especially in the press. They tore my ass up."
For all the faults so many wanted to lay at his feet from 1949-51, Newcombe was 56-28 with a 3.39 ERA (120 ERA+), 57 complete games and 12 shutouts. During those three seasons, Newcombe's first years in the majors, only 30-year-old Warren Spahn had more complete games or strikeouts. Roberts and Newcombe, both born in 1926, were the premier right-handers of the next generation.
"Newcombe came in and just tore up the league from the beginning," John Thorn says. "He was a fully formed pitcher – he could have come to the Majors earlier, but he was probably held back at Nashua with Roy Campanella so there would be two blacks on that team."
In 1952, Roberts went 28-7 with a 2.59 ERA. Newcombe went into the military, losing his age-26 and age-27 seasons to the Army Medical Corps, "most of the time as a part of a special demonstration unit," according to Creamer. Newcombe didn't return to Brooklyn in 1954, a season that amounted to shaking off the rust (144⅓ innings, 4.55 ERA, 91 ERA+).
Of the diversion into the military, Thorn says plainly, "I think it cost him a position in the Hall of Fame."
Even in his absence, the Dodgers ping-ponged between appreciation and aversion to Newcombe. "Losing Newcombe is worse than losing (Willie) Mays," Dressen said. "Where can you get a pitcher like that? Let the Giants have Mays back. Let 'em have two Mays. It's okay with me, so long as the Army gives me back Newcombe." But when Dressen was fired at the end of the year, he sniped in Look magazine that Newcombe "missed repeatedly in the crucial low-run games."
Newcombe couldn't walk away, wouldn't walk away. If it wasn't clear how much the game meant to Newcombe before his forced sabbatical, it was unmistakable upon his return, which began with a complete-game, 6-4 victory against the Giants at the Polo Grounds.
"We go in the clubhouse," Erskine recalls, "and everybody's happy and everybody's hitting around, having a good time. So I go over to Newk's locker in the Polo Grounds to congratulate him, and he kind of jerks away from me and turns his back on me. 'Oh, what's this about?' – that was my first reaction. But, I didn't leave. I stayed there, and finally Newk turned around a little bit. I could see he was crying. And I said, 'Newk, are you OK?' And he kind of swallowed hard – you could see tears in his eyes. He said, 'Carl, I didn't know if I could pitch again in the big leagues.' His emotions …"
As time has passed, Robinson's pioneering status has made it all too easy to dismiss Newcombe's place on the front lines of transcending the color line in baseball, but that outsider status – the racism both explicit and implicit – is inseparable from his story.
"It should be noted that the belief that African Americans lacked fortitude was an important component of the psychology of race prejudice," wrote Carl E. Prince. "It was this deeply rooted bias that Dixie Walker reflected in his 1946 statement that blacks didn't have what it took to play major-league ball. This was a view prevalent among a large number of major leaguers, especially those who were southerners, in that post-World War II era.
"Neither Robinson nor Campanella would ever qualify as race-tainted gutless wonders, but as is always the case with deeply embedded prejudice, the arrival of one possible victim would erase for many all other evidence."
The 1955 season, of course, was a triumph for Brooklyn. The race ended almost as soon as it began, the Dodgers taking a double-digit lead in the NL by June and unlike '51, never giving it back. Ascending again as the unquestioned ace of the staff, Newcombe opened the season 10-0 in his first 11 starts (with a 2.44 ERA) and was 18-1 by the end of July.
Not for nothing, Newcombe was also a tremendous hitting pitcher at the peak of his skill. Bill James, who called Newcombe the best hitting pitcher of the 1950s, said that Newcombe's 1955 season at the plate was "with the exception of one Wes Ferrell season and Babe Ruth, the best-hitting season by a pitcher in the 20th century." Newcombe posted a .395 on-base percentage and .632 slugging percentage, thanks to an NL-record seven home runs, a triple and nine doubles – and added a cherry on top with a steal of home. Newcombe even had a .435 OBP in 23 pinch-hitting appearances.
In August, he pitched complete games in three consecutive losses in which the high-powered Brooklyn offense was held to a combined four runs. But Newcombe won his 20th game on September 5, and Brooklyn clinched the pennant on September 8, leading the league at the time by 17 games. That September, in contrast to previous years, Newcombe pitched only 20⅔ innings, finishing the regular season with a 20-5 record and 3.20 ERA (128 ERA+), leading the league in WHIP, walks per nine innings and strikeout-walk ratio, but also evincing renewed concerns about his health.
In their most memorable World Series, the Dodgers played seven games, and Newcombe won none. Set up to start Game 1, Newcombe surrendered leads of 2-0 in the second inning and 3-2 in the third, ultimately allowing six runs in 5⅔ innings of a 6-5 loss.
McGowen wrote that Newcombe, who "didn't linger around the clubhouse" to meet the press, "wasn't happy about his showing and neither, for that matter, was Alston and the rest of the boys."
"No, I don't think he was as fast as I've seen him," Alston said. "He wasn't overpowering."
Billy Loes started Game 2 (also a defeat), followed by Johnny Podres in Game 3 and Erskine in Game 4 (both wins). But when Newcombe could have started Game 5 on three days' rest, Alston went with rookie Roger Craig, who had made 10 starts all year and was pitching in the Piedmont League a year earlier. When Newcombe could have started Game 6 on four days' rest, Alston went with Karl Spooner, who hadn't finished the fourth inning in a start in nearly four weeks. And for Game 7, it was not Newcombe. It was the 23-year-old Podres. Alston told reporters before Game 6 that "Newk has had the flu, a sore arm and a sore back."
Deprived of individual glory in the World Series, Newcombe wasn't denied his place in the celebration. "Newcombe, so fastidious that he once threatened violence if a pennant celebration left beer on his clothes, allowed Duke Snider to fill his hat with Schaefer and then press it down on his head," wrote D'Antonio.
Newcombe came back in 1956 to achieve the pièce de résistance of his career, winning baseball's inaugural Cy Young Award and in turn becoming the first in history to win Cy Young and MVP honors in the same season. He even almost fulfilled those outrageous predictions of a 30-win season, finishing 27-7 with a career-best 3.06 ERA (131 ERA+), and an MLB-leading 0.99 WHIP. Again, he was the Dodgers' iron man and then some (18 complete games, including six consecutive starts from July 20-August 11 with a 0.67 ERA), beginning his September with an 11-inning, 3-1 victory over the Giants and climaxing with 20⅓ innings in the season's final eight days, capped by 7⅓ innings in the 8-6 victory over the Pirates that clinched the defending World Series champions' fourth NL pennant in five years.
Once more, it might have been the overwork that deprived Newcombe of his crowning moment. This time, it set the stage for his biggest downfall.
Starting Game 2 of the World Series at home against the Yankees, Newcombe gave up a run in the first inning and was KOed in a five-run second, crowned by Yogi Berra's grand slam. That the Dodgers actually rallied from the 6-0 deficit for a 13-8 victory might as well have been an event from another universe for Newcombe, who in exiting Ebbets Field, was confronted by a heckler – a Brooklyn parking lot attendant, no less – named Mike Brown. A frayed Newcombe punched the man in the gut, and charges (ultimately dismissed) were brought against him for simple assault.
A last chance at redemption evaporated in the Dodgers' fourth Game 7 of the past decade. Berra took Newcombe deep again – not once but twice – with two-run homers in the first and third innings. A leadoff homer by Elston Howard in the fourth ended Newcombe's season (and that of the Dodgers, who lost, 9-0), and there would be no comeback.
"He drove his Ford station wagon with his right hand, and with his left he held a handkerchief to his face," wrote New York Post columnist Milton Gross, who accompanied him after the game with Newcombe's father, James. "Sometimes he put it to his mouth, sometimes to his eyes and sometimes he dropped it on the seat between his legs. He balled it into his fist or he rolled it between his fingers and always he stared straight ahead, almost unseeing, because there was a mist before his eyes and memories he cannot erase."
"I was thinking about what I do wrong," Newcombe said. "But I can't put my finger on why I do it." He paused, and then went on. "I was running in the outfield at the stadium the other day and a guy called me a yellow-bellied slob. How do you take things like that?"
Newcombe played 1957 in Brooklyn and part of 1958 in Los Angeles, then spent his remaining 2½ big-league years with the two Ohio teams, Cincinnati and Cleveland. There was even a stint for Japan's Chunichi Dragons as a first baseman/outfielder (12 homers in 81 games). But Newcombe's recovery came years after he was done putting on a uniform.
"In 1956," he said, "I won 27 games. I was 27 and 7! We win the pennant, and because in the World Series Yogi Berra hits a couple of home runs off me, they say I choke up. You know, that knocked the hell out of me that year.
"That's when I started drinking. That's where my whole career came to an end. Really to an end. … Then I began to say, 'The hell with it,' and then my career started down, and four years later I was out of the major leagues.
"I went over to New Jersey and crawled into a shell and stayed there. I couldn't go stand up in front of a bunch of kids and have them ask me, 'What does it mean, Mr. Newcombe, when they say you choke up?' How can I explain that to kids? So I said to myself, 'I'm not even going to out and speak to any of them. I'm not going to do anything.' I went out, and I played golf, and I got drunk. Gained a lot of weight. 'The hell with it.' That's where my head went. …  Because I didn't give a goddamn. And I think it helped destroy my baseball career."
Newcombe, who reigns in the 21st century as one of most glorious Dodgers – one of the earliest pillars of the Dodger pitching tradition as we know it today – was a beaten man.
"Whatever the realities of Newcombe's contributions in his first three years in the majors, and despite his magnificent years in 1955 and 1956, his reputation was fixed forever by the combination of Giants' jockeying, racist stereotyping, and even the Dodgers' misguided efforts to provoke him into baseball's version of manhood," Prince pointedly stated.
"It was the Dodger management and a few players who really did Newcombe in, for they should have known better."
Newcombe was a sad byproduct of the sporting world's primal impulse to tear down those it doesn't quite understand. The fixation on his failings cruelly denied how often he carried the Dodgers on his big shoulders.
From the moment Newcombe made his Brooklyn debut until the team's move west, no Dodger threw more innings – even though Newcombe spent two full seasons in Army green. He had nearly twice as many complete games, 110, as any other hurler. Despite only eight seasons in a Dodger uniform, he ranked 20th in team history with 22.7 wins above replacement. Podres, as we'll see, was the hero of the '55 World Series. But without Newcombe, there is no Podres.
That all those pressures drove Newcombe down would have been enough, but there was also a Damoclean sword hovering over his entire life, that came down on the Dodgers' 1956 postseason goodwill tour of Japan, a voyage that came and went in a haze for Newcombe.
"It was only years later, when he elevated his story to the realm of tragedy, when he admitted to the alcoholism Labine had seen on sorry display on the flight from New York," wrote Shapiro. "He told of starting to drink beer when he was 8 years old: His father, his greatest fan and booster, thought it would help him grow up big and strong. He never pitched drunk, but he did pitch hung over. Schaefer Beer, the team's sponsor, kept the clubhouse stocked. He would drink a six-pack and then stop and buy another on the drive home. By 1956 he was mixing liquor with grapefruit or grape juice."
"On December 7, 1941," Newcombe said, "I was sitting in a Staten Island bar. The Japanese were bombing Pearl Harbor, and I was getting bombed on a barstool." He was 15.
According to Shapiro, Newcombe "stopped drinking in 1965, when his family found him passed out on the floor." He turned his life around, becoming an alcoholism counselor. In 1970, Dodger president Peter O'Malley hired him as the Dodgers' director of community relations. Newcombe was instrumental in saving the career of Bob Welch, a Dodger pitcher born 24 days after the '56 World Series ended.
"I wasn't going to let that boy go down the drain," Newcombe said. "I know what happened to my career, and it wasn't going to happen to Bob Welch."
In his later years, Newcombe became a super-generational figure at the ballpark, a mentor to so many, particularly Dodger closer Kenley Jansen. He won the level of appreciation, the unequivocal love, that was withheld from him at the height of his prowess. Newcombe rehabilitated himself, and time rehabilitated the rest of us. No great Dodger was less understood in his prime, but no one will ever question him again.
* * *
Sources:
Golenbock, Peter. Bums: An Oral History of the Brooklyn Dodgers. Chicago: Contemporary 2000.  
McGowan, Roscoe. "Brooks' Injured Campanella May Be Replaced by Walker in 2d Game Today." New York Times 2 October 1951.  
McGowan, Roscoe. "Phils Beat Dodgers For Flag." New York Times 2 October 1950. 
Holmes, Tommy. "Is Newcombe Ailment Case of Imaginitis" Brooklyn Eagle 14 September 1951.
Shapiro, Michael. The Last Good Season: Brooklyn, the Dodgers, and Their Final Pennant Race Together. New York: Doubleday 2003.   
Creamer, Robert. "Subject: Don Newcombe." Sports Illustrated 22 August 1955.
Rampersad, Arnold. Jackie Robinson: A Biography. New York: Knopf 1997.
"Henrich Stole Leaf From Stengel's Book." Brooklyn Eagle 6 October 1949.
Schweppe, Robert. "Q&A: Don Newcombe."Walter O'Malley: The Official Website (walteromalley.com).   
Holmes, Tommy. "It Just Wasn't Meant For Dodgers to Win." Brooklyn Eagle 4 October 1951.
Campanella, Roy. It's Good To Be Alive. Boston: Little, Brown 1959.
James, Bill. The New Bill James Historical Baseball Abstract. New York: The Free Press 2001.
Prince, Carl E. Brooklyn's Dodgers: The Bums, the Borough, and the Best of Baseball, 1947-1957. New York: Oxford University Press 1997.
McGowen, Roscoe. "Brooks Disappointed, Not Discouraged by Defeat and Showing of Newcombe." New York Times 29 September 1955.  
Drebinger, John. "Dodgers Triumph, 5 to 3." New York Times 3 October 1955.
D'Antonio, Michael. Forever Blue: The True Story of Walter O'Malley, Baseball's Most Controversial Owner, and the Dodgers of Brooklyn and Los Angeles. New York: Riverhead 2009.
Gross, Milton. "The Long Ride Home." New York Post 11 October 1956.
Young, A.S. Doc. "Don Newcombe Vs. The Booze." Los Angeles Sentinel 4 February 1982.
Welch, Bob and George Vecsey. Five O'Clock Comes Early: A Young Man's Battle with Alcoholism. New York: Quill 1986.