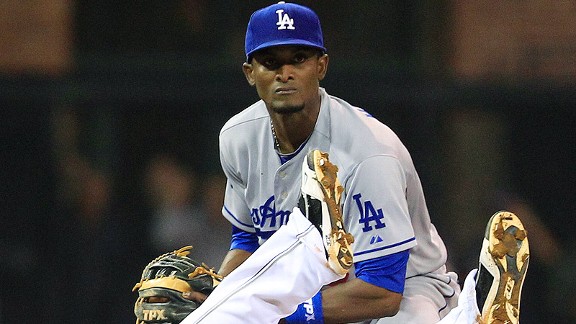 You might be aware that Chris Davis of the Baltimore Orioles is closing in on the record for most consecutive hitless at-bats in the majors. If you're a Dodger fan, you might be even more aware of who holds that record: Eugenio Vélez, whose 0-for-37 2011 season with Los Angeles enabled him to set an MLB record with 46 straight hitless at-bats.
But what you might not realize is that Vélez's streak never ended. It is still active. In fact, so is Vélez. This past winter, he came to the plate 19 times for Aguilas de Mexicali, capping his seventh straight year in professional baseball since he last took a major-league at-bat.
On top of everything else, Vélez is still only 36 years old, turning 37 on May 16. He is a mere three years older than Davis. There's still life in him yet.
So Davis may break this record. But as far as I'm concerned, this duel ain't over.
* * *
The Dodger Thoughts summary on Vélez's 2011 season: 
Though he was twice walked and once hit by a pitch, he failed to get a hit in 37 at-bats, establishing records for a non-pitcher for most hitless at-bats in a single season as well as longest hitless streak period: 46. Since a third-inning single on April 20, 2010, Velez is an unbelievable 1 for his last 66 in the majors: an .015 average. And if not for extra innings on May 18, 2010, Velez would be riding a hitless streak of 66 at-bats. There were also few instances of Velez just missing a hit in 2011. According to Baseball-Reference.com, he struck out 11 times (including all three at-bats of his seventh and final start of the year) and made 18 infield outs, in comparison to eight outs recorded by outfielders. He was credited with two line-drive outs in the majors this year.