If there's a World Series Game 7 this year, I'd like it to be at Dodger Stadium.
But I'm much more interested in the Dodgers working on ways to make their team World Series champions without playing a Game 7.
With little else left to stress about in Los Angeles regarding the 2019 regular season, other than the general state of the bullpen, attention has turned to whether the Dodgers will finish with the best record in baseball, which would guarantee them home-field advantage throughout the playoffs.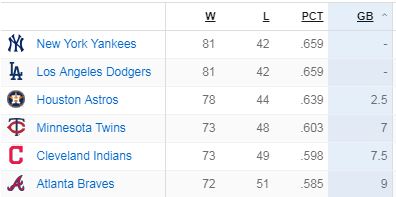 The Braves, whom the Dodgers play this weekend, are the Dodgers' closest National League rival, but they are nine games behind. If they work their way back to the top, the Dodgers will have bigger issues than home-field advantage to worry about.
So for the moment, the Dodgers' only competition for the best record in baseball comes from the American League: thanks to the New York Yankees and Houston Astros. (The Dodgers happen to play the Yankees in a three-game series a week from now that will have the effect of determining a tiebreaker between those two teams.)
Should the Dodgers surrender the best record in baseball to the Yankees or Astros (or Twins or Indians) and then meet in the World Series, there will be a lot of hand-wringing in Los Angeles. But aside from losing the sheer joy of experiencing a Game 7 in your home city, most of that angst will be unnecessary.
Obviously, Dodger fans don't need to go back far to remember how useless home-field advantage for a World Series Game 7 can be. Two years ago, against the Astros, the edge was gone by the middle of the first inning.
But beyond that, consider this: In the past 16 seasons, the home team has won Game 7 of the World Series once.
And in the past 20 World Series Game 7s, dating back to the Dodgers' 1965 triumph at Minnesota, the home team has won exactly half.
If you're a fan, home field for Game 7 is a perk. But just understand that it probably matters as much as a coin toss. And it almost certainly matters less than readying your team to run the postseason gauntlet.
So if you see the Dodgers testing out different players in different situations through the end of September in an attempt to determine the best mix for October, and it happens to cost them a win or three along the way, understand that they're not being cavalier about the ultimate goal. It's that the ultimate goal is to be the kind of team that, if at all possible, will not only win the World Series, but do it without needing a Game 7, here or anywhere.