At the start of lunch today, I watched Kenley Jansen's eighth-inning outing from Sunday's Dodger game. It didn't take long: only five minutes, because Jansen only needed 10 pitches. (Click the video above if you want to see.) The performance generated raves online and articles speculating whether this was a turning point for the somewhat beleaguered behemoth.
I've been mostly quiet online about the Dodger bullpen in general and Jansen in particular over the past 3 1/2 weeks since expending a ton of energy on the subjects. It was just too exhausting to keep revisiting. The essence of my take was that whether or not Jansen was the closer didn't matter, because inevitably, he would be pitching critical postseason innings for the Dodgers even if they weren't critical postseason ninth innings.
It didn't mean Jansen hasn't been struggling this year — he clearly has been, as I wrote in the first paragraph of that piece and repeated lower down. My main point was that the obsession with the "closer" tag was misplaced.
The focus needed to be less on Jansen's role and more on his process.
For all the fuss over how much velocity Jansen has or hasn't lost on his pitches, the central issue for him is his command. When Jansen is living on the edges, whether that pitch is just inside the strike zone or just outside of it, batters can't resist swinging. And when those pitches have any movement at all, he thrives.
Things go wrong for Jansen not when a pitch is off by a mile or two per hour, but when the pitch is so far out of the zone that a batter can simply ignore it. That leads to walks, which in turn leave him little margin for error when the breaks don't go his way, such as nights when his defense lets him down. Not to mention the fact that almost any baserunner is a threat to steal second against Jansen.
So let's take a look at Sunday's game, which he entered with the score tied at 2. Jansen retired the side in order on the aforementioned 10 pitches, but there were significant highs and lows within.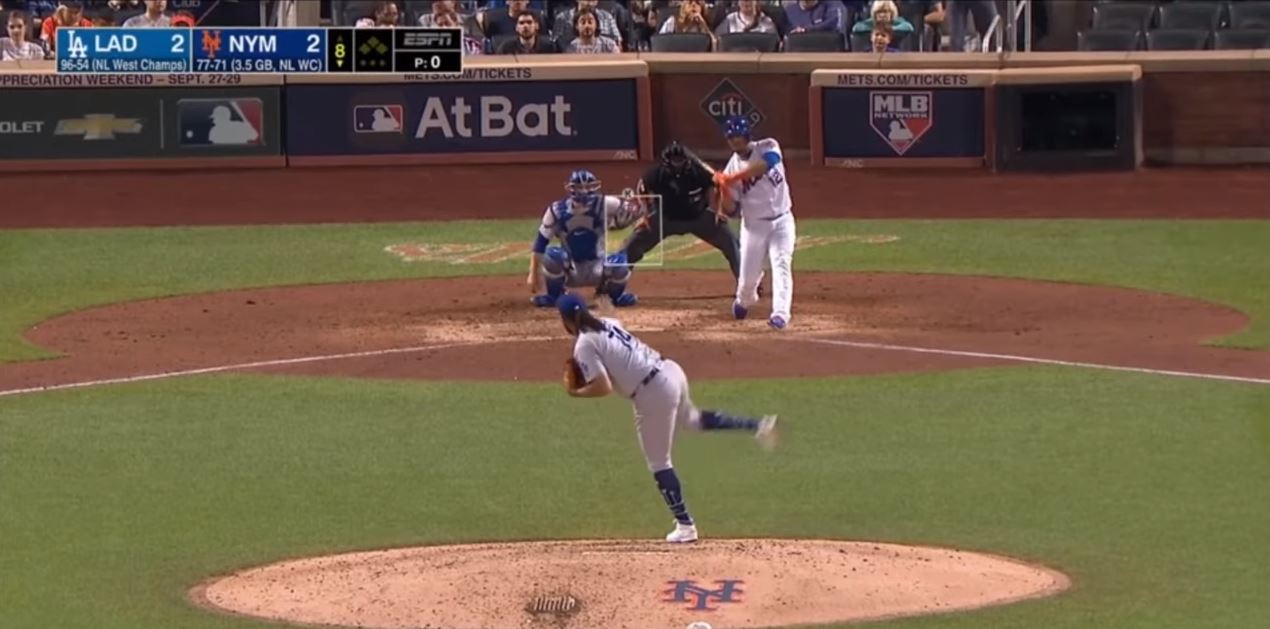 He opens against Juan Lagares (62 OPS+) with two superb called strikes on the fringes, one high, one on the lower outside corner, both on cutters that were at 91 and 92 mph.
The next two pitches, however, aren't close. One bounces before reaching the plate, the other nearly hits Lagares. The speed doesn't matter, because the pitches were each a complete waste. Suddenly, the count is 2-2.
The fifth pitch is in a competitive location at the top of the zone and a more than sufficient velocity of 93 mph. Lagares fouls it off.
The sixth pitch is as good as you could want. It's a 93 mph cutter that starts inside tails back toward the plate — but not over the plate, reaching the plane at the absolute upper right corner of the zone (from our point of view). It is a worthy strikeout pitch.
Lagares hits it into the air, to right field. It's a can of corn for Kiké Hernandez, who puts it away for the first out. It's a success for Jansen.
But if that fly ball becomes a Texas Leaguer — if it is hit more softly, for example, and falls in, as has happened to him numerous times this year — the wolves would be out for Jansen. He would be getting roasted for what was arguably his best pitch of the six.
Reviewing the at-bat, it's the two waste pitches that should be of the most concern. In other words, this was a pretty mundane sequence of pitches for Jansen in 2019 – great mixed with awful, with the result left somewhat to chance.
Next up was Jeff McNeil, who has the highest on-base percentage on the Mets (.387). Jansen threw another 93 mph cutter — again, plenty fast — that clearly missed its spot, reaching the strike zone groin-high and nearly dead center. McNeil jumped on it but shattered his bat, hitting a soft looper that rookie second baseman Gavin Lux ran toward right-center field to flag down.
So now, I'm seven pitches into watching work by Jansen that I know has gotten rave reviews, and three of the pitches have been awful. On a different day, we've got runners on first and second and nobody out. But because these two flies managed to find their way into gloves, no one is complaining.
Up steps 47-homer hitter Pete Alonso, an enormous threat to put the Mets back on top with one swing. And in this at-bat, Jansen dazzles from first pitch to last.
An 83 mph slider with a great right-to-left hop for strike one.
A cutter at 93 that starts over the plate and lands just outside — just beautiful — which Alonso chases for strike two.
Jansen then rears back for his fastest pitch of the night at 94.5 mph, a cutter that starts on the far edge of the zone that Alonso can't resist, again chasing outside for the final strike. And honestly, even if that pitch is two or three mph slower, I don't think Alonso does anything differently.
This was an absolutely exhilarating trio from Jansen — the Athos, Porthos and Aramis of pitches — and I could immediately see what the fuss was about. This was spectacular. Seeing Jansen take out Alonso with such authority, manipulating like a puppeteer, would give any fan confidence that he's ready to take on the world.
The key for Jansen is to repeat this level of execution — not for him to strike out every batter, but to at least force the batter to do the work, rather than letting him off the hook the way he nearly did in the third and fourth pitches to Lagares and the sole pitch to McNeil.
And, the key for fans and media is to recognize that when Jansen does do the work, they shouldn't crush him when the result of the pitch — a bloop single, or an infield hit — doesn't live up to the quality of the pitch. And that if it's a close game, the inning it happens in doesn't matter.