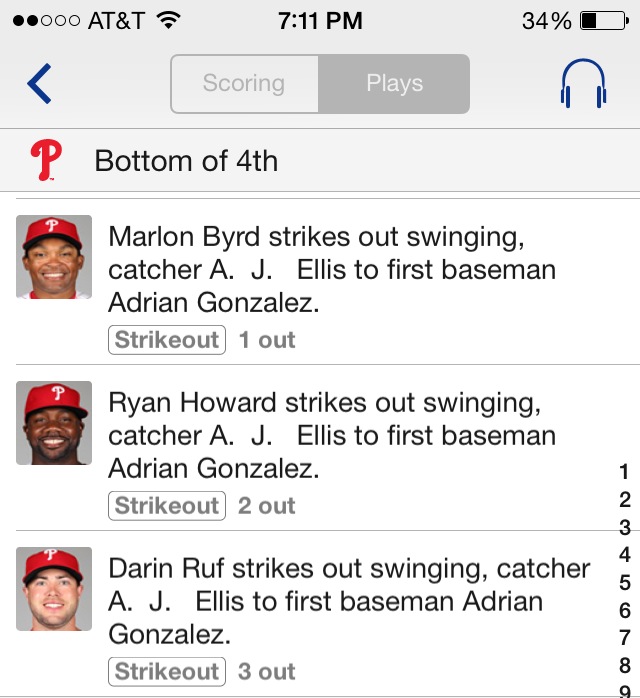 By Jon Weisman
In the bottom of the fourth inning of tonight's 2-0 victory over Philadelphia, the Dodgers recorded all three outs on Clayton Kershaw strikeouts in the dirt that required A.J. Ellis to throw out the runner at first base.
Ellis became the second Dodger catcher and first since Bruce Edwards on August 15, 1946 to rack up three assists in one inning. And according to Baseball Almanac (though I don't know how up to date that site is), Ellis is the seventh MLB catcher and first since 1976 to do so.
Update:
@DodgerInsider @AJEllis17 Brad Ausmus had 3 assists on 5/7/2006 in 8th inning. In a very hard way. http://t.co/X9ksfUhgNJ

— Bob Timmermann (@bobtimmermann) May 24, 2014

Timmermann found at least two other instances of catchers getting three assists in an inning, including Drew Butera's father Sal on September 7, 1981.
Update No. 2: Having gone through the records with Timmermann, I'm confident, if not completely sure, that Ellis is the first catcher ever to get three assists in one inning on strikeouts that required throws to first.
Speaking of threes: Kershaw pitched three innings before a 43-minute rain delay and three innings after, and his strikeout total for the game was 3×3. Dee Gordon stole three bases in three tries. Yasiel Puig raised his batting average to .343 with a rhyming 3-for-3.
And Brandon League put three runners on base in the seventh inning, before J.P. Howell got three consecutive outs to end the threat, the start of three shutout innings by the Dodger bullpen, to complete the combined three-hit shutout.
HELL, PA – As temperatures dipped below 32 degrees, the Dodgers retired Carlos Ruiz with the bases loaded.

— Dodger Insider (@DodgerInsider) May 24, 2014
Dodger bullpen this week: 14 innings, three runs, 13 hits, 1 walk, 15 strikeouts, 1.92 ERA.

— Dodger Insider (@DodgerInsider) May 24, 2014