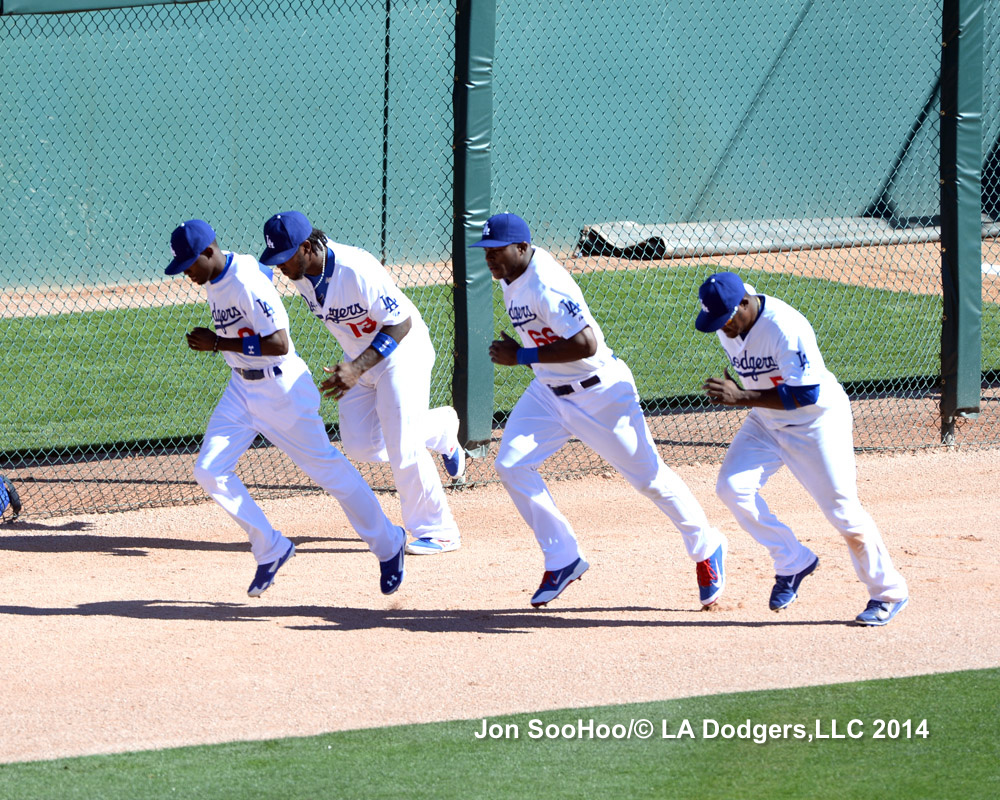 Dodgers vs. Royals, 1:05 p.m.
Chone Figgins, SS
Carl Crawford, LF
Yasiel Puig, RF
Adrian Gonzalez, 1B
Scott Van Slyke, CF
Juan Uribe, 3B
Justin Turner, 2B
A.J. Ellis, C
Dan Haren, P
By Jon Weisman
Tuesday, Wednesday, Thursday, Friday, Saturday, Sunday, Sydney …
The Dodger press notes helpfully point out that the team record for Spring Training ties is five, achieved in 2006.
Scheduled to follow Dan Haren on the mound today are Jose Dominguez, Javy Guerra, Paco Rodriguez, Chris Withrow and Jamey Wright.
Red Patterson was reassigned to minor-league camp today.
Hanley Ramirez and Andre Ethier will rest today, then be scheduled to play the next five days in a row before the team leaves for Australia, according to Dylan Hernandez of the Times.
Maury Wills, 27 when he became a Dodger regular, talked to Kevin Baxter of the Times about 25-year-old Dee Gordon.
Mark Saxon has a couple of pieces at ESPN Los Angeles looking ahead to Australia, including this interview with Australian former Dodger infielder Craig Shipley.
Sandy Koufax gets the Union Oil 1961 Family Booklet treatment (via Blue Heaven), with this tidbit: "Allegations persist that the Dodgers twice declined to swap Koufax to Kansas City for Roger Maris." Maris was the American League MVP in 1960, remember, while Koufax was 8-13 with a 3.91 ERA.