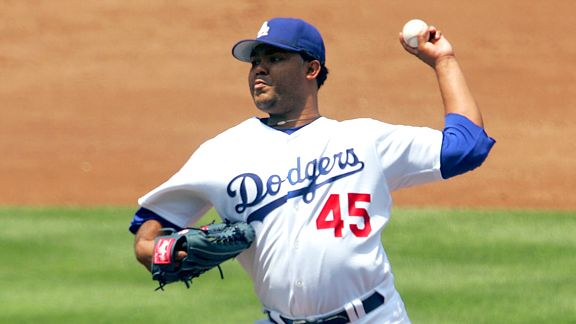 Jeff Gross/Getty ImagesFor 4 1/2 seasons, the Dodgers never knew what they were going to get in Odalis Perez.
In the wake of the Jon Garland signing, Eric Stephen of True Blue L.A. looked at the most commonly used starting pitchers by the Dodgers since 2000, and in the process found that the Dodgers "have had five pitchers each start 30 games in a season just twice in their 127-year franchise history (1977 and 1993), and they have only had four pitchers start 30 games eight other times."
Good stuff, but I was interested in something else, too. Given my surprise to find our starting rotation settled on paper before the end of November, I was curious how often in recent years the Dodgers had appeared to enter the season in better shape in their starting five than they're in right now – and how they fared in those seasons.
Looking back at the 2000s (playoff teams in bold):
2010: Charlie Haeger won a beleaguered fifth starter competition. The current 2011 rotation, with Garland as the fifth starter behind Clayton Kershaw, Chad Billingsley, Hiroki Kuroda and Ted Lilly, looks better.
2009: Rookies Kershaw and James McDonald looked promising on paper, but most people would probably take the 2011 quintet, with Kershaw two years older.
2008: Brad Penny was coming off a 3.03 ERA in 2007, Chad Billingsley was rising and Derek Lowe in the final year of his contract, while Kuroda was untested in the U.S. and Kershaw hadn't arrived. In fact, it was the rotating arms in the No. 5 spot (a shaky Esteban Loaiza, a green Hong-Chih Kuo) that helped hasten Kershaw's debut.  The Dodger rotation heading into 2008 was probably better than the 2011 group – until Friday.
2007: This was the year newcomers Jason Schmidt and Randy Wolf (the first time around) were supposed to anchor the Dodger staff, joining Lowe, Penny and Billingsley. This was an exciting group – until Schmidt and Wolf combined for 24 starts and a 5.05 ERA.
2006: Lowe, Penny … Odalis Perez (coming off a poor 2005) … Brett Tomko and Jae Seo.  A little bit of wishful thinking, here.
2005: New free agent Lowe, Perez (coming off a strong 2004) and Jeff Weaver for the front three. The Dodgers knew they'd be dealing with filler at the No. 5 spot, and with Penny coming back late from his 2004 injury, they were duct-taping No. 4 as well, ultimately starting April with the likes of Elmer Dessens and Scott Erickson.
2004: The Dodgers' first playoff trip of the century began with Hideo Nomo, Perez, Weaver and Kaz Ishii – not a bad front four if you thought the 25-year-old Perez would regain his 2002 form. The other three had ERAs below 4.00 the year before. The fifth starter left in TBD status until the job was seized by Jose Lima, who had a memorable year through and into the playoffs (after having thrown 503 2/3 innings with a 6.18 ERA since 2000), while Ishii ended up struggling and Nomo fell apart.
2003: Kevin Brown was coming off an injury-plagued 2002, but there was still hope for him (rightfully so) to lead a staff that also included a resurgent Nomo, Ishii and Perez (3.00 ERA in 2002). Darren Dreifort, attempting a comeback after going more than 20 months between games, got the first chance at the No. 5 start, but the Dodgers also had Andy Ashby (3.91 ERA in '02) as a No. 6 starter. So there was depth, but also an understanding that the depth could be needed immediately.
2002: Lots of new blood to join Brown and Ashby: Nomo (returning as a free agent from Boston), Perez (acquired with Brian Jordan in January's Gary Sheffield trade) and Ishii (signing his first U.S. contract on February 28) – not to mention Omar Daal, another returning former Dodger who came in an offseason trade from Philadelphia but began the year in the bullpen. By the time Spring Training started, the staff was deep – one of the reasons second-year manager Jim Tracy experimented with converting a guy who had made 24 starts in 2001 into a reliever: Eric Gagne.
2001: In his last year before becoming a free agent, Chan Ho Park was the Opening Day starter for the Dodgers, followed by Gagne, Dreifort, Ashby and – in place of Brown, who was limited by injuries – Luke Prokopec. Either Gagne or Prokopec were to be the No. 5 starters on paper, after making some waves in 2000. You might laugh now, but there was reason to think this could be a pretty decent starting rotation.
2000: You had Brown, Park and Dreifort, all coming off solid 2000 seasons. Then you had Carlos Perez, who had a 7.43 ERA in 1999. And rounding out the fivesome, you had the last gasp of Orel Hershiser, who had a 4.58 ERA with the Mets at age 40 the year before. It did not go well for this rotation.
In terms of Dodger starting rotations that had proven talent in all five slots since 2000, you'd have to look at 2007 and 2002 as the leading lights, with honorable mention to 2003. Neither of these teams, of course, reached the playoffs (though the '02 team won 92 games), while the Dodgers' past four playoff teams all had question marks in at least one spot in the starting rotation entering the season.