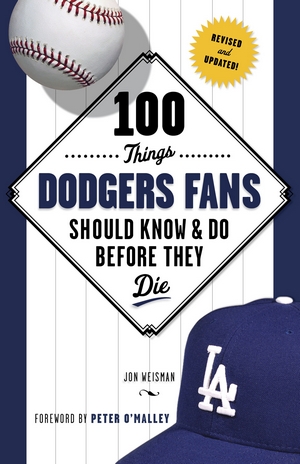 Hope to see as many of you as possible as I sign copies of "100 Things Dodgers Fans Should Know & Do Before They Die" at Barnes & Noble on Colorado Boulevard in Pasadena, beginning at 2 p.m. The revised version of is on sale now.
The new edition of "100 Things Dodgers" features several new chapters (including Matt Kemp and Clayton Kershaw) and other tidbits, as well as new information for some existing chapters. I'm looking forward to meeting readers, taking questions and talking Dodgers.
Oh yes, the Dodgers. To describe the state of things, let's just say that I put out this tweet mid-game Friday, before Hanley Ramirez took himself out of action with the team's latest injury.
Thought: It will be very touching when 100-year-old Clayton Kershaw is introduced at 2088's centennial celebration of Dodgers' last title.

— Jon Weisman (@jonweisman) May 4, 2013
The score was 0-0, and Kershaw was working on a perfect game at the time. And yet, the sport was feeling like such a struggle for this team, part of a quarter-century of constantly battling uphill while other teams flit from last to first like it was nothing, that I allowed the fatigued pessimist in me a bit of breathing room.
And then Ramirez flamed out running from second to third. I didn't see the play until after the game, but from the tweets I saw beforehand, it sounded as if Ramirez had no business trying to go from first to third. Then I saw the replay, and these things were clear: Even after slowing down to a near jog haflway between second and third because of the injury, the throw from right field didn't arrive at third base until Ramirez was beginning his slide. He clearly would have made it if he hadn't gotten hurt – I watched the replay a dozen times and saw each time that his choice to go for the extra base even with none out was sound.
It was small consolation, that Ramirez's injury came in an effort valiant, not dubious. Kershaw lost the perfect game, the no-hitter, the shutout and the one-run lead that he mainly provided with his bat. The Dodgers lost the game, painfully if un-unexpectedly, in the bottom of the ninth. Ramirez will be out again, likely for weeks, and even after Adrian Gonzalez's neck self-corrects and Mark Ellis works his way back from his quad injury, the left side of the Dodger infield will still be Scrappy Central, emphasis on Scrap.
The injuries are exhausting. There's no use feeling sorry for yourself in this world, but you sort of feel that, after watching 20-odd teams make the World Series in the past 24 years and enduring the Fox and McCourt ownerships, we'd catch a break from the suffering. But this season has been Sisyphusian.
If you aren't packing up your boulder and going home, all you can do is keep pushing. Let's rally in Pasadena today!