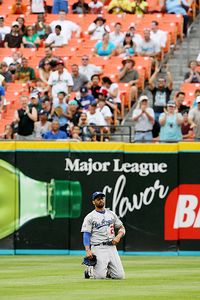 Doug Benc/Getty Images
Matt Kemp is feeling bad tonight after making an error on this play and striking out with the tying run on third in the ninth inning, but he still had a good first week.
No Dodger fan likes the team flunking with runners in scoring position. But just because it's frustrating doesn't mean the Dodgers should succeed all the time. It's not as if your odds for winning the lottery increase the more you want to win.
Okay, not the greatest analogy, but it gets us headed in the right direction. Whenever a team wastes scoring opportunities, you start to see people toss around tidbits like batting average with runners in scoring position. This is a stat that gives stats a bad name.  Batting average is a stat of very limited value, and tacking it on to runners in scoring position doesn't make it any more useful.
Batting average with RISP doesn't take into account sacrifice flies, run-producing groundouts or walks. It doesn't take into account the fact that often, an RISP at-bat comes against a pitcher brought in for a particular matchup to defuse that situation. It doesn't reward you for getting a runner home from first base (or from home plate). Most of all, it give you any indication of how often a team has those situations.  Exaggerating to make a point, if the Dodgers had 30 at-bats in nine innings with RISP, succeeding in only six of them wouldn't mean the offense was unproductive.
The idea of a clutch hitter is a dubious measurement to begin with, because clutch hitting tends to fluctuate from season to season. Looking for clutch hitting in a team is an even less useful activity. Batting average with RISP doesn't come with enough context to have hardly any meaning.
In their first six games of the season, the Dodgers are batting .260 with RISP. That's not going to light anyone's pants afire, though it's respectable. But then you see that the Dodgers have had 95 RISP plate appearances, an average of 15.8 per game – that's more than one per inning. In those 95 plate appearances, the team has reached base 29 times while also delivering five sacrifice flies and four sacrifices – achieving the goal of an RISP at-bat at a .400 rate, even before you starting talking about productive outs.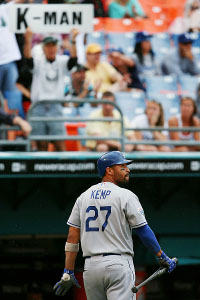 Mark J. Rebilas/US Presswire
Even after today's strikeout, Kemp has a .308 batting average plus a sacrifice fly with RISP and has seven RBI in six games.
Through Saturday's games, the Dodgers were second in the National League in RISP plate appearances and second in RISP runs and RBI (before adding three more RISP runs today). Matt Kemp struck out with the tying run on third and one out in the ninth inning today in what was a bad-looking at-bat, but how much should we get on his case when, for the season, he is batting .308 with a sacrifice fly in RISP situations? How much better is he supposed to be? The Dodgers are  tied for third in the NL in runs scored – averaging 6.0 runs per game with at least five runs in every game but Wednesday's – how much better are they supposed to be?
When you lose three one-run games on a six-game road trip, it's natural to look at the what-might-have beens – and the Dodgers' outs with RISP provide many. But to be fair, there is only one loss this season for which the offense can reasonably be blamed. The Dodgers might have some issues to upset their catnaps on their flight home from Florida, but RISP is just not one of them.
There are some people who decry the excess of esoteric stats that populate the game today, but my guess is that a lot of them think batting average with RISP as a good one. However, this is honestly a case where simplicity is for the best. You want to know how your offense is doing, you really are better off trashing batting average with RISP, and just looking at runs scored.
* * *