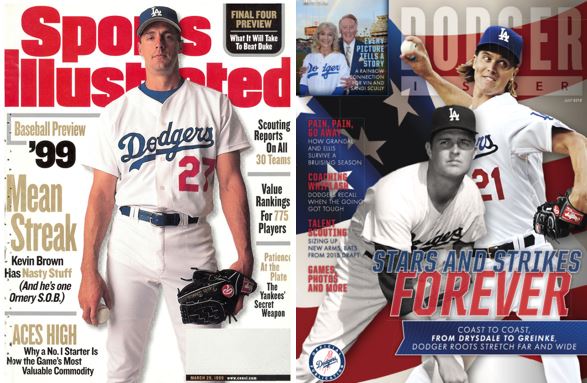 Part Seven of Brothers in Arms: Koufax, Kershaw, and the Dodgers' Extraordinary Pitching Tradition (order now!) — "The Hired Hands" — is the book's shortest section, but it takes us to another key transition point for the franchise.
Right up until the final decade of the 20th century, the Dodgers signed or scouted, domestically or internationally, every significant starting pitcher they ever had as an amateur — or parlayed that homegrown talent into a trade for one. While the best things in life aren't always free, the Dodgers rarely risked big dollars on pitchers from rival area codes. You could say it was pride. Or a conservative streak. Or feeling scorched by the relatively fruitless expenditures on the Dave Goltzes of the world.
But as the 20th century neared an end, the Dodger pitching tradition couldn't survive on its own momentum. The team had to begin to look elsewhere for talent.