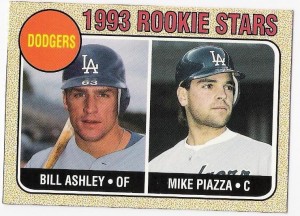 Because of his strikeout reputation, I got curious to see how Dodger prospect Kyle Russell compared to the swingingest Dodger prospect of a previous generation, Billy Ashley. They're significantly different players in other ways, but I figured on an idle Friday I might just take a look.
Last year, at age 25, Russell had a .343 on-base percentage, .488 slugging percentage, 23 homers, 53 walks and 144 strikeouts in 493 plate appearances, spent mostly at Double-A.
Ashley spent his age-25 year in the majors as a part-time player, with a .320 on-base percentage, .372 slugging, eight homers, 25 walks and 88 strikeouts in 244 plate appearances. The following year, Ashley had nine homers and an .813 OPS in only 113 plate appearances.
The 6-foot-7 Ashley graduated from Double-A by age 22 after (or despite) having more homers than walks for San Antonio in 1992. He went .317/.534, 24 homers, 16 walks and 111 strikeouts in 404 plate appearances. Those are some extreme numbers, but it's safe to assume that he'd have been a whole lot better in Double-A at age 25.
Ashley finished his career with 28 homers and 236 strikeouts in the majors and 172 homers and 1,005 strikeouts in the minors. Then, later, he became one of the Househusbands of Hollywood. And now you know the rest of the story …