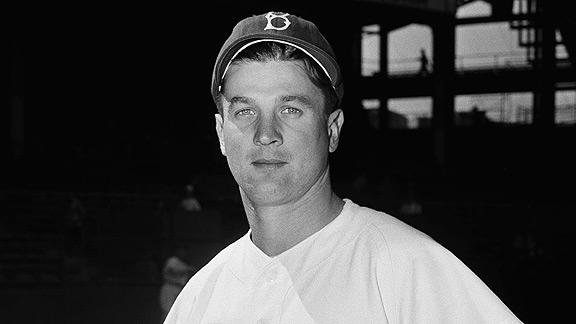 AP PhotoBrooklyn Dodgers outfielder Gene Hermanski, shown in April 1948, has passed away. Hermanski was one of Jackie Robinson's original supporters and had a .385 on-base percentage in 506 games with the Dodgers.
Before Scott Podsednik and Jay Gibbons dotted the Dodgers' major-league shores, the Giants picked up left fielder Pat Burrell from the scrap heap. All Burrell has done is provide a .905 OPS in 179 plate appearances (almost as many as Manny Ramirez has had with the Dodgers in 2010). On July 31, he hit a game-winning eighth-inning homer against the Dodgers, and Wednesday he repeated the feat against the Cubs.
He's almost been like 2006 Marlon Anderson and 2009 Ronnie Belliard combined. Joe Pawlikowski of Fangraphs has more about Burrell's turnabout.
Other notes while we wait for the daily Dodger starting lineup storm front to settle in …
Farewell, Gene Hermanski. A great name from the Dodgers' past in Brooklyn, Hermanski passed away at the age of 90 according to New York Baseball History Examiner (link via Vin Scully Is My Homeboy).
The Dodgers will honor photography genius Jon SooHoo for 25 years of service in a pregame ceremony September 3, according to Inside the Dodgers, which also notes that SooHoo was Randy Johnson's photography mentor while the two were at the Daily Trojan.
From the Dodger press notes: "After some crack research by MLB.com's Ken Gurnick and the Dodgers' PR staff, it has been determined that (Juan) Castro is the only player in franchise history to serve three separate stints in the organization after departing and playing for another Major League team each time. Several players logged three different stints with the club, but remained in the organization. In the case of pitcher Giovanni Carrera (2001-02, 2004-05, 2006), he never made the big leagues after leaving the club in 2005 or prior to returning midway through 2006."
Also via the press notes:


Four Dodgers drew mention in Baseball America's annual Best Tools issue. Major League managers voted Rafael Furcal as having the National League's best infield arm and as the third-best bunter, Clayton Kershaw as having the Senior Circuit's No. 3 pickoff move and Jonathan Broxton as the third-best reliever. In the minor league section, Kenley Jansen was also picked as the best reliever in the Southern League after dominating the circuit with a 4-0 record with eight saves and a 1.67 ERA in 22 games with Double-A Chattanooga.

Several Dodger prospects earned mentions as well, as Ivan DeJesus was voted as the Triple-A Pacific Coast League's best defensive second baseman; Dee Gordon drew praise as the best baserunner, fastest baserunner and most exciting player in the Double-A Southern League; Matt Wallach was selected as the best defensive catcher and Pedro Baez was voted as having the best defensive arm in the Single-A California League; and though both have since been promoted to Double-A Chattanooga, Jerry Sands was named the best power-hitting prospect and best defensive first baseman and right-hander Rubby De La Rosa was praised for having the Single-A Midwest League's best fastball."