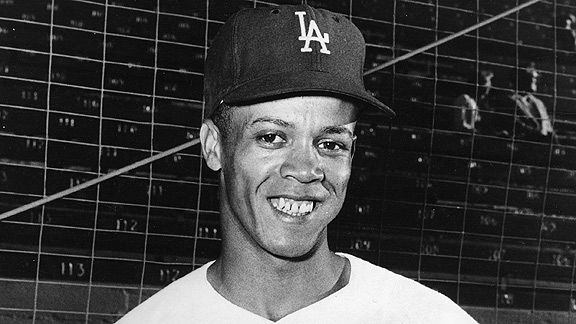 Mark Rucker/Transcendental Graphics/Getty ImagesMaury Wills, 1959
Dodger speedster Maury Wills has been elected to the Baseball Reliquary's Shrine of the Eternals, along with World War II-era ballplayer Pete Gray and Ted Giannoulas, aka the San Diego Chicken.
Wills' candidacy rested on his role in popularizing the stolen base as well as his lifelong devotion to the game, while Giannoulas earned his popularity in a much different way, strutting through Padres games in his Chicken costume.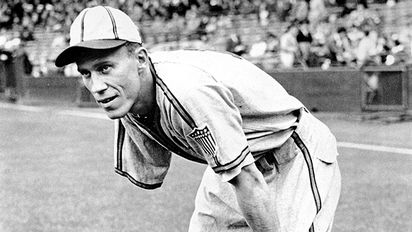 Bruce Bennett Studios/Getty ImagesPete Gray
Gray, who lost his right arm in a childhood accident, began in professional baseball in 1942 at age 27 and gained national attention two years later when he batted .333 for the Memphis Chicks with a league record-tying 68 stolen bases. Entering the majors with the St. Louis Browns during the wartime player shortage, Gray had a .259 on-base percentage and .261 slugging percentage, but still wowed fans with his ability to catch a fly ball, roll the ball across his chest as he tucked his glove under his right shoulder and then throw in one motion. Gray continued to barmstorm for years in the minors. He passed away in 2002 at age 87.
The trio join the previously elected Eternals: Jim Abbott, Dick Allen, Roger Angell, Emmett Ashford, Moe Berg, Yogi Berra, Ila Borders, Jim Bouton, Jim Brosnan, Bill Buckner, Roberto Clemente, Steve Dalkowski, Rod Dedeaux, Jim Eisenreich, Dock Ellis, Mark Fidrych, Curt Flood, Josh Gibson, William "Dummy" Hoy, Shoeless Joe Jackson, Bill James, Bill "Spaceman" Lee, Roger Maris, Marvin Miller, Minnie Minoso, Buck O'Neil, Satchel Paige, Jimmy Piersall, Pam Postema, Jackie Robinson, Lester Rodney, Pete Rose, Casey Stengel, Fernando Valenzuela, Bill Veeck, Jr. and Kenichi Zenimura. Induction day is July 17 in Pasadena.
Here are the 2011 Baseball Reliquary vote percentages (top three earn election):