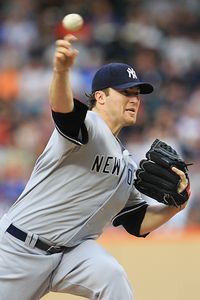 Chris McGrath/Getty Images
The Yankees have won 11 of Phil Hughes' 13 starts this season.
This one's interesting on two levels. As Ben Shpigel of the New York Times reports, Phil Hughes won't make his scheduled start Friday at Dodger Stadium.
Level one: The Dodgers avoid facing Hughes, who has a 3.17 ERA and 78 strikeouts in 82 1/3 innings (against 93 baserunners). Opponents have a .610 OPS against Hughes this year.
Level two: Hughes isn't hurt. New York is resting the righthander, who turns 24 Thursday, in order to limit his innings this season. Hughes has averaged 6 1/3 innings (and 105 pitches) per start, and he's on pace to throw 193 innings this year. Last year, pitching more in relief, Hughes only threw 86 innings in the majors along with 19 1/3 in the minors.
Hughes grew up in Southern California and, after missing the Yankees' April series in Anaheim by the luck of the rotation draw, will miss another opportunity to pitch in front of family and friends.
The Yankees might be the best team in baseball but don't have a playoff spot locked up by any means, so it's interesting to see them exercise this caution.
Update: Oh, almost forgot to mention whom the Dodgers will face this weekend. According to Wallace Matthews of ESPNNewYork.com, three nobodies: CC Sabathia, A.J. Burnett and A.E. Pettitte.
"It's definitely a disappointment," Hughes told Matthews. "And there's really not talking them out of it. It's an organizational decision and that's that. I knew it was coming. It was just a matter of when they were going to do it."
* * *
Yet another reason for San Diego's success this year: The Padres bullpen has allowed only 10 inherited runners to score all season, according to Stat of the Day. By comparison, George Sherrill by himself has allowed 15, and Ramon Troncoso 13.