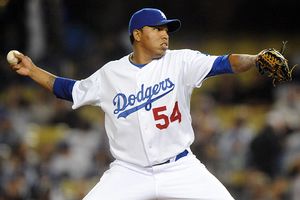 Kirby Lee/Image of Sport-US Presswire
Ronald Belisario
This post really is what the title says: a preview of March baseball for the Dodgers, because many of the names below won't see the light of the Chavez Ravine day in 2010. Last year, I shone a spotlight on such fellas as Travis Chick, Brian Mazone and Jacobo Meque. Anyone remember when Erick Threets was knockin' on the door? Stephen Randolph?
The winner of the Most Unlikely to Succeed Award in 2009 was Ronald Belisario, who I placed at the very bottom of my "Check Back in a Year or Two" category. On that note, Tony Jackson on Friday wrote up a long list of Dodger non-roster and minor-league surprises from the past decade, led by Takashi Saito. The thing about several of the names on that list is that they didn't necessarily win playing time with great exhibition seasons – which in a way is comforting, because exhibition performance is just such a dicey measuring stick to begin with.
Anyway, let's see what we're looking at …
Locks (19)
Only the disabled list or a trade can stop these guys from making the Opening Day roster. (We'll discuss them more in an upcoming post.)
Starting Pitchers (4): Chad Billingsley, Hiroki Kuroda, Clayton Kershaw, Vicente Padilla
Bullpen (5): Jonathan Broxton, George Sherrill, Ronald Belisario, Ramon Troncoso, Hong-Chih Kuo
Catchers (2): Russell Martin, Brad Ausmus
Infielders (4): James Loney, Rafael Furcal, Casey Blake, Jamey Carroll
Outfielders (4): Matt Kemp, Manny Ramirez, Andre Ethier, Reed Johnson
Most Likely to Succeed (6)
Ronnie Belliard, IF: Belliard is the incumbent at second base – if he isn't victimized by what I'm calling his Andruw Jones Clauwse: 209 or bust. Belliard had 19 hits and seven walks in 51 games before the All-Star Break last season with Washington; he matched those totals in his first 20 games with the Dodgers in September. Get ready for the Dodger second-base position to look like the No. 5 starter slot – there could be five or six different people starting there this year.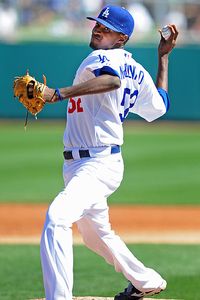 Mark J. Rebilas/US Presswire
James McDonald
James McDonald, P: Last year's original No. 5 starter, the 25-year-old McDonald might not make it into the rotation in April – or at all in 2010 – but he's quite likely to find a spot on the pitching staff somewhere. In his regular-season career as a reliever, the Dodgers' two-time minor-league pitcher of the year has a 2.43 ERA and 50 strikeouts in 55 2/3 innings against 74 baserunners.
Eric Stults, P: I ran down my logic earlier this month for Stults being the season's initial No. 5 starter. Basically, because he's out of minor-league options, it's use-him-or-lose-him time. However, his shutout against the Giants was his only quality start in 10 tries for Joe Torre in 2009, and he allowed 14 baserunners per nine innings. He has to pitch with some authority in Spring Training, however, or it'll just be lose-him time.
Brian Giles, OF: Giles had a 137 OPS+ as recently as 2008; last year was the first time in his 15-year career he wasn't above average at the plate. If he can recover enough from his knee problems to put 2009's 55 OPS+ (.548 OPS) behind him, he could be the lefty bat off the bench – dare I say, Matt Stairs-like – Dodger fans are looking for.
Nick Green, IF: It's a tossup among Chin-Lung Hu and various non-roster candidates, including Green, for the backup shortstop/pinch-hitter of second-to-last resort slot. There's no reason Hu can't do the job – and with his chances of becoming a starter fading, not much reason not to get him started in the next phase of his career. But I'm going to hazard that if he has recovered from offseason back surgery to remedy a herniated disk, his American League pedigree and his .783 OPS last April-May, he'll get first crack at the job. That said, he is a 31-year-old who fell into a Red Sox roster spot last April after injuries to Julio Lugo and Jed Lowrie, so he's hardly a heavy favorite.
Carlos Monasterios, P: Last year, we were all caught off guard by Ronald Belisario making the big-league squad and excelling despite having virtually no resume to speak of. There's nothing to Monasterios' stat line that suggests he can be a big-leaguer in 2010 – he wasn't even that great in winter ball – but I'm suspecting that the Dodgers didn't acquire him (and Armando Zerpa) on Rule 5 day without a good reason. As with Stults, the Dodgers can't send Monasterios to the minors. So I can see them stashing him in the back of the bullpen and testing him out before discarding him.
Next in Line (7)
Blake DeWitt, 2B: As I wrote in January, if DeWitt is the starting second baseman, then the Dodger bench would be 80 percent right-handed bats with a right-handed starter typically facing them. And there's almost no chance DeWitt will be kept as a reserve, even if it meant him at least pinch-hitting almost every game. So short of Belliard munching one Almond Roca too many, DeWitt is headed to Albuquerque by Opening Day. I'm sure the Dodgers wouldn't mind him showing some real dominance in AAA this time around before they give him a starting job. Keep in mind that while DeWitt's career got ahead of itself with his rushed promotion in 2008, it's no longer too soon for the 24-year-old with six professional seasons to be major-league ready.
Scott Elbert, P: Elbert's career major-league ERA is 6.66, but with more than 10 strikeouts per nine innings for his career in the majors and minors, the 24-year-old lefty (one week older than DeWitt) is not to be dismissed. We'll see early in Spring Training if he's going to get stretched out as a starter, but in any case, he'll not only be pushing Stults, McDonald and Monasterios, he's arguably the stealth man to beat altogether.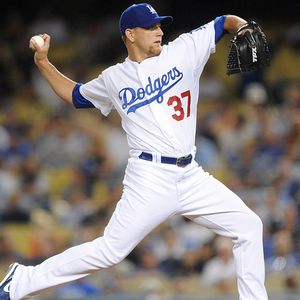 Kirby Lee/Image of Sport-US Presswire
Charlie Haeger
Charlie Haeger, P: Haeger was on a quicker hook than Stults, which is saying something. The guy went seven innings in his Dodger debut against St. Louis and seven more against the Cubs five days later, allowing no runs in the second start. But one rugged outing in Cincinnati, and he was done as a starter. Before his next turn came, Jon Garland was in a Dodger uniform. (One wonders, if Haeger had managed to hold a 4-0 lead against the Reds, whether Tony Abreu might still be in a Dodger uniform.) The knuckleballer with a 5.26 career ERA might not be taken seriously as a rotation candidate when Spring Training begins, but he remains an intriguing possibility. He'd have to clear waivers if the Dodgers try to send him back to the minors, however.
Doug Mientkiewicz, IF: Due to the Dodgers' dearth of deft lefties at the dish, Mientkiewicz really has just a couple of men to beat to make the roster. One, Xavier Paul, has minor-league options remaining. The other, Giles, is  3 1/2 years older than the 35-year-old Mientkiewicz, who missed most of last year because of an ill-advised slide in April. Mientkiewicz never had Giles' peak as a hitter, but it's conceivable he matches the gimpy ex-Padre at the plate now, plus he brings superior defensive value to the team.
Chin-Lung Hu, IF: Signed nearly seven years ago by the Dodgers, Hu's prospect status has risen and fallen, relating in some part it seems to vision problems that he has had. At 26, he's still young enough to step it up and become a fixture on a major-league roster, even if only as a backup. But he only had a .725 OPS with Albuquerque last season, so the Dodgers aren't going to simply hand him the job.
Josh Lindblom, P: The 22-year-old from Purdue wowed the Dodgers in Spring Training last year, and despite an unsensational stint in AA, had a 2.54 ERA and 36 strikeouts against 49 baserunners (three homers) in 39 innings for Albuquerque, mostly in relief. The guess here – much more than a guess if McDonald makes his way back into the rotation – is that Lindblom starts his major-league career the same way several other young Dodgers have, in the bullpen.
Armando Zerpa, P: Listed here for the same reasons Monasterios is listed above, Zerpa had a mixed bag of a 2009 in the Red Sox farm system.
See You by September? (12)
Xavier Paul, OF: Paul is quite astonishingly the only left-handed bench candidate under the age of 35 – that's a pretty big chit to have. Turning 25 later this month, he'd make a nice defensive backup for Ramirez and Ethier. He homered as a pinch-hitter in his fifth major-league at-bat in a year he slugged .500 in AAA. Freak health problems prevented the Dodgers from getting a longer look at him last year, but that might change in 2010. Like Hu, minor-league options might send Paul back to AAA in April; but he might have more plate time by the end of the year.
Jeff Weaver, P: Weaver officially rejoined the Dodger major-league squad in late April and remained through the National League Division Series, striking out 64 in 79 innings with a 3.65 ERA. He made seven starts and didn't average five innings, but as a swingman he was more than adequate. Weaver is still only 33.
Brian Barton, OF: A lot of people like Barton, 28 in April, as a darkhorse to make the team. He OPSed .746 with Atlanta in 2008 (179 plate appearances), though he followed that with a .715 OPS in the minors last year. He gave a fun interview to Baseball Prospectus in March.
Alfredo Amezaga, IF-OF: Coming off microfracture surgery on his knee and without much of a bat, I have trouble seeing Amezaga making a contribution to the 2010 Dodgers, even with his defensive utility.
Angel Berroa, SS: The Dodgers' starting shortstop as recently as 2008 (that's right, with as many shortstop starts as Furcal and Nomar Garciaparra combined), the 32-year-old former Rookie of the Year spent 2009 with both New York franchises, going a combined 7 for 49 with three walks and two extra-base hits on the major-league level. His recent major-league service and name recognition might earn him some service time, but he really should have to pay to get into Dodger Stadium just like the rest of us.
A.J. Ellis, C: It's another painful wait for Ellis, who at least got his first major-league hit last September. Ellis has no power, but he does have a career .398 on-base percentage in the minors and .437 the past two seasons in AAA. Those figures have gotten a few people carried away in thinking he might challenge Martin for a starting job; that ain't happening. But if Martin or Ausmus ever has to go to the disabled list, the Dodgers probably wouldn't hesitate to give Ellis the promotion.
Justin Miller, P: You don't hear much talk this winter about Miller since he inked his deal with the Dodgers, perhaps because of his arthroscopic surgery or his declining strikeout rate, but he had a 137 ERA+ for the Giants last season, his third straight above-average season in the majors.
Cory Wade, P: The cautionary tale for any reliever who enjoyed sudden success without the strikeouts to back it up. Or, the cautionary tale for any reliever who enjoyed sudden success and then became Torre's pet. A 2.27 ERA in 2008 made Wade a Dodger bullpen mainstay … all the way through April 12, when he went on the disabled list. Although it might seem like Wade never made it back, he actually did and stayed with the major-league club into July. But he never put together more than three consecutive games without allowing a run or inherited run to score. It seems extreme, after an offseason of rest, to entirely dismiss Wade's chances of making the team – the 26-year-old could easily have a remaining up to follow his down, just like a Troncoso could have a down to follow his up.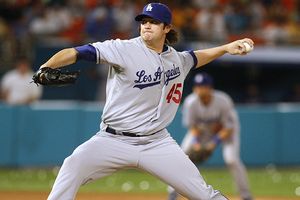 Joel Auerbach/US Presswire
Brent Leach
Brent Leach, P: In that window when the Dodgers had neither Kuo nor Sherrill at their disposal, Leach had a nice 22-game stretch in which his ERA was 1.35 and opponents OPSed only .347 against him while striking out 10 times. From May 29 through July 11, Torre used Leach in 23 of the Dodgers' 38 games. But then the roof caved in a bit for Leach, and he was back in the minors to stay before August. Last year's rookie is this year's 27-year-old – he stands to get another callup in the not-so-unlikely event that Kuo returns to the disabled list.
Travis Schlichting, P: A 25-year-old former infielder, Schlichting made his major-league debut with the Dodgers last year June 7 – eight days after the Dodgers called him up. He walked five of the 15 batters he faced in two games. He spent much of the year on the minor-league disabled list, but when he wasn't in rehab, he did deliver a 0.92 ERA in 29 1/3 minor-league innings, striking out 23.
Ivan DeJesus, Jr., IF: Profiled Friday by Ken Gurnick of MLB.com, DeJesus is coming back from a broken leg that DeJesus said "looked like a chicken bone, broken in half, all jagged" on X-ray. Primarily a shortstop in the minors, DeJesus might have been contending for a starting job at second base this spring if not for the injury. He had an outstanding 2008 with Jacksonville (.419 on-base percentage, 16 steals in 18 attempts), and if he can recover that form, he could have a significant impact on the team by summer.
Jason Repko, OF: He seems like the nicest guy in the world, but he just gets pushed further and further down. In his profile with Mitch Jones in the 2010 Maple Street Press Dodger Annual, you can really get an idea of how much his injuries derailed his career even before he reached the majors. Now 29 years old, drafted in 1999, Repko hit a career-high 16 homers for the Isotopes last year but with only a .329 on-base percentage. He still does well against lefty pitchers, so an outfield injury to anyone but Ethier would make him a logical callup.
Check Back in a Year or Two (6)
Lucas May, C: May bounced back from a disappointing 2008 with Jacksonville to OPS .858 with Chattanooga, albeit in only 68 games. People still recall his 2007 season, when he hit 25 homers in 507 at-bats for Inland Empire in the California League (much-admired catching prospect Carlos Santana hit 14 in 350 at-bats there a year later before being traded). Besides Paul LoDuca and Russell Martin, Dave Ross (343) is the only home-grown Dodger catcher to have more than 100 plate appearances with the team since 2000.
Javy Guerra, P: Guerra, 24, typically has good strikeout numbers but struggled in 28 1/3 innings at Chattanooga last season, allowing 32 hits and 16 walks. He's got a chance to make the majors, but a lot of righty relievers in the system to pass.
Kenley Jansen, P: Converted from catcher last year, the 22-year-old struck out a whopping 19 batters in  11 2/3 innings in A ball but also allowed 25 baserunners. So his target date is 2011 at the earliest.
Jon Link, P: Acquired in the Juan Pierre trade, Link is another righty down below who can rack up the strikeouts but also the baserunners. Walking nearly a batter every two innings each of the past two years, Link (26 in March) will have to display better control before he sees Dodger Stadium.
Trayvon Robinson, OF: The 22-year-old Crenshaw High grad has some excitement about him: .875 OPS and 43 steals with Inland Empire last year. We'll see how he adjusts to the Southern League this year.
Russ Mitchell, IF: Averaging 16.8 homers (and 16 errors) the past five seasons, Mitchell moved backward last year, struggling to a .703 OPS with Chattanooga. After six years in the minors, it's still very much an uphill battle.
Fodder (8)
Josh Towers, P: When your upside is 2009 Eric Milton, I guess that puts things in perspective. Towers pitched 208 2/3 innings for Toronto in 2005 with a 3.71 ERA, but in 174 1/3 innings since, he's 7-20 with a 6.40 ERA. His comeback attempt saw him post a 2.74 ERA in 18 starts with the Yankees' AAA team, which no doubt piqued the Dodgers' interest, but it was with 4.9 strikeouts per nine innings.
Luis Ayala, P: The 32-year-old righty had a career 2.82 ERA in four seasons through 2007 but has struggled since. He has never been much of a strikeout guy for a guy coming out of the pen.
Francisco Felix, P: Felix was a Dodger farmhand last year and had a 3.05 ERA and 78 strikeouts in 76 2/3 combined innings between AA and AAA. So if it were only up to those numbers, he might be in line for a midseason callup.
Prentice Redman, OF: The 30-year-old has reached .900 or more in OPS each of the past two years in AAA.
John Lindsey, IF-OF: At age 33, Lindsey will give it another go with the Dodgers. He hit 56 homers in two years as a Dodger minor-leaguer from 2007-08, then 19 last year with Florida's AAA team in New Orleans in what for him was a down year. With Mitch Jones gone and Larry Barnes a distant memory, Lindsey will resume the role of slugger on the outside looking in. The Dodgers could do him a solid by getting him into the majors for the first time, as they did with Jones a year ago, but I'm not holding out much hope.
Scott Dohmann, P: A very inconsistent righty, Dohmann had a nice 2004 season (as a Rockies rookie) and then again three years later (with Tampa Bay). The intervening years, you don't really want to know about. But if he's good every third season, that times out nicely for 2010.
Michael Restovich, OF: After a promising enough career launch (.837 OPS in 78 appearances through age 24 with Minnesota), Restovich, now 31, began to slip. Out of the majors since 2007, he has 1,291 career hits in the minors and Japan.
Argenis Reyes, IF: His best OPS was .771 in Low A ball in 2005. He's a backup's backup's backup. For what it's worth, he has not made an error in 114 major-league chances at second base.
Fodder's Fodder (6)

Ramon Ortiz, P: He hasn't been in the majors since 2007 and hasn't had an ERA below 5.00 since his final season with the Angels in 2004. So despite a 3.05 ERA in the minors last year, I'm not buying what Ortiz, 37 in March, is selling.
Russ Ortiz, P: He hasn't been in the majors since 2009 and hasn't had an ERA below 5.00 since his final season with the Braves in 2004. So despite a 4.06 ERA in the minors last year, I'm not buying what Ortiz, 36 in June, is selling.
Juan Perez, P: Perez is 31 with 10 minor-league seasons and 15 2/3 major-league innings. He had a 3.47 ERA with Atlanta's AAA team in Gwinnett in 2009 but walked 36 in 57 innings.
J.D. Closser, C: Having followed in the Colorado-to-Los Angeles footsteps of Danny Ardoin (which led to Ardoin's 54 plate appearances with the Dodgers in 2008), the 30-year-old Closser will try to make it back to the majors for the first time since 2006.  Closser OPSed .723 in the Dodger system last season, splitting time with Ellis, Ardoin and May, among others.
Gabriel Gutierrez, C: Gutierrez has seven homers in 975 career minor-league at-bats through age 26, never having played more than 75 games in a season.
Justin Knoedler, C: Other than having twice as many major-league hits as Ellis, there isn't much to recommend the 29-year-old Knoedler, who last saw the show in 2006.