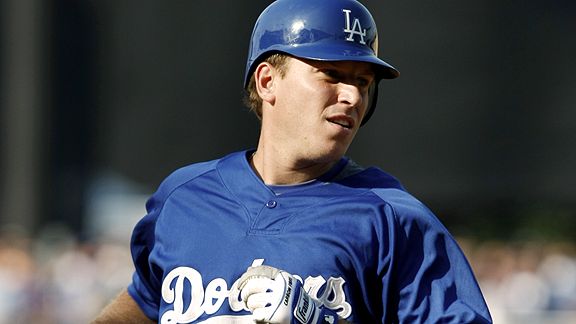 US Presswire
A.J. Ellis
I'm up. I'm awake.
I'm the starting catcher of the Los Angeles Dodgers.
Dodgers at Giants,
12:05 p.m.
Today's Lineup
Rafael Furcal, SS
Matt Kemp, CF
Andre Ethier, RF
Manny Ramirez, DH
James Loney, 1B
Casey Blake, 3B
Blake DeWitt, 2B
Reed Johnson, LF
A.J. Ellis, C
(Chad Billingsley, P)
I don't know what's going to happen in the future. Russell Martin, it seems, will probably be out past Opening Day – though these things are unpredictable.  The fans and the media are assuming the worst, but you never know when good fortune will blindside them.
And it would be good fortune if Martin made it back by Opening Day.  He is the best catcher in the organization, despite all the bloom off his rose. He's still the man. It's best for the team if he's healthy, and what's best for the team matters to me most.
But this morning, and the next morning, and however many mornings after that, it's me.  Even when Brad Ausmus' name is written in the lineup, it's me. Until Martin comes back, or unless the Dodgers get someone else – and I believe 'em when they say they're not planning on doing that – it's me.
It's me.
I'm turning 29 on April 9 – four days after Opening Day. I'm gonna be 30 in a year. That's old, man.  I signed with the Dodgers almost seven years ago, drafted in the 18th round from Austin Peay. Seven years in the pros, and I'm the guy they say has one hit in the majors.  I'm the guy they say can draw a walk – but only in the minors. In the majors, this is how it's supposed to go: They don't fear my power, and they strike me out every time.
I can call a good game, but the fans won't care about that if I don't hit. They say the fans appreciate a good attitude, but that appreciation wears off. People are a little ticked off with Martin, because he was a disappointment last year and because they think he's bulked himself right onto the injury list. But if I don't hit, Martin will be forgiven. And I'll be back in the minors before I'm 30 – maybe for good.
It's all pretty overwhelming – the increased responsibility combined with the increased expectations. The stakes are the biggest they've ever been. Here I am in the spotlight – for once – and there's going to be at least one moment when I want to slink backstage again. People say I can't be the guy, and maybe they're right.
But I get to try. My whole life, dreaming of this moment. And now it's here. I get to try to be the man.
One game at a time, one at-bat at a time, one pitch at a time, I get to try.
That's pretty awesome.