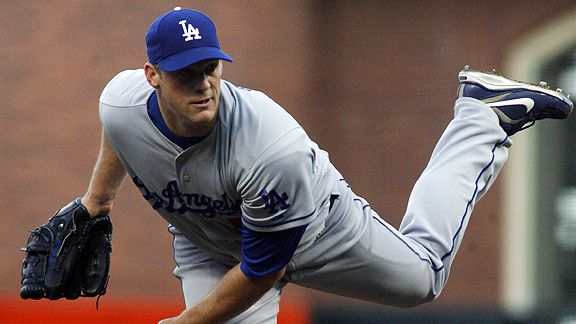 Cary Edmondson/US Presswire
Eric Stults was banished from the Dodger starting rotation in 2008 despite a 3.18 ERA.
Whenever you think of players who were judged for what they weren't instead of what they were, you can think of Eric Stults, whose eight years in the Dodger organization were poised to end today with an expected sale to a Japanese team. (Tony Jackson of ESPNLosAngeles.com has more details).
Stults didn't have overwhelming stuff, and he couldn't put together a string of lengthy starts. In his 24-start major-league career, beginning with his first appearance in September 2006, Stults never had three consecutive appearances of at least six innings.
But in Stults' defense, the Dodgers never gave him much time to develop any kind of consistency. Until 2009, the most major-league starts he ever made in a single month was three. The worst instance of this was in 2008, when a 28-year-old Stults came into Colorado with a 2.67 ERA over five starts, averaging six innings per start. But given an 11-0 lead, Stults couldn't make it out of the fourth inning. In Colorado. With that one ill-fated game, Stults didn't make another appearance in a Dodger uniform for more than two months. Does that make any sense at all?
Last year, Stults got his most consistent usage with the Dodgers, and he responded with a 3.82 ERA over seven consecutive starts, averaging 5 1/3 innings — more than adequate for the Dodger rotation at that point. But in that seventh start, he hurt his thumb diving on a fielding play. He and the Dodgers then made the mistake of having him pitch with his bad hand in Colorado, where he gave up four runs in 4 1/3 innings. Another bad outing followed, and Stults was moved to the disabled list. He only made one more appearance for the Dodgers the rest of the season.
Stults is replaceable. But it's disheartening the way the Dodgers treated his good starts as a fluke while simultaneously praying for fluke good starts in others. None of the remaining candidates for the Dodgers' fifth rotation spot have the credentials from recent years that Stults has.
In the second game of his career, Stults threw six innings of one-run ball at Shea Stadium in a key September game. He shut down the Rockies on two runs over seven innings while striking out nine in 2007. He shut out the White Sox in 2008 and the Giants in 2009. Whatever his shortcomings, that's the guy I'll remember.