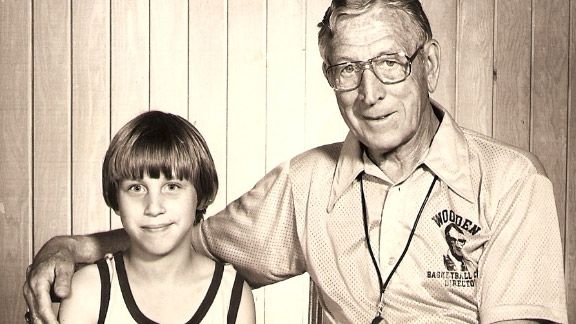 When you think back to being a kid, who were the stars that meant the most to you? They weren't actually all stars, were they?
The heroes of my youth, the people in sports and culture who affected me, influenced me and changed me … it's no April Fool's joke, but no one in their right or wrong mind would have the same group.  A mix of legends and larks – some off the wall, some on – all making for good stories.
Some were special for obvious reasons, some only because they arrived in my consciousness at just the right time, just when I needed someone to emulate, or celebrate, or maybe just smile about. They arrived just when I was ready to love them. And I think I do love them. I don't think I'd be writing about them today if I didn't love them.
Here is a tribute to some of those who, for different reasons, made a lifelong impression on me as a kid growing up in Los Angeles:
Happy Hairston: In 1972, my final year of living in the first house I knew, the Lakers were having a little bit of a winning streak. For the first time that I can recall, I played basketball with my older brother in the driveway. I was 4 going on 5; he was 8 going on 9. We would pretend to be the Lakers, and he would be Gail Goodrich and tell me that I was Happy Hairston. Even at that young age, I had the sense that I was getting the second-fiddle player – something told me that a basketball player named Happy couldn't be that good, and might even be a dwarf. But he wasn't bad, and most importantly, he was my guy. My first sports identity.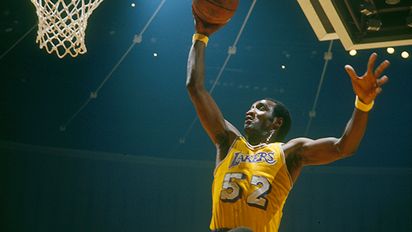 George Long/WireImage/Getty Images
* * *
Kent McCord: My earliest "What do you want to be when you grow up" was a policeman. Then, I decided I wanted to be a TV star. Then I saw Adam-12, and I realized I could become both. Even at such a young age, I learned the names of the actors. Kent McCord wins in a tossup over Martin Milner.  (It's funny how times change – my 7 1/2-year-old daughter still hasn't seen a primetime show because of all the kiddie options available to her, but I was soaking them up on my own TV before my fifth birthday.)

* * *
Hank Aaron: On vacation at the White Stallion Ranch in Tucson, Arizona, when I wasn't riding horses, avoiding cactii, wearing a bolo tie (John Wooden got it from me) and getting covered in dust, I was chalking up the earliest baseball memory that sticks with me to this day: being in front of a TV set with a bunch of other dude ranchers when Henry Louis Aaron hit his 715th home run. I don't remember it well – it's more of a still frame shot in my mind – and deep down, I fear my sister will read this and tell me I've got the details all wrong, but all I know is I've been seeing that scene in my memory forever. (Below is Vin Scully's marvelous call.)
* * *
Dr. George Fischbeck: Lots of different things work into this one. At the end of a field trip to a museum early in grade school, I came home with a book, "The World of Weather and Climate." Around the same time, I started going beyond the comic section of the newspaper and into the weather page. And then there was night after night of watching Channel 7 Eyewitness News on our 5-inch black-and-white kitchen TV, with Jerry Dunphy, Christine Lund, Fast Eddie Alexander, Stu Nahan … and Dr. George, the Captain Kangaroo of weathermen. My brother, sister and I even wrote a song one December, "We Wish You a Merry Fischbeck." Not only did he introduce me to barometric pressure, he also hosted Saturday night, pre-prime-time half-hour shows, including one burned into my brain that introduced me to the Hindenberg. Oh, the humidity! TV cop had been replaced in my ambitions. I was going to be a TV weatherman.
* * *
James Harris: I just liked him at first because he was good. He was the quarterback the night I truly became a sports fan – August 9, 1975, a preseason 35-7 slaughter by the Rams over the Cowboys at the Coliseum, where for the first time I was truly captivated by the game in front of me. (And they say exhibitions don't matter!) That I later learned that Harris was a relative pioneer as a black quarterback only enhanced my childhood passion for him. I even had a brief fascination with Grambling. I went from weather to sports, and almost never left.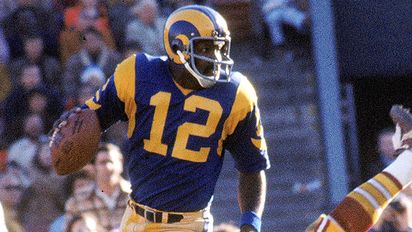 Nate Fine/Getty Images
* * *
Lawrence McCutcheon: Lawrence of Los Angeles. I still have the T-shirt I wore 35 years ago – I even had my 5-year-old son try it on … carefully … a few weeks back. One 1,000-yard season after another. The first great player that I discovered for myself. O.J. Simpson and Franco Harris were more famous, but they weren't mine. Lawrence was my first Pedro Guerrero – an underappreciated heavy-hitter.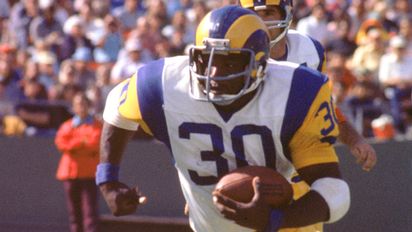 Martin Mills/Getty Images
* * *
Spider Sabich: Later immortalized (if I may use the term ironically) in news and then on "Saturday Night Live" as the skier who was "accidentally shot" by Claudine Longet, Sabich was in a ski film that we watched during our beginner days at June Mountain in the mid-'70s.  A race announcer said that Sabich had broken his neck. Then there was a pause.  And then, the announcer said – as if he needed time to think about it – that Sabich would be unable to continue racing that day. My brother and I thought that pause was just hysterical. Poor Spider.
* * *
Manny Mota: This one really needs no explanation. Suffice it to say, Mota might have been my first sports folk hero.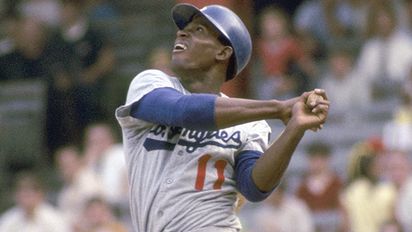 Diamond Images/Getty Images
* * *
Bob Cousy: The sports books I read as a kid had a profound effect on me. I checked a Cousy biography out of the school library, not really knowing anything about him – honestly, I'm not sure I had even heard of him. I might have just checked it out because there was a basketball player on the cover. Reading about the hours and hours of practice he put in as a schoolboy, I got my first introduction to the idea of working at becoming a great athlete – up to that point, I think I assumed sports heroes were born great. For a brief time, I allowed myself to believe that if I worked at it, I could become great – and though that turned out not to be true, I can't say that ethic has hurt me.
* * *
The Superstars: It was an exhibition … but you couldn't have told me it didn't matter. The Superstars on ABC in the mid-'70s were huge to my brother and me. We would watch religiously and stage elaborate recreations. Just thinking of the Obstacle Course makes me sigh … I mean, this was even bigger to me than Battle of the Network Stars.
* * *
Reggie Smith: Garvey, Lopes, Cey and Russell should maybe be on this list, but again, the underappreciated tend to win out for me. And on those 1970s Dodger teams, Smith was underappreciated. I used to think "cool" meant the Fonz and the Sweathogs. Then I realized "cool" meant Reggie Smith. The Yankees could have their Reg-gie, Reg-gie – I liked ours.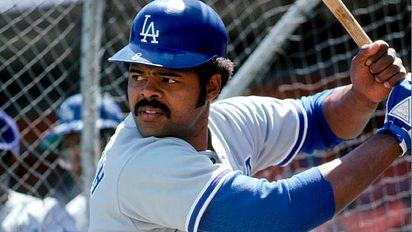 Michael Zagaris/Getty Images
* * *
Lynn Swann: In the first Super Bowl I can remember watching live on TV, my life was forever changed by Swann's tip-to-himself catch of a Terry Bradshaw bomb in a key moment of the Steelers' victory over the Cowboys. No other football play in my life did I reenact more.
* * *
Ron LeFlore: The roots of this story go to LeVar Burton's portrayal of LeFlore in "One in a Million: The Ron LeFlore Story," a TV movie. A baseball player who came … from jail? Rock my world.
* * *
Slick Watts and Curly Neal: For reasons that I can't explain, if you were a bald basketball player with incredible skills, you had me transfixed.
* * *
Don Chaney: I couldn't shoot when I first started in grade-school pickup games. My first summer at John Wooden Basketball Camp, when I was 9, my coach actually had me stay in the backcourt while our team was on offense. Thank goodness for the Lakers acquiring Chaney, which introduced to me the concept of the defensive specialist. Now that was something I could aspire to. Now that blocked shot I had at basketball camp on a one-on-one fast break wasn't just a random event – it was the start of something big. Of course I was fooling myself just as much, but you can still credit most of my understanding that there was more to basketball than scoring to Don Chaney.
* * *
Franz Klammer: "Into the bear turn!" To this day, Klammer winning the gold at Innsbruck is the greatest ski run I've ever seen.
* * *
Wes Unseld: One day I decided either I needed a new favorite basketball player, or I wanted to adopt someone who wasn't a Laker – I forget which, but either way it was just for fun. So I took the boxscores of that morning's sports section, closed my eyes and stuck a finger down on the name Unseld. I can't remember the point total next to it, but it probably said 2. And the next day, maybe it said 5. At first, I was disappointed that I had landed on someone who didn't even score as much as Happy Hairston, but eventually I learned what a great defender and rebounder he was. Wes Unseld was all right in my book.
* * *
Abraham Lincoln: Okay, it's not exactly profound to include Lincoln, but he makes the list because his geared-for-kids biography was a primary example of the right book making someone larger than life accessible to me. I can't tell you how many times I re-read that book. It three-dimensionalized him.
* * *
Magic Johnson: Another of my favorite sports stories from kidhood comes from John Wooden Basketball Camp. Each session, Wooden would hold a Q&A with the campers. In the summer of '79, shortly after the NBA draft, one of the campers asked Wooden which new first-round draft pick would be better for the Lakers: Brad Holland or Earvin Johnson. Wooden avoided the easy choice – Holland, the UCLA graduate – and went out on a limb to choose Magic. And then Magic hugged Kareem, and everyone in Los Angeles had a new best friend.
* * *
Pedro Guerrero: I can remember when Guerrero played second base for the Dodgers. That's how solid my Guerrero cred is. I can tell you how he batted .625 in his first season. I can explain to you the Bill James argument for why he should have been the 1981 World Series MVP – by himself – and tell you all about the glorious summer of 1985. I will stand no aspersions cast at Pedro Guerrero.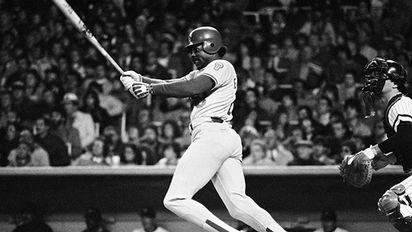 AP
* * *
Ken Coleman: The Red Sox announcer wrote a book, "So You Think You Want to Be a Sportscaster." As it happens, I did think I wanted to be a sportscaster. And I read Coleman's book inside and out, up, down and sideways, and began trying to broadcast games in my bedroom. And then I turned to writing.
* * *
Steven Bochco: Along with Michael Kozoll, Bochco was the man behind "Hill Street Blues," the television love of my life. Turned onto it by my brother, I watched it every Thursday, rooting for it to survive its terrible ratings. When my brother went off to college in 1981, I recorded every episode, watched them, then watched them again in late-night marathons with my brother on winter and spring vacations. But strangely, it never occurred to me as a kid to write for television as a grownup, and I think you can blame my overall obsession with sports for that. I spent more time dreaming of making a leaping catch at the wall or a turnaround three-pointer at the buzzer than writing for the greatest show of my generation.
* * *
R.J. Reynolds: Hmm, I think I've said a thing or two about R.J. in the past.
* * *
Vin Scully: Around the time I realized I was never going to be a pro athlete, there was Vinny to give my life purpose. I can't tell you how lucky I feel that to this day, he exists as a role model, as well as the greatest broadcasting voice I'll ever know.