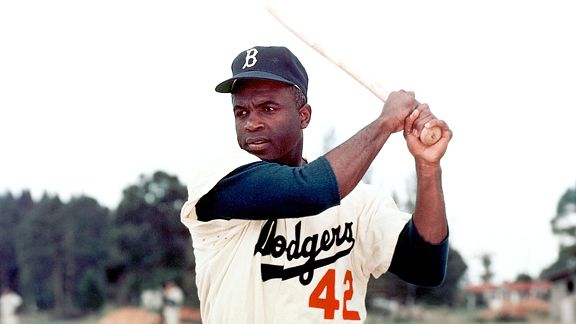 Getty Images
The Dodgers will lead Major League Baseball's celebration of Jackie Robinson — otherwise known as
Chapter 1
— tonight at Dodger Stadium.
The Dodgers have not made any personnel moves to address their struggling bullpen, Tony Jackson of ESPNLosAngeles said in his live chat today. But that doesn't mean Dodger manager Joe Torre isn't concerned.
"I think he is very worried," Jackson said, "and you can read between the lines of what he says after every game. Joe isn't the type to rip on his players or his team, but he has a way of expressing when he's not happy about something that leaves little doubt as to how he feels. Keep in mind that (Ronald) Belisario and (Hong-Chih) Kuo will be back soon, possibly by sometime next week. Once that happens, everybody can kind of settle into their usual roles. Until then, they have to try to stay afloat with these guys.
Joe Torre later told reporters that the pitching staff can't continue to not get the job done, but the Dodgers feel they're better than what they've done so far or else they wouldn't have left Spring Training with this group.
In this blogger's opinion, however, the Dodgers need to replace at least one of the white flags in their bullpen. They are being given more rope than the younger, more promising alternatives were, and it isn't deserved.
* * *
More Torre tidbits:
1) He hopes to avoid using Jonathan Broxton tonight, with Broxton having pitched in two consecutive games, and also hopes to continue resting Jeff Weaver.
2) I thought Jamey Carroll was starting for defensive reasons to support Hiroki Kuroda, whom the Dodgers need to really stay in the game for a long time tonight. But Torre said that Blake DeWitt was being given a day off to regroup for offensive reasons – saying that his swing is getting long and he is fouling balls off that he should put in play.
3) Torre expects Ronnie Belliard to get two starts this weekend, one of them at first base in place of James Loney against Barry Zito .
4) Andre Ethier's ankle is still bothering him, but he is ready to go tonight.
* * *
Arizona pitcher Dan Haren is making his third start of the season tonight. After allowing three baserunners and a run in seven innings against San Diego on Opening Day, Haren allowed five earned runs on 11 baserunners in 6 2/3 innings against Pittsburgh.
* * *
The Dodgers are last in the National League in first-pitch strikes, notes Eric Stephen of True Blue L.A.
* * *
Dodgerama has an interesting chart showing how long it took each Dodger to reach the majors.
* * *
John Lindsey Watch: A homer and three doubles in Albuquerque's 13-5 victory today. Lindsey is now on-basing .611 and slugging .969. Lindsey, Jay Gibbons and Prentice Redman, batting fourth, fifth and sixth, each had four hits. Gibbons had his second consecutive four-hit game.
Josh Lindblom struck out five but allowed four earned runs in five innings of his second start of the year, lowering his ERA to 7.88. Brent Leach pitched two shutout innings.