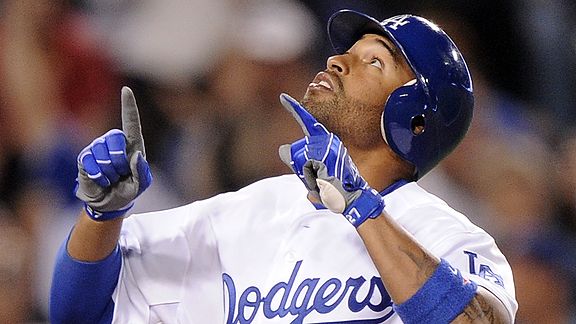 Mark J. Terrill/AP
Matt Kemp is wide-eyed after hitting a game-tying homer in the seventh inning.
The other team blew the leads. The Dodgers didn't blow the leads. The other team did.
Oh, sure, the Dodgers blew two ties, at 0-0 and 3-3, but still – progress.
Bullpen (except for Jonathan Broxton) still shaky. Fielding still shaky. But still … progress.
So that I'm not up all night, just a little stream of consciousness to wrap things up …
Hiroki Kuroda gave up 10 hits but didn't walk anyone over seven innings, while striking out seven. That's practically a perfect game compared to what we've seen lately.
Matt Kemp had trouble with another fly ball defensively but homered for this third game in a row to tie the score in the seventh – he now has 13 RBI in nine games. He drove in pinch-hitter Ronnie Belliard, who is a crazy 8-for-14 to start the season.
Dan Haren mostly stymied the Dodgers, but needed 121 pitches to get 19 outs, and that extra work cost him by requiring Arizona to go its bullpen sooner. The third pitch by Aaron Heilman was Kemp's two-run homer.
Justin Upton then hit his second tiebreaking homer in two nights, a monster blast halfway up the left-field pavilion off Jeff Weaver, to give Arizona a 4-3 lead. Upton also made a bigtime catch of a Garret Anderson drive to the top of the right-field wall in the bottom of the eighth to preserve the lead.
Arizona added a slop run in the ninth, but the Dodgers rallied with two in the bottom of the inning to tie, thanks at the end to a blooper-reel throw by Stephen Drew that allowed Manny Ramirez to score the tying run.
Broxton dominated in the top of the 10th, and then the Dodgers won it on a leadoff single by Blake DeWitt, an intentional walk to Kemp and then, ho hum, a walkoff hit by Andre Ethier.
Here's a list, passed along by Mark A. Simon of ESPN.com from mikemav.com, of the Dodgers' all-time walkoff hit leaders since the team moved to Los Angeles in 1958:
14 Dusty Baker
12 Manny Mota
11 Ron Cey
11 Davey Lopes
10 Andre Ethier
10 Steve Garvey
The final tally for Russell Martin in the series: three games, 571 pitches caught.
* * *
Hong-Chih Kuo struck out two in a 1-2-3 rehab inning for Inland Empire, reports Ken Gurnick of MLB.com. He completed his 20-pitch assignment in the bullpen.
Matt Magill of Great Lakes struck out seven, walked none and allowed two doubles and a single in a scoreless five innings tonight. This year, the 20-year-old from Simi Valley has struck out 12 in nine shutout innings.
Dee Gordon went 2 for 4 for Chattanooga and has a 1.006 OPS on the season.