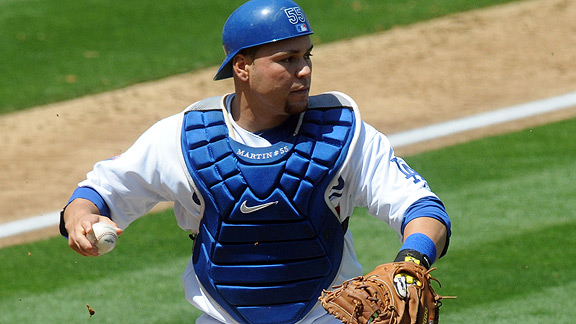 Chris Williams/Icon SMI
Back in the home opener, Russell Martin had no idea of how rough the middle of his week would get.
Last May, I wrote about Orlando Hudson in the midst of his hot start to 2009:
I'm not going to attempt to tell you how long Hudson can perform at an All-Star caliber level. Rather, my point in these giddy times for Dodger fans is to remind us that there was serious doubt whether Hudson, coming off a traumatic 2008 wrist injury, could play this well at any point in the remainder of his career — for a month, for a week, for even a day. That we now know he can is a revelation.

Things will go up and down, but just setting the ups this high is juicy. Right now, this is looking like a magical signing.
That Hudson didn't finish the season in the starting lineup shows how a hot start doesn't guarantee anything, but I do feel it's worth making a similar point about Russell Martin.
In a year where expectations for Martin couldn't have been lower – particularly after he missed most of Spring Training – the Dodger catcher leads the major leagues in on-base percentage and is 19th overall in OPS. Martin always has had a good eye, but he's even slugging .591, compared to .329 last season and .256 last April.
Again, there are no assurances he won't slump, especially if the Dodger pitchers keep wearing him out, but it's nice to know that he can get this hot even for a little while.
* * *
Mike Petriello of Mike Scioscia's Tragic Illness makes explicit what I implied in my last post: The Dodgers really only have Russ Ortiz, Carlos Monasterios and Ramon Troncoso available in relief of Vicente Padilla tonight, unless they make a more dramatic move. (Petriello includes Jeff Weaver among the available — Joe Torre included both Weaver and George Sherrill in his pregame conversation with reporters — but I can't imagine the Dodgers want to go there tonight.)
If the Dodgers fall behind big early, then you pretty much can burn Ortiz and Monasterios to get through the game. But in a competitive game, the Dodgers figure to be at a huge bullpen disadvantage if Padilla has to leave before the eighth inning.
I've never been all that high on Padilla, but I kind of feel he's due for a good outing. Just a gut thing I'm having.
* * *
Torre said that the day-after reports on Hong-Chih Kuo's rehab outing showed no problems, and that he's due to pitch again in a minor-league game Sunday. Torre pointed out that Ronald Belisario isn't eligible to make rehab appearances, so that he will come straight to the Dodgers when his command is present.
Torre also said that he doesn't consider carrying 13 or 11 pitchers on the staff to be an option at this time. Twelve it is.
* * *
One pitching bright spot: As a team, the Dodgers have struck out 8.6 batters per nine innings. Four pitchers are over the 9.0 mark, led not by Jonathan Broxton (15.4) but Charlie Haeger (16.7).