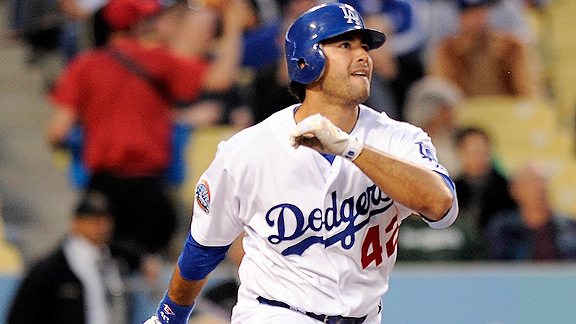 Mark J. Terrill/AP
Hello … is it me you're looking for?
Andre Ethier is just mashing the ball. And it's not just Friday in the Dodgers 10-8 victory over the Giants. Eric Stephen of True Blue L.A. notes that Ethier has hit 25 home runs in his past 81 home games. Sons of Steve Garvey has a photo essay showing just how incredible Ethier's night was.
And Matt Kemp is just mashing the ball, too. He has homered in four consecutive games and five of his past six.
James Loney doesn't have a home run yet, but he is mashing the ball in his own way. Loney is 12 for his last 25, raising his batting average from .167 to .327 and making him one of seven Dodger regulars hitting over .300.
And for a night, opponents stopped mashing the ball against Vicente Padilla. With the Dodger bullpen in a shambles, Padilla picked a good time to give the Dodgers his best outing of the season. But Vin Scully and KCAL noticed Padilla rubbing his pitching arm pretty vigorously just before the fifth inning – the inning in which he lost his no-hitter and was hit pretty hard. Though Padilla lasted seven innings, we'll have to see if what Scully saw had any significance.
The Dodgers came within one run of matching their team record (since moving to Los Angeles) for most runs in the first 10 games of a season (68). At the same time, they also reached their third-highest total of runs allowed in the first 10 games of a season (60).
* * *
Manny Ramirez came out of the game after three innings because of calf tightness, but Tony Jackson of ESPNLosAngeles.com reports that Joe Torre said Ramirez would have stayed in the game if the Dodgers hadn't been up by seven.
Of course, there were no guarantees the Dodgers would hold such a lead. And the fact that Russ Ortiz again could not finish an easy assignment is the last straw. Ortiz needs to be released.
When you take a flyer on a pitcher who hasn't pitched well in years, the sole (if questionable) purpose is to try to see if there's a chance he has solved his problems or even has one hot streak left in him. When you can see that he's just as bad as he's always been, there is nothing to hold out for. There is no situation in which Ortiz is a reliable pitcher, and the Dodgers should not wait any longer on him.
If Hong-Chih Kuo is about to be activated, that's a simple exchange. But if Kuo has a setback, the Dodgers still need to jettison Ortiz.
* * *