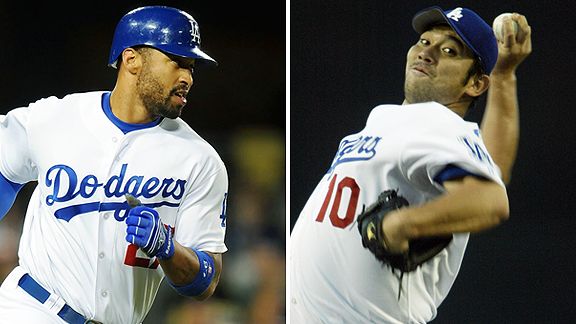 Getty Images
Matt Kemp probably would have enjoyed the Hideo Nomo-led
2003 Dodger pitching
, which had a team ERA barely half of what the current Dodgers have.
If you could mix the 2010 Dodger offense with the 2003 Dodger pitching, what a team that would be. It would blow your mind, man.
Instead, we're left with the Don Drysdale paradox: "Dodgers scored nine runs tonight." "Did we win?"
We saw it encapsulated in tonight's 11-9 loss to Cincinnati. The Dodgers got a three-run double from Casey Blake in the first inning, then after falling behind by six, rallied to tie the game – capped by Mighty Matt Kemp's sixth homer of the season. And still it wasn't enough.
Chad Billingsley came out with a clear mission to throw strikes. He didn't walk any of the 17 batters he faced and only had 21 pitches out of the strike zone. But he couldn't back that mission with much of an ability make people miss. He got hit and hit hard, allowing five singles, a double, a triple and a home run over the next two innings. Commenting on the KCAL telecast, Steve Lyons pointed out at least three times that the Reds got hits despite good pitches by Billingsley. Small consolation, though.
Billingsley also made a painful throwing error on a Homer Bailey bunt that added three unearned runs to the three earned runs in the second inning, signaling another unimpressive night for the Dodger defense. Russell Martin made a fourth-inning throwing error on a steal attempt by Drew Stubbs (with Blake DeWitt seemingly late to back up the play). And then in the eighth, working a pickle, DeWitt was late to recognize a runner trying to score from third, tossing the ball instead to Ronnie Belliard at first base – and then when he set up to throw home, Belliard dropped the ball, allowing Cincinnati's 11th run to score.
In contrast, Reds right-fielder Jay Bruce made a sensational catch of a ripped line drive in the top of the eighth by James Loney to deep right that would have scored Manny Ramirez had it been a few inches higher.
The only bright spot for the Dodger pitching staff tonight was the major-league debut of Jon Link, who needed only 27 pitches to throw two shutout innings. Ramon Ortiz gave up two runs in the fourth to put the Dodgers down, 9-3. And in the eighth, after the Dodgers had come all the way back, their No. 2 reliever of the moment, Ramon Troncoso, walked two batters before giving up the go-ahead runs with two out.
So instead of being Manute Bol (7-6), the Dodgers are Dolph Schayes (6-7). Wednesday, the team will come back and set their sights on Gheorghe Muresan.
Update: The Dodgers optioned Link back to Albuquerque after tonight's game. They haven't officially announced who will take his place, but expect it to be Ronald Belisario.